This Chinese salt and pepper tofu recipe is the perfect vegetarian/vegan meal for those looking for something quick, easy, and protein-rich.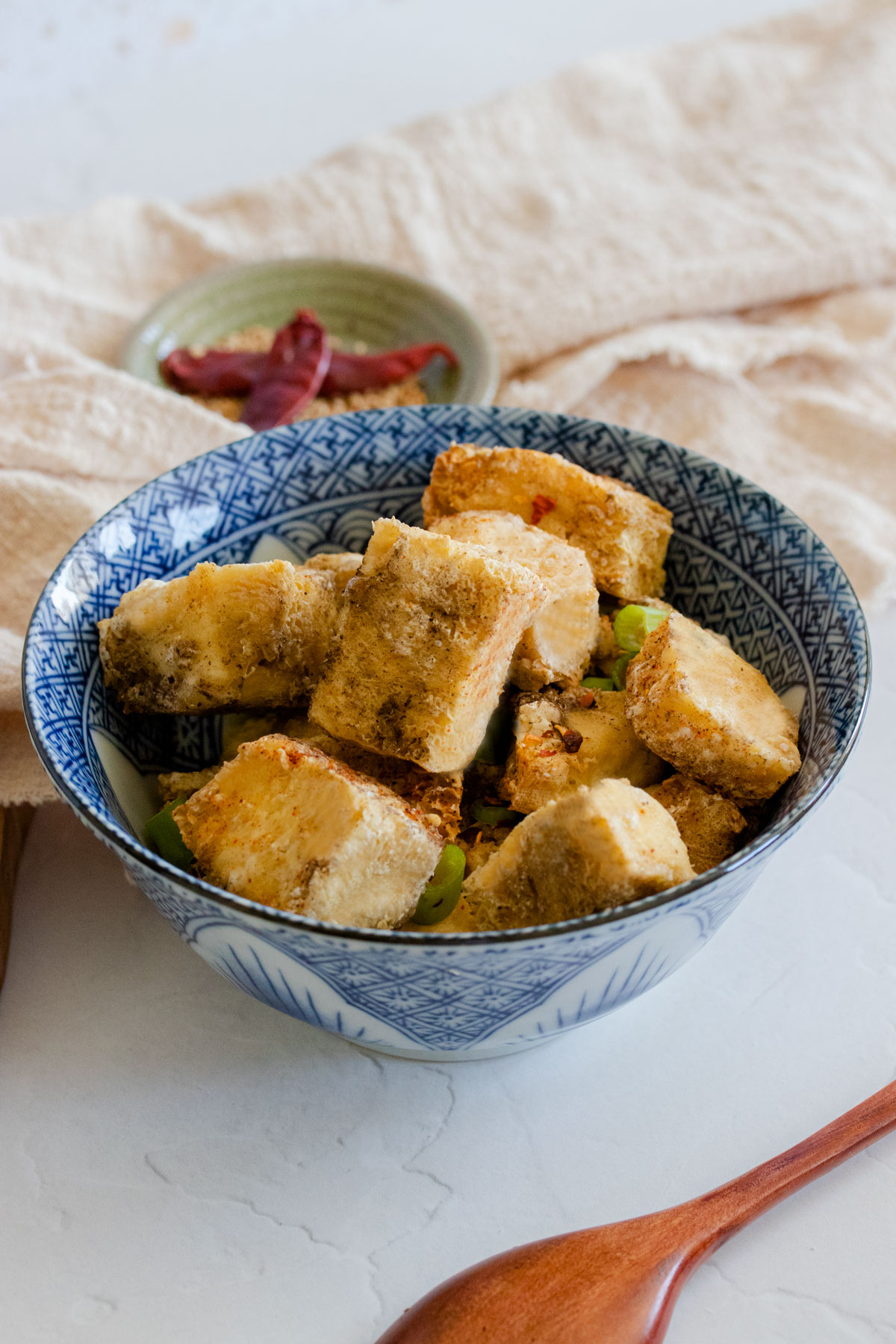 Similar to my salt and pepper shrimp recipe, we use the same simple seasonings. However, instead of frying the tofu in a pan, we coat it in some cornstarch and put it in the air fryer. How's that for easy? Almost no clean up necessary either (I like to line my air fryer with aluminum foil!). Throw the tofu over a bed of rice or a crispy Asian salad and you're set! If you want to have the salt and pepper tofu as a simple snack, eat it with a sweet chili sauce dipping sauce.
Jump to:
Best tofu to use for frying or baking
Buying tofu can be overwhelming, there's silky, soft, firm and extra firm. Each has its benefits for different types of dishes.
Silken or soft tofu is bested used for stews, soups or stir-fries such as this vegetarian mapo tofu. Firm or extra firm tofu is great for baking or frying because of the lower liquid percentage. Firm tofu is great for absorbing flavors and is an amazing meat substitute for those looking to adopt a plant-based diet such as this vegan gochujang crispy baked tofu. For this air fryer salt and pepper tofu recipe, we'll be using firm or extra firm tofu.
How do I prep tofu for air frying or baking?
In order to get tofu to crisp, whether in the air fryer or in the oven, you want to ensure that you're draining and pressing the tofu.
To press tofu, place the tofu on a cutting board or a flat plate. Wrap it in paper towels. Place another plate over the tofu, and then place a heavy object on the flat surface to apply gentle pressure so the tofu releases water. I'll usually put a heavy-bottomed skillet on top as an appropriate weight.
At a minimum, press the tofu for at least 15-20 minutes. However, I like to press the tofu for an hour and switch out the paper towel at the 30 minute mark.
How do I air fry tofu?
Air frying tofu is very similar to baking in that it uses more of a dry heat to cook food. However, since an air fryer is so compact and concentrated, it tends to cook in a shorter amount of time. Additionally, air fryers allow for easier clean up, especially if you line your air fryer with a small sheet of aluminum foil. Many people say that air frying is the healthier version of deep frying, but the air fry method definitely gives a different texture and flavor, which is why I believe it's more similar to baking. I've been using my Insignia air fryer for almost 3 years and love it!
Similar to if you were to bake tofu in the oven, you want to flip the tofu to make sure each side is cooked evenly. I like to spray the foil with some cooking spray to ensure the tofu doesn't stick!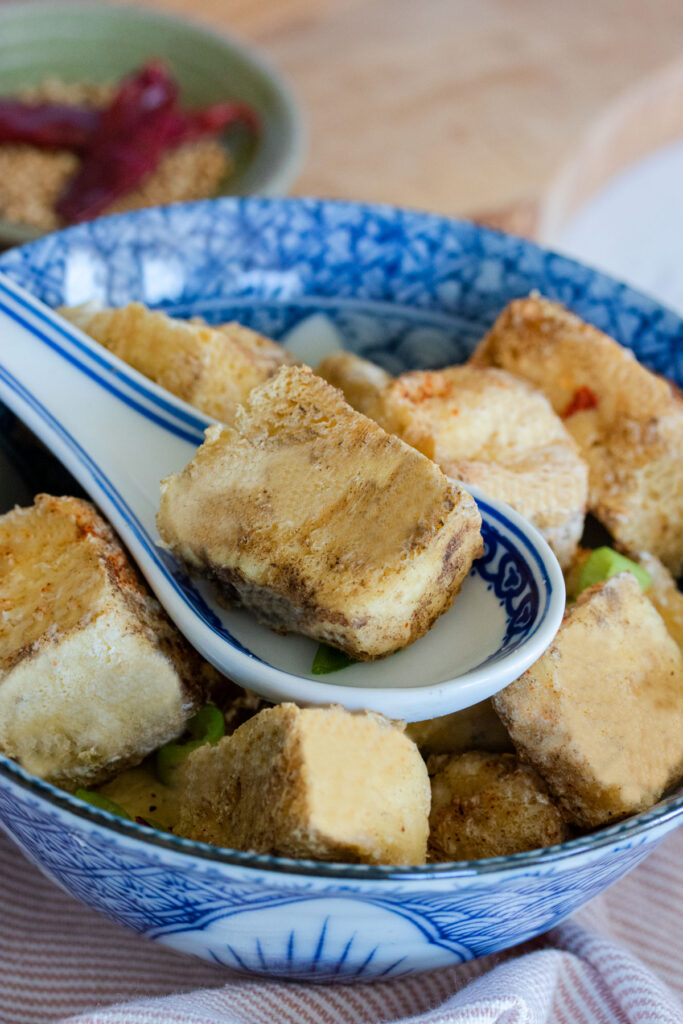 Salt and pepper tofu ingredients
Ingredients for salt and pepper tofu are so simple and can easily found in your home pantry!
Salt
Ground white pepper: If you don't have ground white pepper, you can sub with freshly ground black pepper.
Chinese five spice powder: You only need a pinch of Chinese five spice powder. Chinese five spice powder is a mix of star anise, cinnamon, Szechuan peppercorns, fennel seeds, and cloves. This will give the tofu a hint of richness and a kick!
Paprika: I like adding just slightly more heat by adding paprika. However, this spice is definitely optional if you're already adding the five spice powder and think that's enough of a kick.
How to make salt and pepper tofu
Drain and press tofu for at least 20 minutes. You want to ensure that you are removing as much water as you can for the most flavorful tofu.
Cut tofu into 1 inch cubes. However, how you choose to cut your tofu is up to you! Smaller cubes means you get more flavor per surface area.
Season with salt, ground white pepper, and Chinese five spice powder. You can also add paprika if you'd like more heat. Toss to coat evenly.
Add in 1 tablespoon of cornstarch, toss to coat evenly.
Preheat your air fryer to 375F for 7-10 minutes. I like to line my air fryer basket with aluminum foil for easy clean up. Spray with vegetable oil so the tofu doesn't stick. Try to ensure that tofu pieces aren't touching or they won't cook evenly.
Air fry for 15 minutes. Shake up your tofu at the 7 minute mark so each side is evenly crisped.
📖 Recipe
Air Fryer Salt and Pepper Tofu
A healthy and delicious crispy salt and pepper tofu recipe that is great for a snack in between meals or for a quick meal.
Ingredients
16

oz

extra firm tofu

(cubed)

1

teaspoon

ground white pepper

½

teaspoon

salt

½

teaspoon

Chinese five spice powder

¼

teaspoon

paprika

(optional)

1

tablespoon

cornstarch

Vegetable oil spray
Instructions
Drain and press firm tofu with a tofu press or between two plates. Slice tofu into 1 inch cubes.

In a bowl, season tofu with salt, pepper, Chinese five spice powder, and paprika. Toss so tofu is evenly coated.

Evenly coat tofu with cornstarch.

Set air fryer to 375° F degrees and air fry for 15 minutes. At 7 minute mark, toss the tofu so it's evenly toasted on each side.