This interactive dining experience brings together a medley of fresh ingredients, simmering in a fragrant broth of your choice. From succulent meats to an array of vibrant vegetables, there's something for everyone at the hotpot table.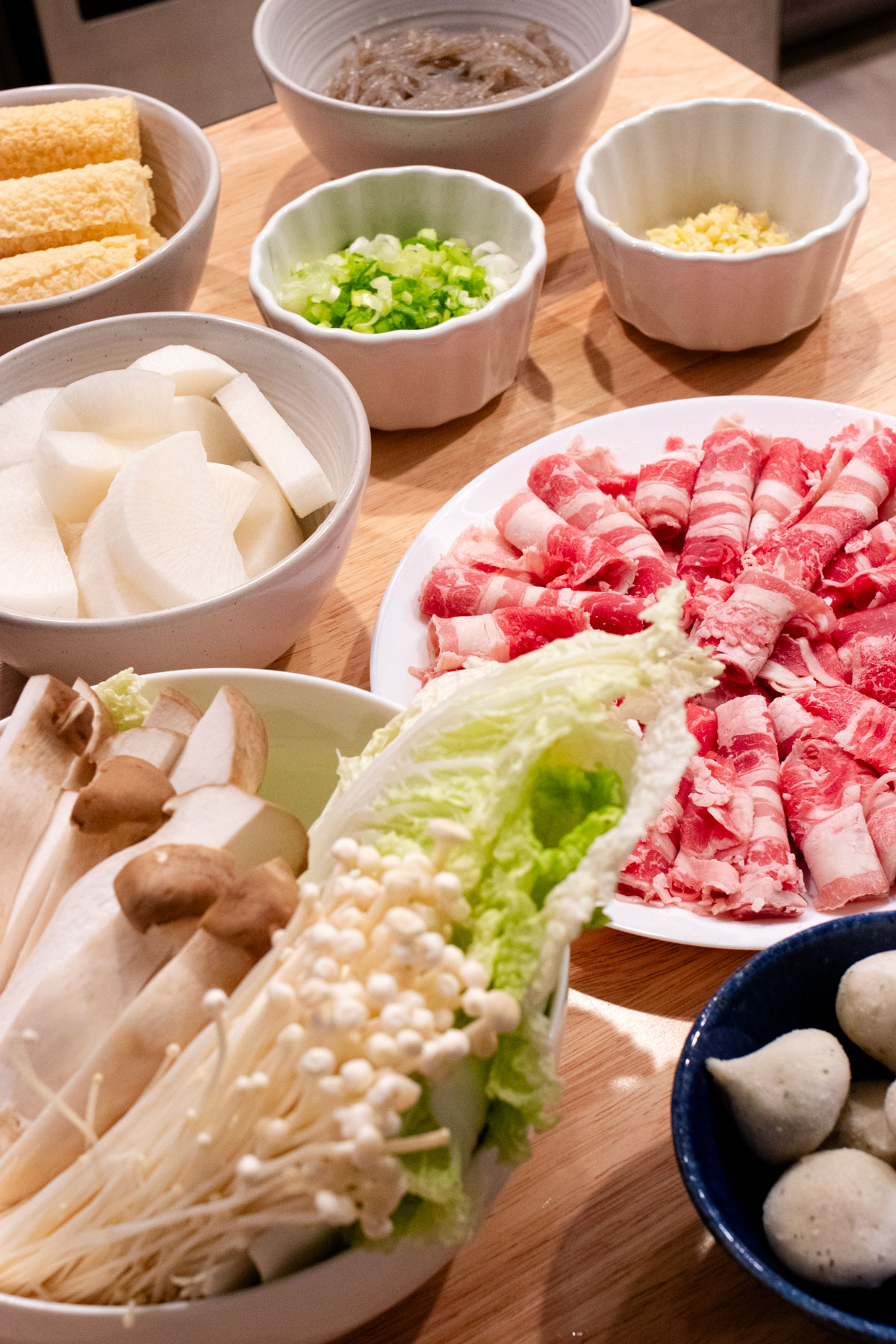 There's something truly magical about sharing a hotpot dinner with family and friends - especially on a chillier night. While there are plenty of amazing hotpot restaurants to get your fill, it's just as fun and so much more affordable to host a hotpot night at home. The bubbling broth, the wide variety of ingredients, and the interactive cooking process make it a memorable experience.
Remember hotpot isn't only for large groups! You can do hotpot solo, as a couple, and beyond. Just scale the quantity of ingredients up and down depending on everyone's appetite levels and food preference levels.
Some people may think hotpot is unhealthy, but making it healthy and tasty is all up to you based off the ingredients you choose. For each category, we'll talk through healthier options so you can enjoy hotpot regardless of your preferences or restrictions!
Jump to:
Ingredients
Broth Base: The foundation of any great hotpot is the broth. You can go for a single base or opt for a divided pot to cater to different tastes. Most people like to split one side with a refreshing clear or miso-based broth and the other side with something spicier and a bit of a zing. Here are some popular options:
Clear Vegetable Broth: Light and refreshing, perfect for highlighting the natural flavors of your ingredients.
Spicy Sichuan Broth: Packed with fiery red chilies, Sichuan peppercorns, and aromatics, this one's for the spice fans.
Miso Broth: A Japanese twist with fermented soybean paste, providing a deep umami flavor. Miso is a great option for those looking for a more soothing and clear base without too much of the additives from packaged soup bases.
Tom Yum Broth: Thai-inspired and tangy, with lemongrass, lime leaves, and a hint of chili for a zesty kick.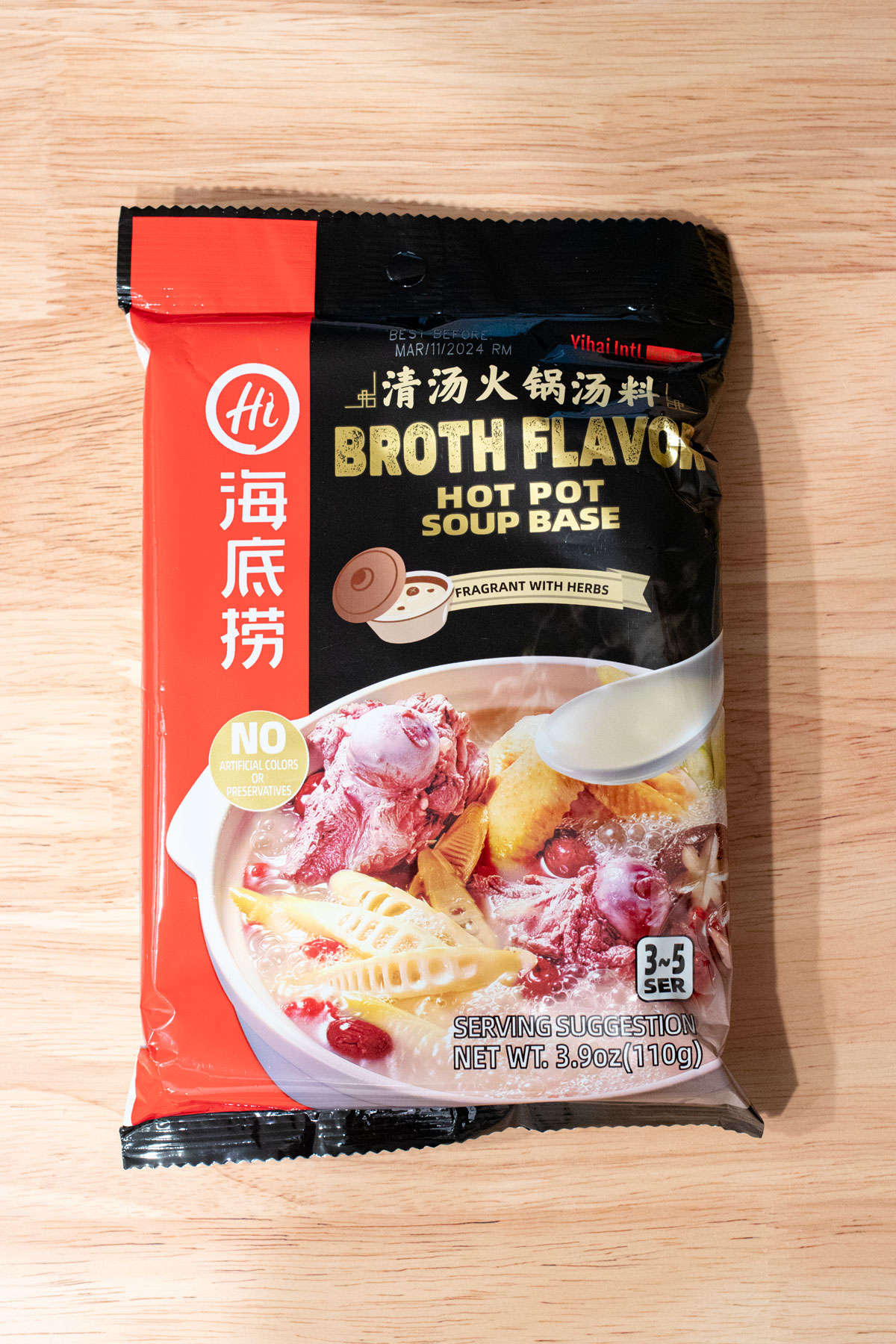 You can purchase broth base packets at any Asian grocery store near you. This time, we tried the broth flavor hotpot soup base on one side, which was extremely fragrant and included some of our favorite Chinese herbs. We purchased the HaiDiLao brand, but you can also try hotpot soup bases from Little Sheep. Both are popular hotpot restaurants in Asia!
On the other side, I mixed some miso paste into the boiling water as I wanted something lighter.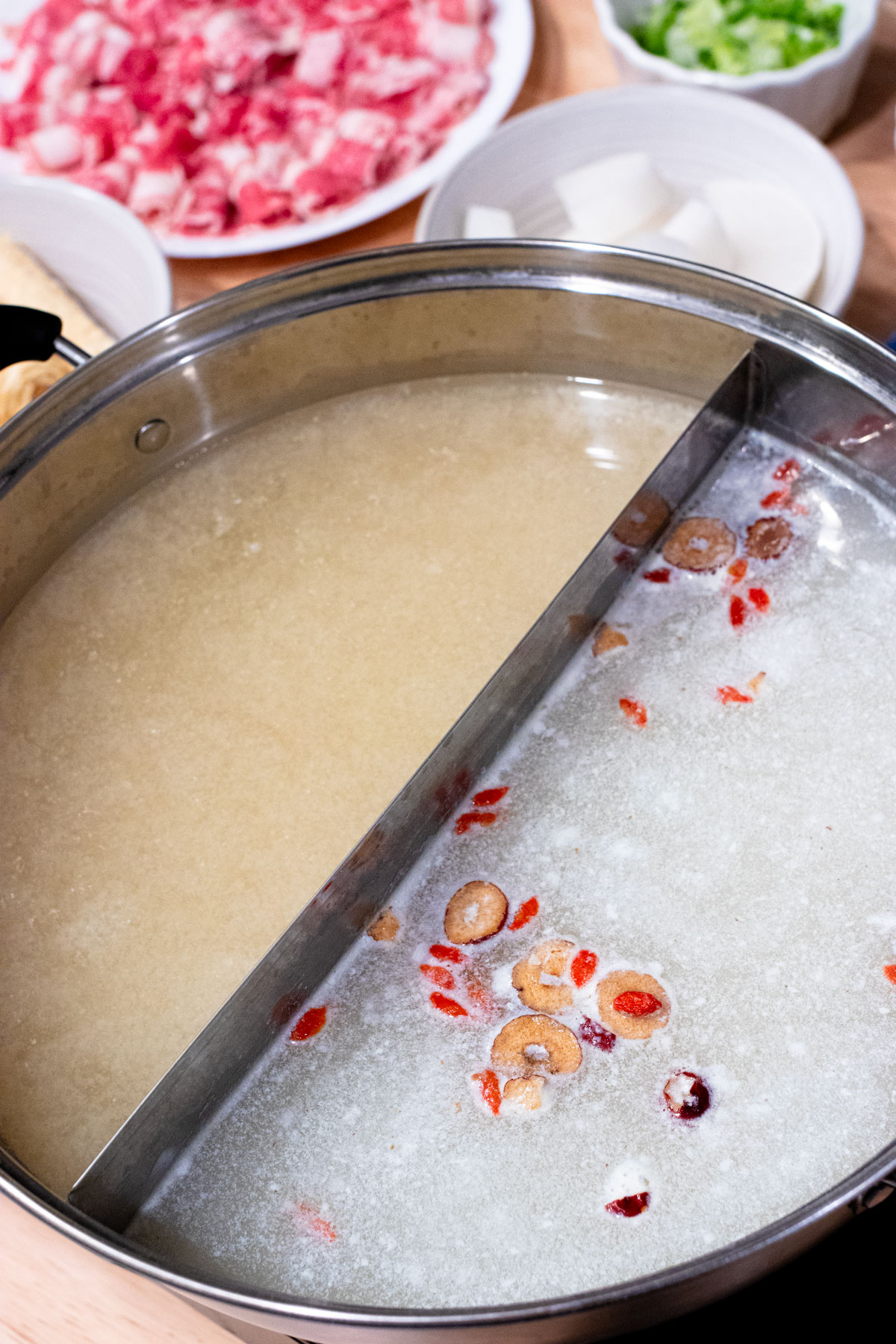 Now, let's move on to the star players - the ingredients!
Meats:
Beef slices: Go for tender cuts like ribeye or sirloin. They cook quickly and soak up the broth's flavor beautifully. These are our preferred cuts of meat when it comes to hotpot.
Lamb slices: If you're feeling adventurous, try marinated lamb slices for a rich, hearty flavor.
Chicken or duck: Thinly sliced poultry adds a lean and tender element to your hotpot experience.
Pork belly/pork shoulder/pork loin: These should all be thinly sliced.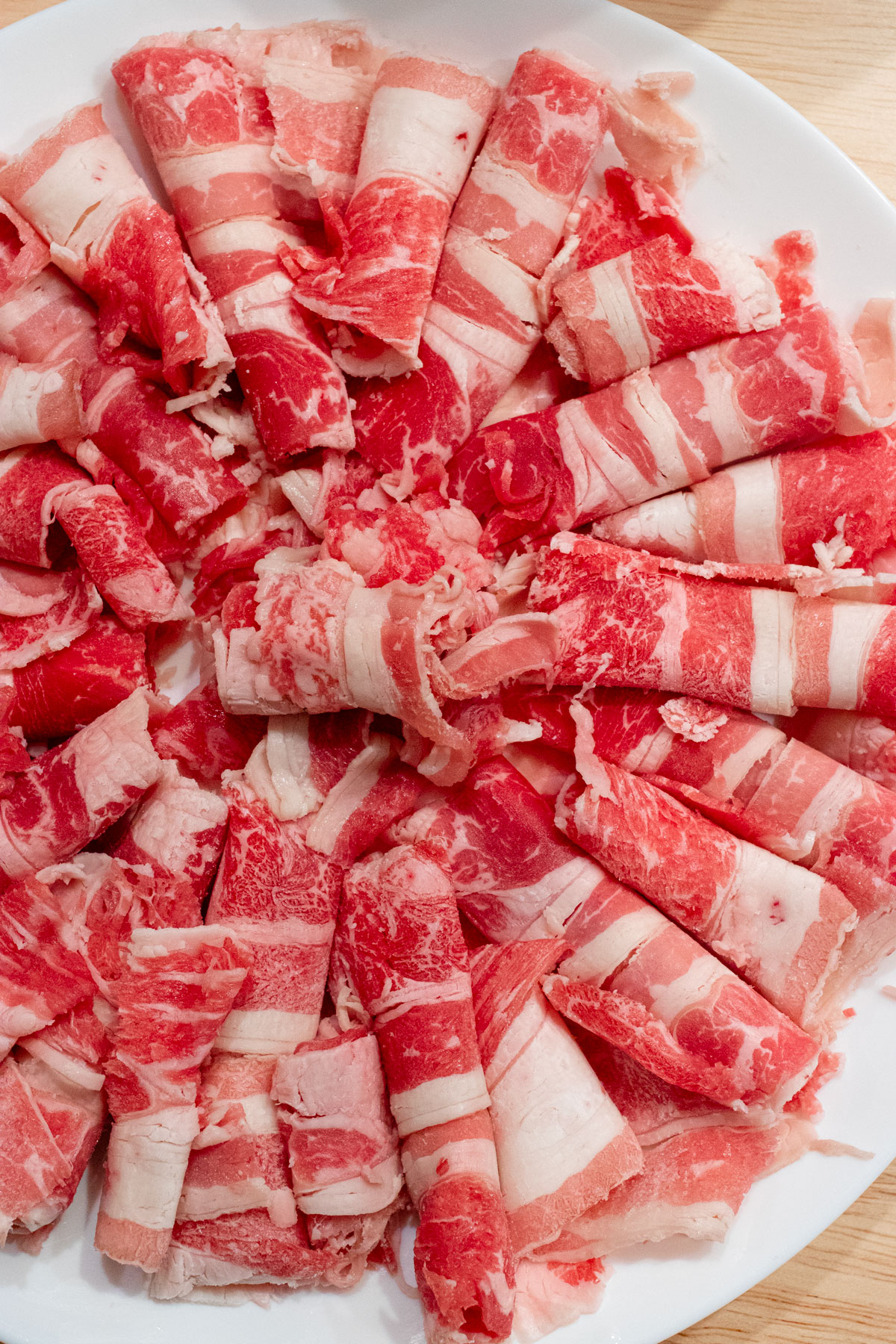 Seafood:
Shrimp: Peel and devein them, leaving the tails on for easy handling. You can also buy frozen pre-shelled and deveined shrimp at the supermarket.
Fish fillets: Opt for a mild, firm fish like tilapia or cod that won't disintegrate in the broth. To keep the fish firm, roll in a bit of cornstarch. You can buy frozen hotpot fish that is specifically prepared for boiling in broths.
Fish balls: If you're at an Asian grocery store, you'll find several varieties in the frozen aisle. Fish balls, shrimp balls, fish tofu, and even fish balls with roe. Some grocery stores have a freezer where you can scoop the frozen balls into a bag and purchase by weight. This will allow you to try different kinds without having to commit to an entire package.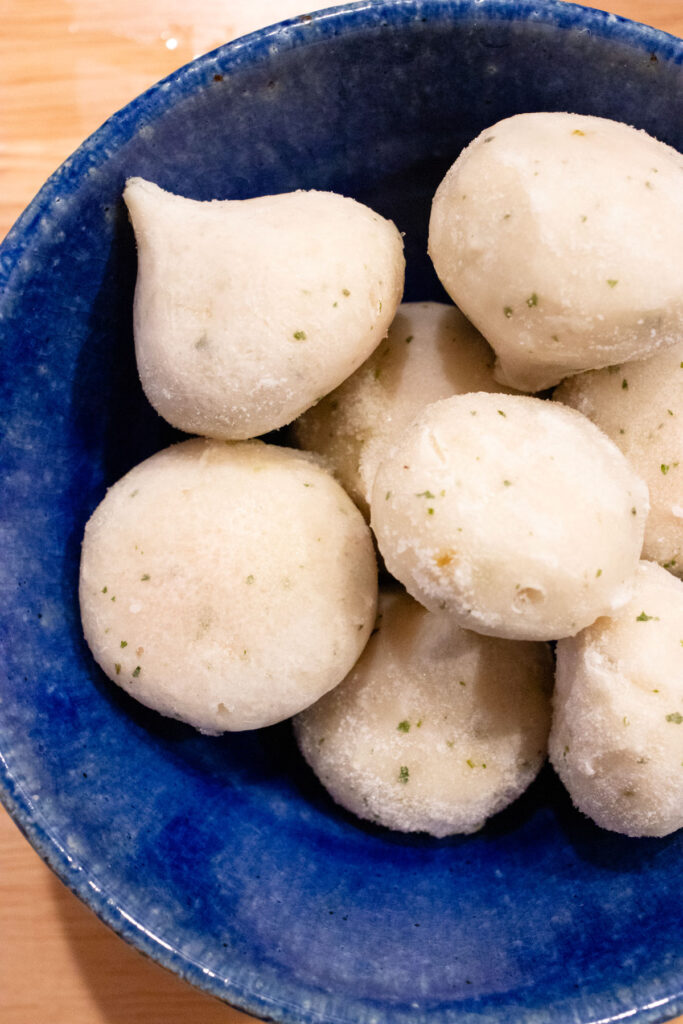 Mushrooms:
Shiitake mushrooms: Earthy and robust, these are a hotpot classic.
Enoki mushrooms: Delicate and mild, they soak up the broth's flavor beautifully. These are also my favorite mushrooms, thin and chewy. I could eat bundles of this in one go.
King oyster mushrooms: Their meaty texture and rich, nutty flavor make them a hotpot favorite.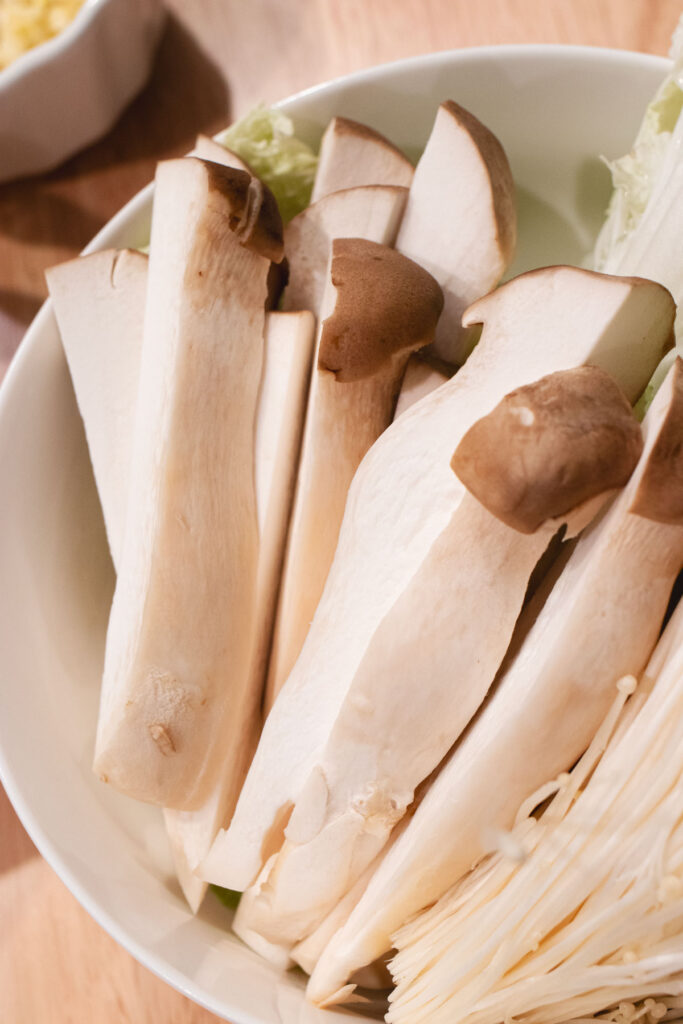 Vegetables:
Napa cabbage: Its sweet, crisp leaves are perfect for a quick dip.
Bok choy: Baby bok choy halves are tender and give a delicious crunch.
Lotus root: Sliced thin, this adds a delightful crunch and a hint of nuttiness.
Daikon radish: When boiled under tender, these soak up the flavor of the broth wonderfully.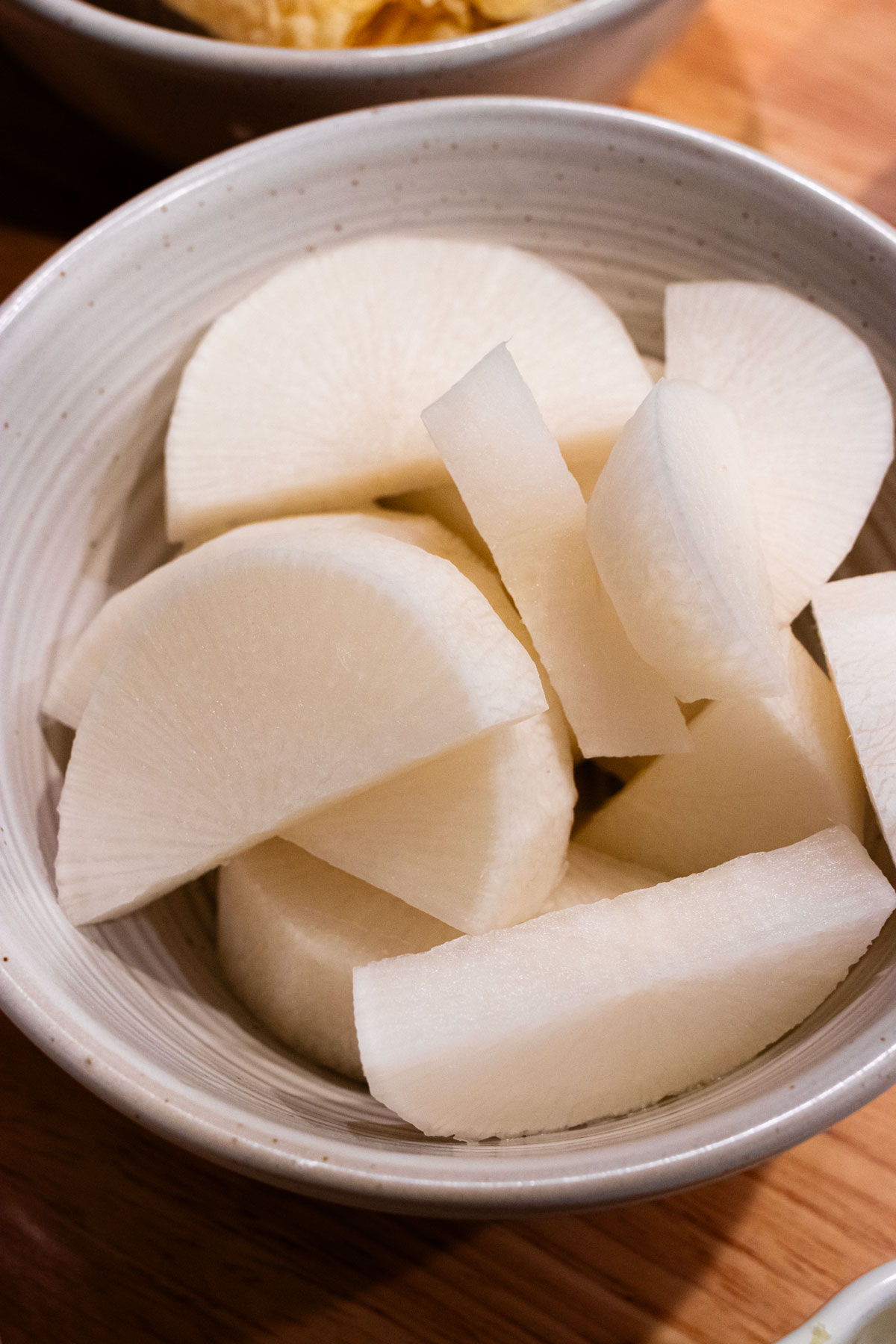 Tofu and Bean Curd:
Soft tofu: Soft or silken tofu is perfect for soaking up the broth's flavors.
Fried tofu Puffs/fried tofu rolls: These soak up the broth and add a delightful crunch.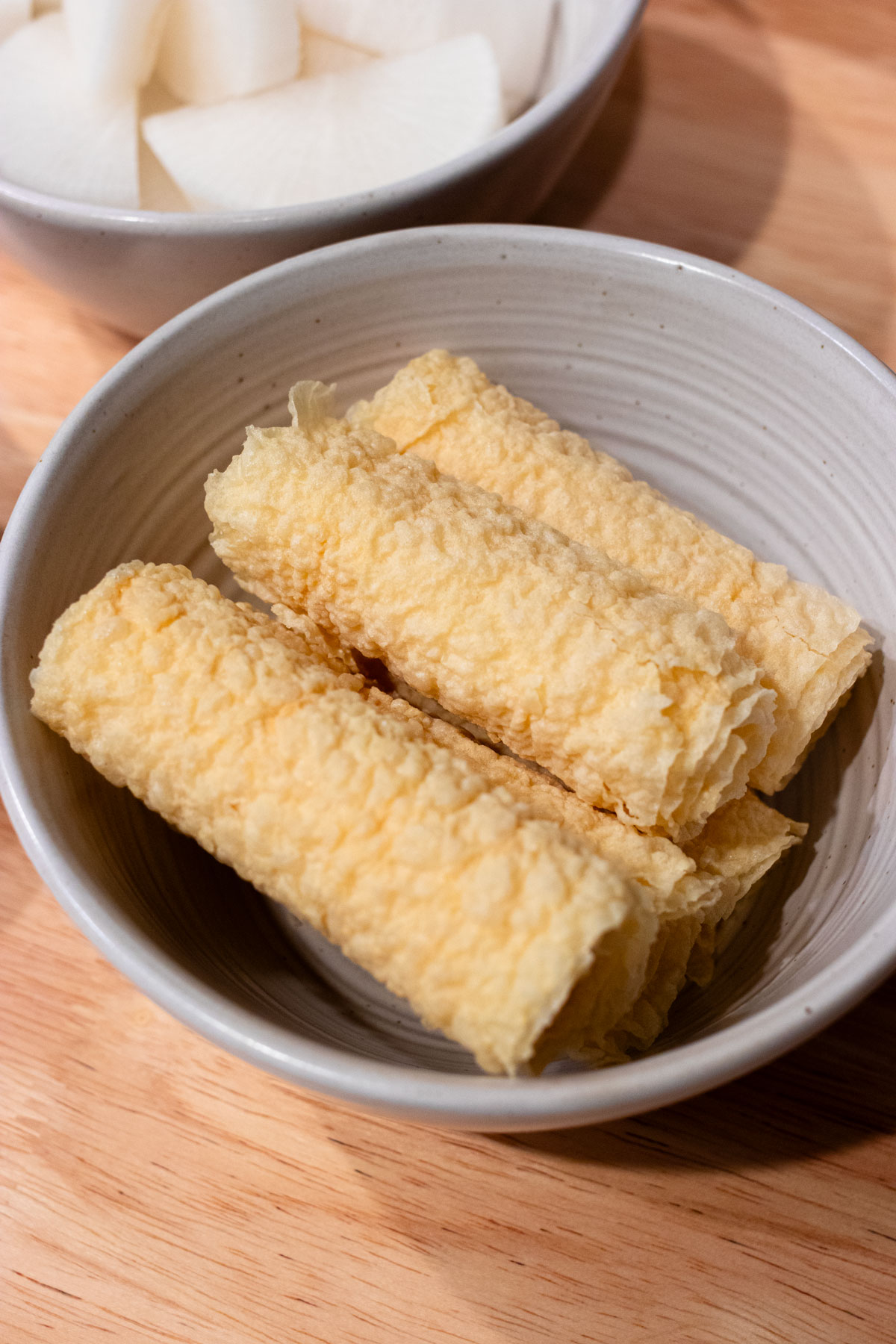 Noodles and Starches:
Udon noodles: Thick and chewy, udon noodles are a hearty addition.
Glass noodles: These translucent noodles cook quickly and soak up the flavors of the broth.
Rice cakes: Rice cakes add a chewy element to the mix.
Konjac noodles: If you are looking for a low carb option to replace noodles, try konjac noodles, also known as shirataki noodles. These are made from a soluble fiber derived from the konjac root.
Frozen dumplings
Dipping Sauces Ingredients:
Peanut sauce: Creamy and savory, this pairs well with vegetables and tofu.
Sesame paste: A nutty, savory sauce with a hint of sweetness. If you can't find Chinese sesame paste, you can sub with tahini.
Chopped scallions
Finely minced garlic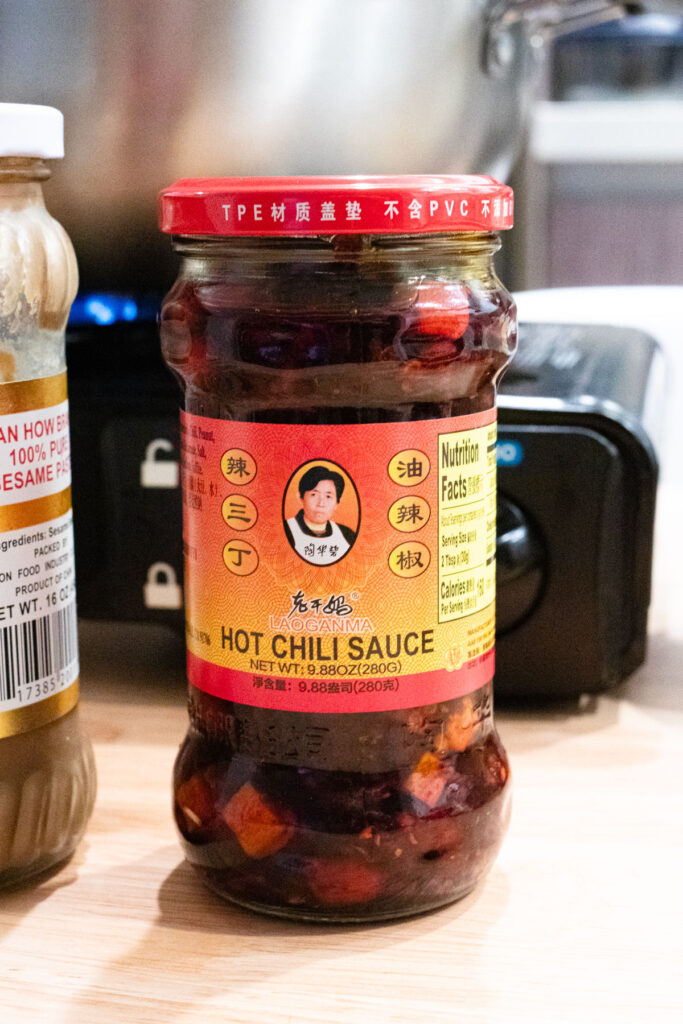 Instructions
Prepping your ingredients is a crucial step to ensure a smooth and enjoyable hotpot experience. Here's a guide on how to prepare some of the key fresh ingredients. Frozen ingredients should be prepared according to the packaged instructions.
Meats:
For meats such as beef, lamb or pork, you will typically be able to find thinly pre-sliced packages specifically for hotpot in the frozen meats aisle at Asian grocery stores. The below instructions are for if you are preparing the slices on your own.
Beef or pork: Place the meat in the freezer for about 20-30 minutes to firm it up. This makes it easier to slice thinly. Using a sharp knife, slice against the grain into thin, bite-sized pieces.
Lamb Slices: Trim any excess fat and slice the lamb thinly against the grain.
Chicken or duck: Remove any skin and bones, then slice the poultry thinly. For added flavor, marinate the slices in a mixture of soy sauce, ginger, and a touch of sesame oil.
Seafood:
Shrimp: Peel and devein the shrimp, leaving the tails on for easy handling. You can also give them a quick soak in cold water to firm them up before cooking.
Fish fillets: Cut the fish into bite-sized pieces, ensuring they are uniform in size for even cooking. Lightly coat with cornstarch to keep the fillets from falling apart while boiling.
Mushrooms:
Shiitake mushrooms: Remove the stems and give them a quick rinse to remove any dirt. You can leave them whole or slice them depending on your preference.
Enoki mushrooms: Trim the tough base of the cluster and give them a gentle rinse. They're best used in bunches, so keep them intact.
King oyster mushrooms: Rinse them gently and they're ready to go. Slice them vertically or as thick coins depending on your preference.
Vegetables:
Napa cabbage and bok choy: Separate the leaves and give them a thorough rinse. For larger pieces, cut them into manageable portions.
Lotus toot: Peel and slice the lotus root thinly. You can soak them in water with a bit of lemon juice to prevent browning.
Daikon radish: Wash and peal the radish. Slice into ¾ inch thick discs and then slice the discs in half. You can also quarter the discs for smaller pieces.
Tofu and Bean Curd:
Soft tofu: Cut the tofu into cubes or slices, depending on your preference. If it's particularly soft, you can let it drain on a paper towel for a few minutes.
Dipping Sauce:
The ingredients for the dipping sauce provided is simply a list of different sauces you can mix together to create your ultimate sauce. In the end, it's up to your flavor profile and how heavy or light you want the sauce to be. Traditionally, we like to make a mixture with soy sauce, sesame paste, black vinegar, sesame oil and add in copious amounts of minced garlic and chopped scallion. This usually creates a fragrant sauce with a thicker consistency that adheres to the cooked ingredients.
However, if you're looking for something lighter, mix soy sauce and Chinese black vinegar and sprinkle in some chopped scallions. To lighten it up, you can replace the soy sauce with ponzu sauce to there's a bit of zest.
Equipment
If you are making a one-person hotpot, you can actually find small electric pots that allow you to enjoy hotpot wherever you'd like!
If you are prepping hotpot at home for a larger group, you can place a dual-sided pot over a camping stove in the middle of the dining table - allowing everyone around the table to have easy access to the pot. If you don't feel comfortable with a gas camping stove, there are electric dual-sided pots, although these might take a little longer to heat up.
If you want to avoid everyone sticking their chopsticks into the hotpot, we recommend having several sets of chopsticks for different usages, especially when handling raw meat! Long chopsticks are great for adding in ingredients without getting burnt by the hot steam.
Additionally, these slotted hot pot ladles are great when you just want to grab some ingredients without watering down your sauce. These are also extremely helpful if you want to cook that one piece of beef quickly without it floating away into the abyss.
Storage
Since all the ingredients are mixing in a boiling pot for so long, I would not recommend saving anything that has been boiled.
However, for any unused ingredients, ensure they are placed in an air tight container and stored according to the instructions on the packaging.
Top tips
To keep the soup fresher, we prefer to leave the meats till the end. If you'd like to keep your meal varied, you can use a spoon to skim the scum off the top of the broth to keep it fresh for longer.
Keep a kettle near you that's ready to boil water when needed. As the hotpot boils continuously, the soup will slowly evaporate. You'll want to replenish the water and adding hot water versus room temp or cold water will bring the soup back to boiling point much faster.
FAQ
What is Chinese hotpot?
Chinese hotpot is a traditional cooking method where a simmering pot of broth is placed at the center of the dining table. Diners cook a variety of raw ingredients, such as meats, vegetables, and seafood, in the broth, creating a delicious and interactive dining experience.
How do I choose the right broth for my hotpot?
The choice of broth largely depends on your taste preferences. Popular options include clear vegetable broth, spicy Sichuan broth, miso broth, and tom yum broth. You can also mix and match to cater to different palates.

What kind of meats work best for hotpot?
Thinly sliced meats like beef, pork, lamb, chicken, and duck are ideal for hotpot. They cook quickly and absorb the flavors of the broth beautifully.
Where can I find konjac noodles for a low-carb hotpot option?
Konjac noodles, also known as shirataki noodles, can be found in many health food stores and online retailers. They are a great low-carb alternative for hotpot.
Can I customize the ingredients in my hotpot to accommodate dietary preferences or restrictions?
Absolutely! Hotpot is incredibly versatile. You can choose ingredients based on dietary preferences, such as vegetarian, vegan, gluten-free, or low-carb options. Simply select ingredients that suit your needs and enjoy a customized hotpot experience!
Related
Looking for more warm broth-based dishes for cold weather?
📖 Recipe
Ultimate Chinese Hotpot at Home
This interactive dining experience brings together a medley of fresh ingredients, simmering in a fragrant broth of your choice. From succulent meats to an array of vibrant vegetables, there's something for everyone at the hotpot table.
Ingredients
Broth Base
Clear vegetable broth

Spicy Sichuan broth

Miso broth

Tom Yum broth
Meats
Beef slices

Lamb slices

Chicken or duck

Pork belly/pork shoulder/pork loin
Seafood
Shrimp

Fish fillet

Fish balls
Mushrooms
Shiitake mushrooms

Enoki mushrooms

King oyster mushrooms
Vegetables
Napa cabbage

Bok choy

Lotus root

Daikon radish
Tofu and Bean Curd
Soft tofu

Fried tofu Puffs/fried tofu rolls
Dipping Sauces Ingredients
Chili oil

Chopped scallions

Finely minced garlic
Instructions
Prep all ingredients. Place ingredients in separate plates according to category so that meats, seafood, and vegetables are not touching.

Prepare your dipping sauce. The mix is up to your preferences and each person should make their own individual dipping sauce.

Place pot on burner and add different broths to each side of the pot. Allow broth to get to a boil.

Add ingredients to the pot. Ensure that each ingredient is cooked thoroughly before removing. Don't add all ingredients at once to avoid overcrowding. Ingredients that may require longer cooking times such as frozen fishballs or daikon should be added earlier to allow ingredients to cook through.

If broth is running low, boil a pot of water and added boiled water into the pot.

Once the meal gets close to the last few ingredients, lower heat to medium low.
Notes
Prep and cook time depends on the ingredients chosen.
Food safety
Cook to a minimum temperature of 165 °F (74 °C)
Do not use the same utensils on cooked food, that previously touched raw meat
Wash hands after touching raw meat
Don't leave food sitting out at room temperature for extended periods
Never leave cooking food unattended
Always have good ventilation when using a gas stove