The bone broth craze has taken over the US in recent years. I remember how confused I was when articles from coveted food magazines started touting the benefits of bone broth. Bone broth, specifically a daikon pork bone soup (萝卜排骨汤), was a weekly staple at our house. In those days, the pork bones would take hours to stew over the stove. My mom would ramble on about the nutritional value of the soup-- always reminding us to not waste the collagen found in the bones. These days, I don't have the patience to watch over a simmering pot, which makes this Instant Pot pork bone broth even more magical. While this recipe takes longer than my regular recipes, it requires so little attention. Once you've parboiled the pork bones, add them into the Instant Pot with a few of your favorite fragrants, and set it to pressure cook for 2 hours. Then you're hands free until the broth is ready!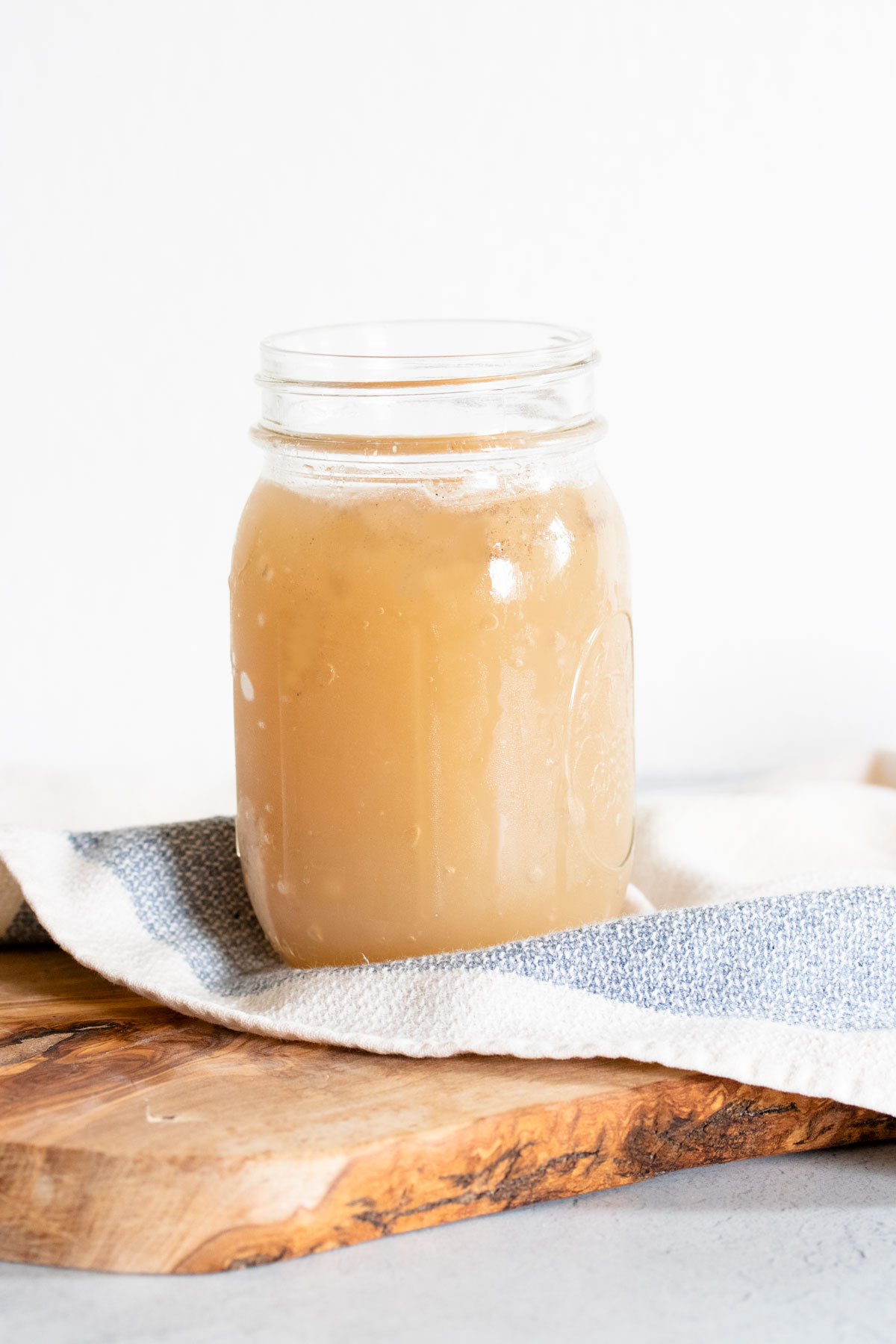 How do I use the Instant Pot to make broth?
An Instant Pot is a pressure cooker, which essentially traps steam as it generates heat. Since the pot is sealed, the steam builds up and the liquid within the pot heats up beyond boiling point temperatures. This type of environment helps to tenderize and cook meats much faster, while still retaining flavor because none of the water is evaporating!
I use my 6 qt Instant Pot plenty of times in other recipes that typically require a longer cook time when done traditionally over the stove such as my Instant Pot Shanghainese braised pork belly or Instant Pot Taiwanese pork rice bowl. However, it's not always meat that requires an IP! I've also used it to make my husband's favorite Instant Pot Chinese eggplant with garlic sauce. This piece of equipment is so versatile, and I wouldn't be able to make half my recipes without it!
What is this broth good for?
The best thing about this broth is that you can store in it the fridge for meal prep for the week or freeze it for a rainy day. The recipe is an amazing base for pho broth or ramen broth.
I've used this broth to create many noodle dishes for cold days such as Japanese-inspired ramen with all the toppings and topped with Chinese BBQ pork, a seafood soup with buttered shrimp, and a Cantonese-inspired traditional pork bone soup.
Can I use other proteins (beef or chicken)?
Yes! This recipe is easily replicable with other proteins. If using beef, I prefer using a mix of oxtail and neck bones. If chicken, I usually throw in the entire carcass (the chicken rotisserie from Costco is amazing for this once you've finished the meat).
How do I store the broth?
We usually finish the broth in a couple days by having it for both lunch and dinner! The best way to store this way is to separate it into takeout soup containers or mason jars. Once these have cooled in the fridge, the broth will become a gelatin-like consistency, which is how you know all the good collagen has been extracted. The great thing about refrigerating the broth is that the fat will congeal at the top. If you would prefer to get rid of the excess fat, cool it, then use a spoon to scoop the fat off.
If you want to freeze the broth, I would recommend portioning however much you would use for one meal into a separate container or Ziploc bags. Freeze the bag laying flat. Some people also freeze the broth in an ice cube tray, which makes for easy removal!
Ingredients for pork broth/stock
The ingredients are extremely simple. Note that once this broth is made, you'll want to add seasonings based on your recipe such as five spice power, white pepper powder, salt, and so on.
Pork neck bone: This part has some of the most collagen and will give your broth the rich flavor you're looking for
Garlic cloves
Ginger
Seasonings: I usually use what I have on hand such as bay leaves, cinnamon sticks, and star anise.
Lemon juice: A drop of acidity helps to extract more flavor from your protein. I use a tablespoon of lemon juice, but you can also sub for white vinegar or apple cider vinegar.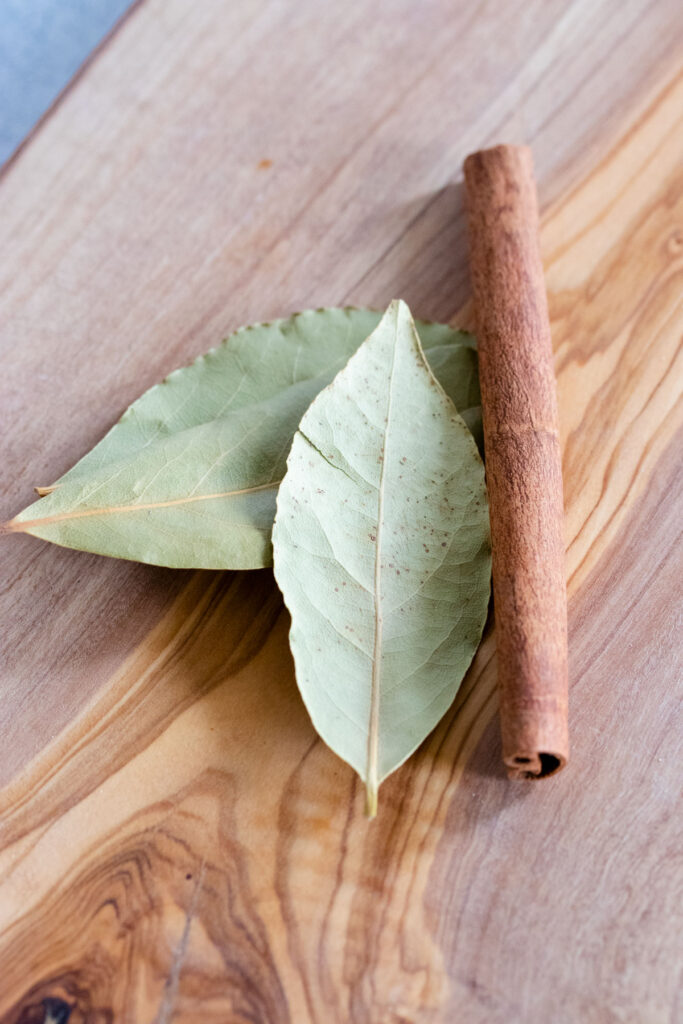 How to make pork broth in an Instant Pot
Parboil the pork neck bones. This step helps to get rid of any of the pork's impurities and blood. Boil a stock pot of water, and add in pork bones. Boil for around 8 minutes. You'll start to see a gray foam form on the top of the pot. Scoop this off with a ladle.
Once you're done parboiling, drain the pot and run the bones under cold water. Scrub to get rid of any remaining impurities.
Set Instant Pot to Sauté and add a scant tablespoon of vegetable oil. Add in ginger slices, garlic, and pork bones. Use a pair of tongs to make sure each side of the pork bone is gently seared.
Add about 8-10 cups of water (make sure you are at least an inch below the MAX water line).
Add spices, I like to use 3 bay leaves, 1 cinnamon stick, and 2 star anise.
Place lid on IP and set to Pressure Cook for 2 hours. This will take almost 3 to 3.5 hours as the pressure needs to build up and we have to wait for the Natural Release.
When the lid has released, let the pot cool before touching. Remove the bones and meat into a separate bowl. Pour the broth through a sieve to get rid of the remaining fragrants.
Store in an airtight jar for 3-4 days in the fridge (great for meal prepping) or a 3 months in the freezer.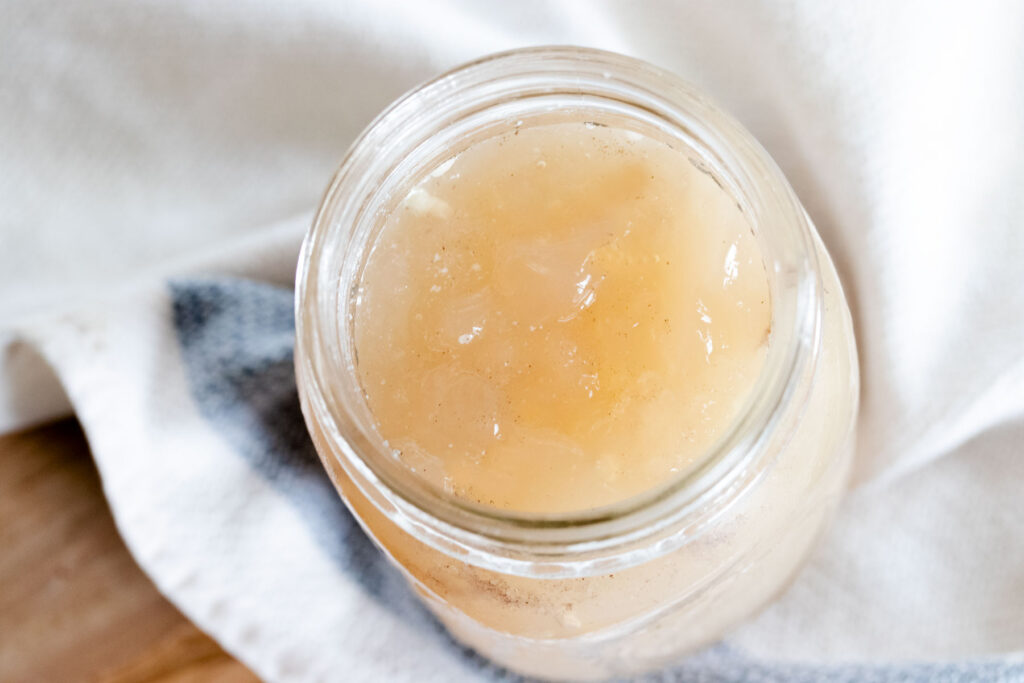 📖 Recipe
Instant Pot Pork Bone Broth
This pork bone broth is cooked in an Instant Pot to extract rich, bold flavors perfect as a base for any noodle soup.
Ingredients
2

lbs

pork neck bones

1

tablespoon

vegetable oil

4

cloves

garlic

3

slices

ginger

8-10

cups

water

1

tablespoon

lemon juice

(sub with white vinegar)
Instructions
Parboil pork bones for 8 minutes. Scoop off the foam from the top as it boils.

Drain and rinse bones. Scrub to further remove impurities

Set IP to Sauté and add 1 tablespoon of vegetable oil, let pot heat up.

Sauté the bones with garlic and ginger. Use tongs to flip the bones so each side gets seared.

Add 8-10 cups of water (must be BELOW the max water line).

Add bay leaves, star anise, cinnamon stick, and lemon juice.

Set IP to Pressure Cook for 2 hours. After done, let Natural Release.

Let broth cool, remove the meat and bones. Pour through a sieve to remove the fragrants.

Store broth in an airtight jar in the fridge for 3-4 days or in the freezer for 3 months.