Being from Shanghai, red-braised pork belly (hong shao rou) was always something we ordered at a restaurant, especially if it was a celebration. Many regions have their own braised pork belly specialities, such as this Taiwanese braised pork rice bowl.
I always shied away from making this dish because I assumed something so rich and delicious would take hours to make. This is called red-braised pork belly for a reason-- the dish always came out in a clay pot glistening and a dark red from the soy sauces. When I finally learned the recipe, I realized there were only a couple of key ingredients. These ingredients are even more important when you're cooking this recipe in an Instant Pot.
Use a pressure cooker for quick weekday dinners
Typically, any braised pork belly recipe will require at 20 minutes of prep time and a little over an hour of simmering. Some might think it's impossible to recreate such a classical dish in an Instant Pot, well, this recipe proves them wrong.
With a pressure cooker, we're going to halve the time. We'll be doing some initial sautéing in the Instant Pot to create a delicious caramelization. Then, we'll add the liquids to provide the deep, rich flavor.
Ingredients for braised pork belly
Pork belly
Ginger
Brown sugar
Vegetable oil
Shaoxing wine ( you can sub with dry sherry)
Light and dark soy sauce
Star anise
Bay leaves
Optional: Eggs and tofu
If you don't have star anise and bay leaves, you can sub with five spice powder.
Top tips for fragrant Shanghai-style pork belly
It's important to blanch your pork belly in boiling water first. This helps to reduce the fat content and tenderizes the meat.
Allow the sugar and oil to caramelize to create a thick sauce for the meat
Add eggs and dry bean curd for extra bite before you start cooking in the pressure cooker.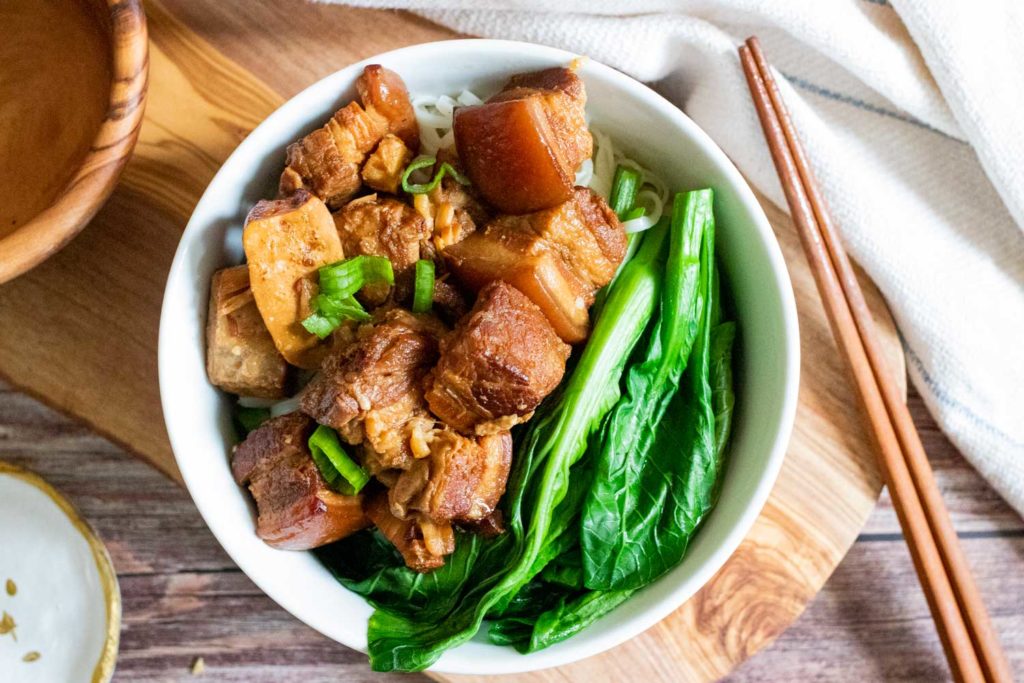 Looking for more easy Asian Instant Pot recipes?
Instant Pot Taiwanese Braised Pork Rice
A simplified version of Taiwanese braised pork rice- homey, comforting, and fragrant.
Check out this recipe
Chinese Eggplant with Garlic Sauce (Instant Pot)
Make a healthier version of the traditional fragrant braised Chinese eggplant dish in minutes with a pressure cooker
Check out this recipe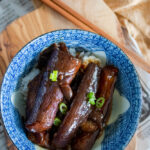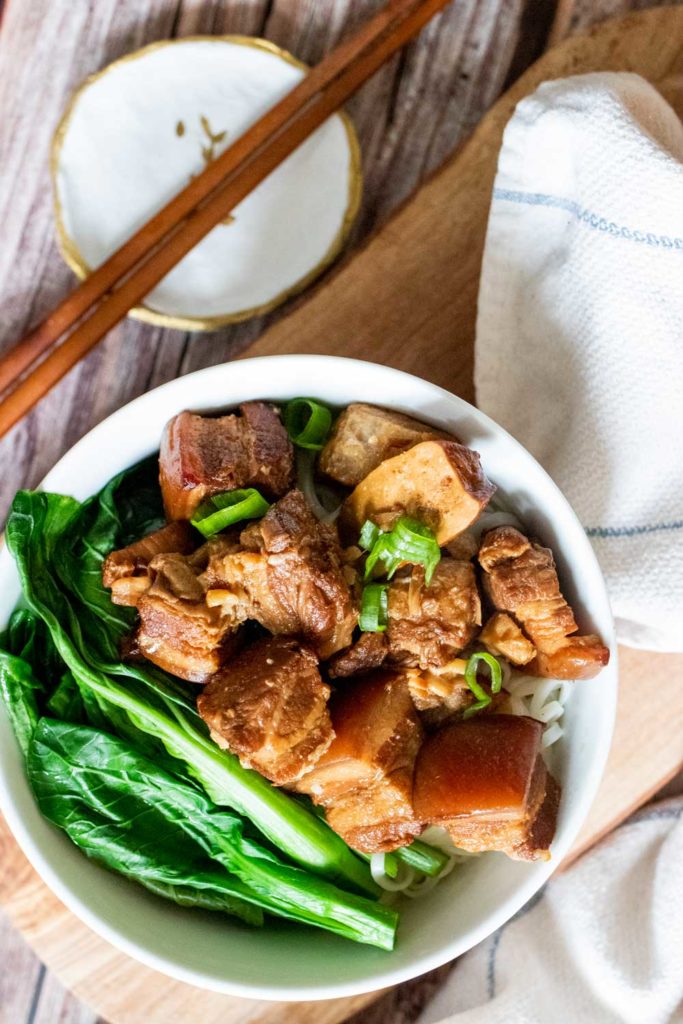 Instant Pot Braised Pork Belly, Shanghai-Style
An easy and quick Instant Pot recipe for a traditional Shanghai-style braised pork belly
Ingredients
1

lb

pork belly with skin on

2

slices

ginger

2

tablespoon

brown sugar

2

tablespoon

vegetable oil

2

tablespoon

Shaoxing wine

3

tablespoon

light soy sauce

2

tablespoon

dark soy sauce

2

cloves

star anise

2

bay leaves

1

cup

water
Instructions
Slice your pork belly into 1x1 inch squares

Blanch in boiling water with ginger for 2 minutes. Drain and rinse.

Set Instant Pot to Sauté. Caramelize brown sugar with vegetable oil until it starts to bubble.

Add the pork until it is completely coated. Scrap at the sugar/oil mixture if it begins to stick to the bottom.

Add Shaoxing wine, light and dark soy sauce. Stir for 1 minute.

Add water and spices (star anise and bay leaves). If you want to add tofu or boiled and peeled eggs, add now.

Cook on High Pressure for 15 minutes

Allow pressure to natural release and let it sit on Sauté mode to allow the extra liquid to evaporate. There should be a thick sauce, but not too much that it's soup-y.

Serve over rice or noodles.