Taiwanese braised pork rice bowls are the ultimate comfort food with fatty pork belly and a mouthwatering sauce. Easily make this fragrant dish at home with an Instant Pot!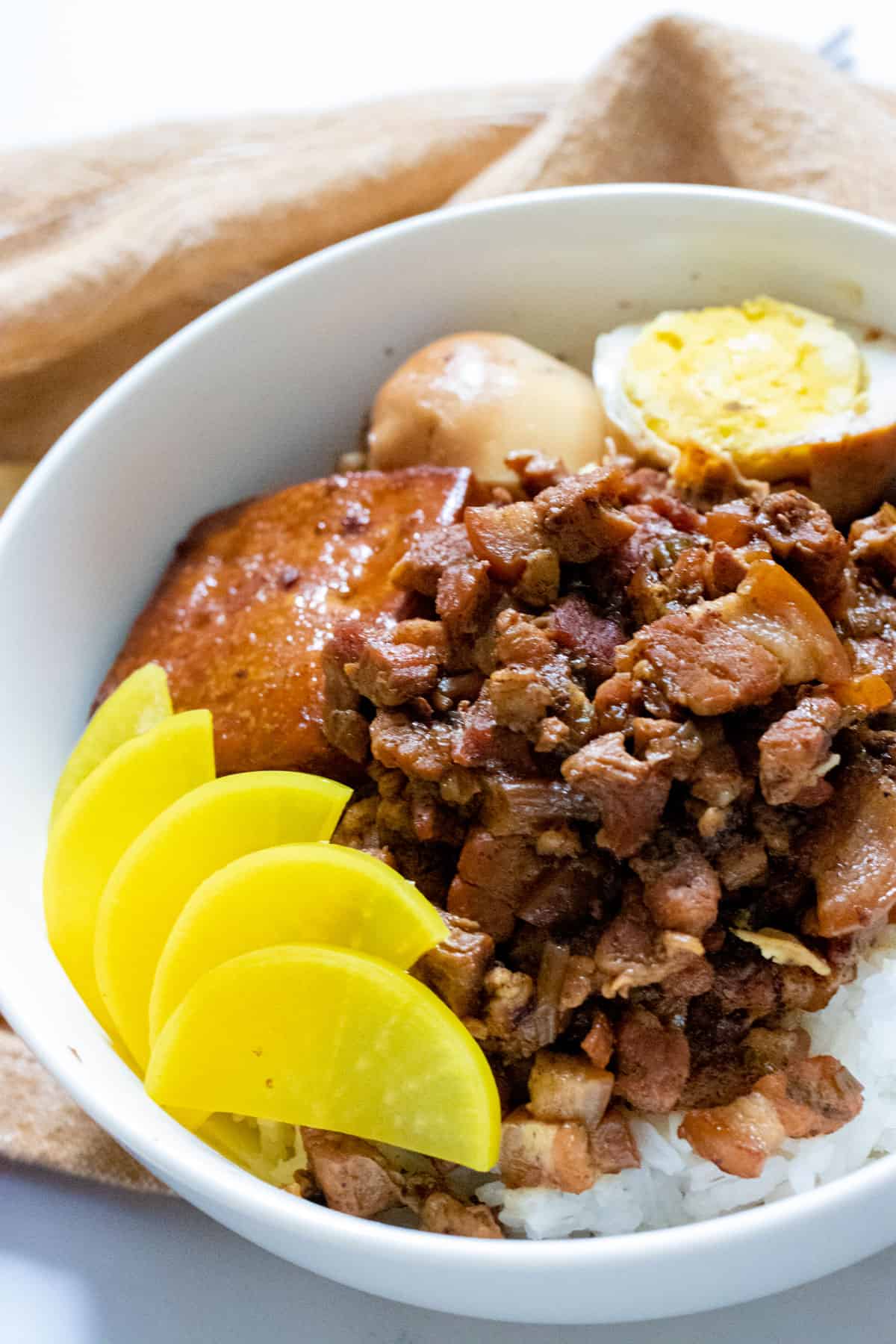 I realize all these posts always start with a childhood story, but I guess that's the point of this blog-- remembering all the meals I had as a kid in China and recreating them as an adult in the States.
For a period of time, this meal became our weekly Saturday lunch before we went to taekwondo class. It was a local restaurant with a 10 page menu, so the dish was not its speciality. However, I do remember always being excited to dig in. My memory of Taiwanese braised pork has always been fragrant, flavorful, and comfortable. I loved when the deep soy-based sauces coated the rice. My brother and I would devour our bowls before we rushed off to class.
Most braising recipes require a long period of simmering the meat in a sauce. I usually don't have the time to stand by a pot (especially on a weekday). Thus, I recreated the dish with a quick stir-fry over the stove and then pressure cooking the meat with the soy sauce mixture. This dish always comes with a boiled egg, and I like to add in dried bean curd for extra protein and bite.
Jump to:
What is Taiwanese braised pork rice?
I would say there are two dishes that come to mind when you ask for cornerstone Taiwanese dishes. Beef noodle soup (牛肉面)and braised pork rice (卤肉饭), both are savory and definite comfort foods.
The dish has two key steps. Stir-frying the pork until the liquid has evaporated and the natural oils of the pork seep into the skillet. You're then allowing the meat to brown in its fats, then infusing a deeper flavor by simmering it in soy sauce. Most traditional recipes will have you simmer the pork in a cast iron for an hour in order to truly infuse the flavors of the sauce into the meats.
If you're looking for more delicious braised recipes, try my Chinese Braised Soy Sauce Chicken or Instant Pot Braised Pork Belly, Shanghai-Style recipes!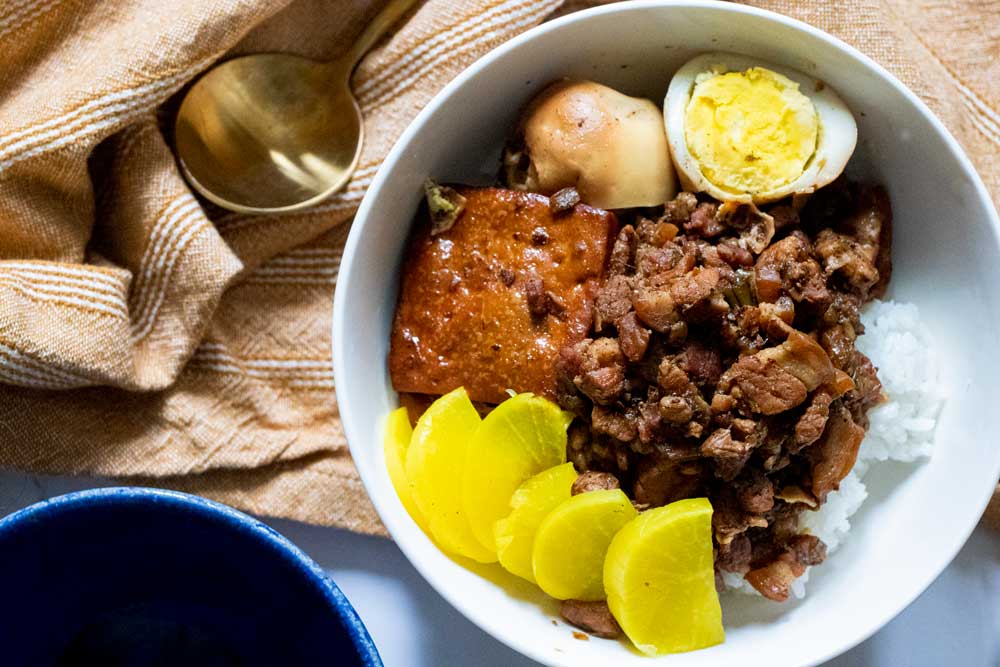 Top tips
I've found that there are three key things to create a flavorful Taiwanese braised pork rice:
Use pork belly. Some recipes will call for ground pork, which is fine to use, but using pork belly keeps the lean and fatty meat separate, giving it more texture and ability to absorb flavor
Be patient. Let the pork cook until the natural oils seep out and it begins to brown. It'll give it a much better mouthfeel. That's why I almost never use extra oil because I use the oil from the pork to then cook down the shallots, scallions, and garlic.
Use sugar to create caramelization and increase browning. It's not just the soy sauce that gives Taiwanese braised pork rice its signature deep, brown color. By adding in sugar beforehand and letting it caramelize, the ingredient also helps to add color and allow you to reduce the amount of soy sauce required (and hence sodium!)
Instructions
Boil 3 eggs. Let it sit in an ice bath or cold water for 10 minutes before peeling. This helps the egg shell come off easier without ruining the egg white.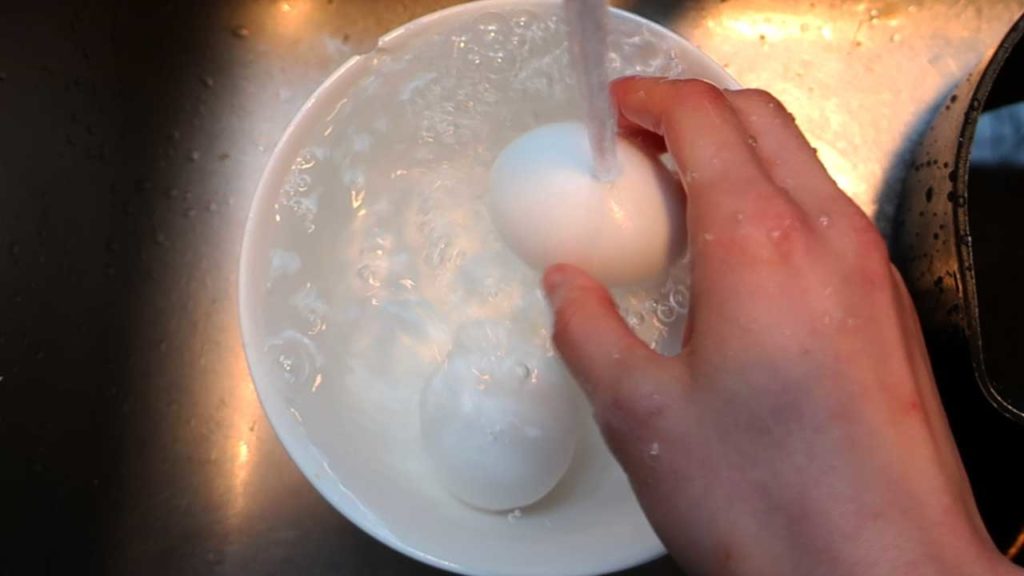 Slice your pork belly into thin 1 cm wide strips. Mix with 1 tablespoon of shaoxing rice wine. Dice your shallots and garlic, and chop your scallions.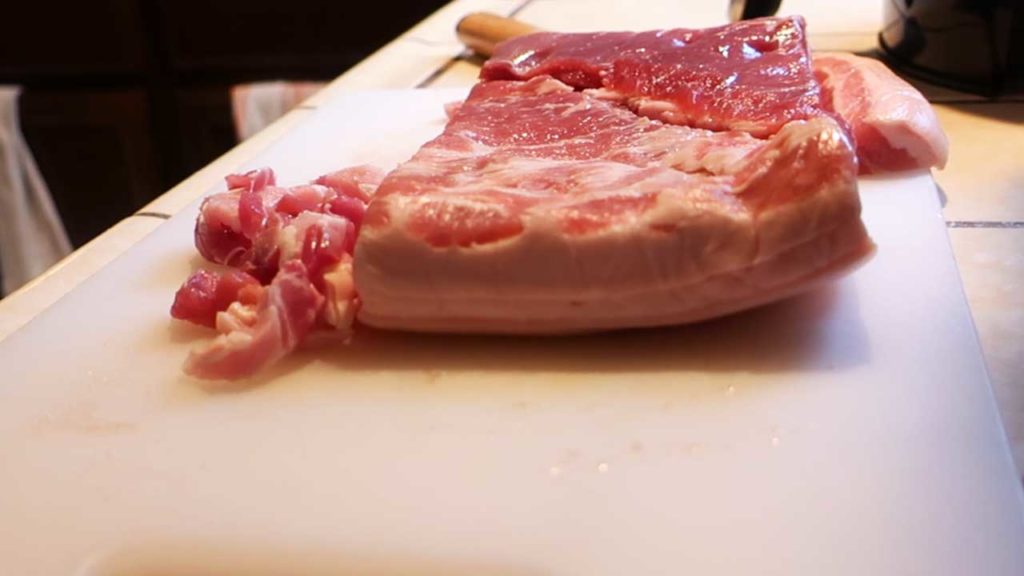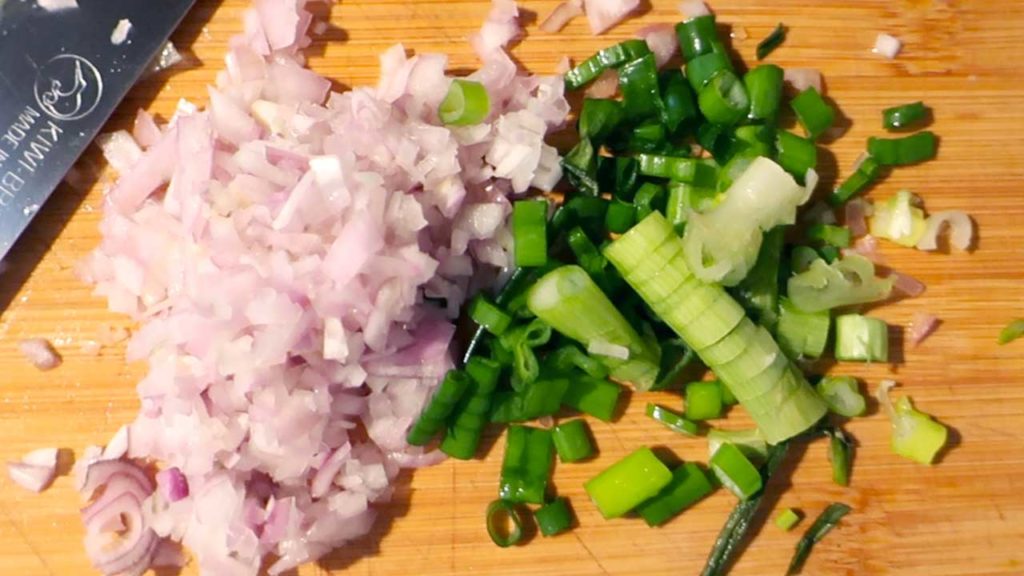 Heat up your skillet and stir-fry the pork. You do not have to add any oil. The liquid will evaporate due to the heat and the pork will release its natural oils. This will help stimulate the Maillard effect.
Add in the diced shallots and cook until the shallots have browned and have released its fragrances. Add in the chopped scallions and stir-fry for 1 minute, then add in the chopped garlic and stir-fry for another minute. It should begin to smell very fragrant. Continue to cook until garlic has also started browning.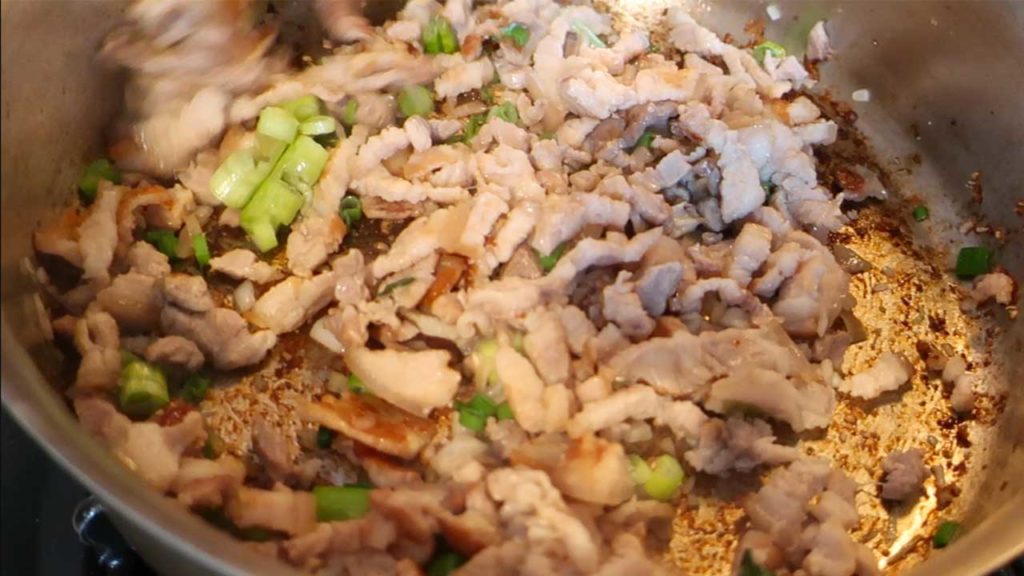 Add in 1 tablespoon of sugar and allow it to caramelize on the pork. Once you start seeing color, add in 3 tablespoon of light soy sauce and 1 tablespoon of dark soy sauce. Ensure that the soy sauce coats the pork evenly by pouring the soy sauce around the perimeter of the skillet.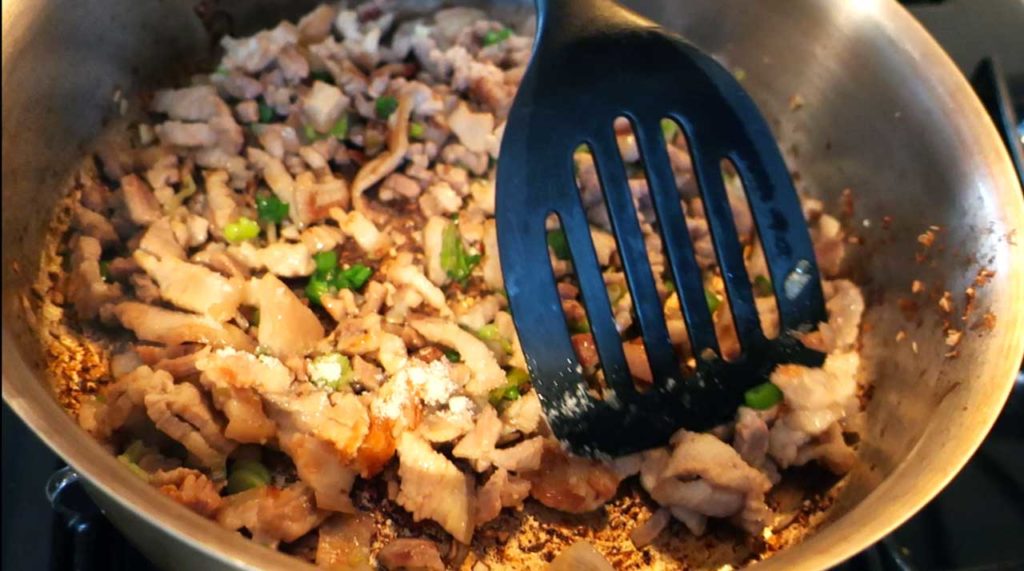 Add in 2 cups of water. Season with 1 teaspoon of five spice seasoning and 1 teaspoon of white pepper. Let it simmer and taste the sauce. Adjust seasoning accordingly.
Move mixture into the pressure cooker. Add in the peeled boiled eggs and tofu. Cook on high pressure for 25 minutes. Allow for natural release.
Serve with a bowl of rice and a side of pickled daikon.
📖 Recipe
Instant Pot Taiwanese Braised Pork Rice
Make this comforting and fragrant Taiwanese braised pork with rice at home with an Instant Pot.
Ingredients
Optional Toppings
1

packet

dried bean curd

1

pickled daikon

sliced and halved
Instructions
Boil 3 eggs. Cool in an ice bath and peel. Set aside.

Slice pork belly into thin strips, about 1 cm in width. Marinate in shaoxing wine for 20 minutes.

Heat your skillet and saute the pork belly. Continue to stir and use a spatula to scrap the brown bits. Wait until the natural oils begin to heat up on the pan.

Add in diced shallots and cook until shallots have released their fragrance.

Added in scallions and garlic. Stir until garlic has begun to brown.

Add in 1 tablespoon of sugar. Allow it to caramelize and brown the meat.

Coat eveningly with 3 tablespoon of light soy sauce and 1 tablespoon of dark soy sauce. Stir-fry for a couple minutes.

Add in 2 cups of water. Season with 1 teaspoon of five spice powder and 1 teaspoon of white pepper powder.

Move into pressure cooker. Add in your boiled eggs and dried tofu (optional)

Cook on high pressure for 25 minutes. Allow for natural release.

Serve over rice and with pickled daikon.