Updated on July 22, 2021 by Julia
Eggplant can be finicky. Different types vary in bitterness and its initial preparation will affect its taste. This Chinese eggplant dish is called 鱼香茄子 which translates to fish-fragrant eggplant. For those familiar with eggplant, the vegetable itself tastes like a bland sponge. However, this makes it great for soaking up any sauce you cook it in. Thus, the key is to make a thick and savory sauce that the eggplant cooks down in, becoming nice and soft. Perfect for serving over rice.
A healthier braised eggplant dish
Most Chinese recipes will require you to fry the eggplant in oil and then to let it cook down in a sauce. We'll give the eggplant a similar treatment, but with much less oil in an Instant Pot. You can use either Japanese eggplant or Chinese eggplant. Japanese eggplants are deeper in color, but both have similar characteristics and are perfect for this "stir-fry" dish.
Compared to most vegetables, eggplant takes much more time and patience to cook. Y loves ordering this dish when we were able to eat out, so I decided to make it at home and have more control over the ingredients.
Ingredients for fragrant Chinese eggplant
Chinese eggplants
Ground meat (optional)*
Scallions
Ginger
Garlic
Thai chillies
Doubangjiang (broad bean chilli sauce)
Dark soy sauce
Light soy sauce
Chinese rice vinegar
Sesame oil
Granulated sugar
Cornstarch
Water
*If you'd like to add extra protein, you can include 1/2 lb of ground meat, we usually use ground turkey. Traditional dishes uses ground pork.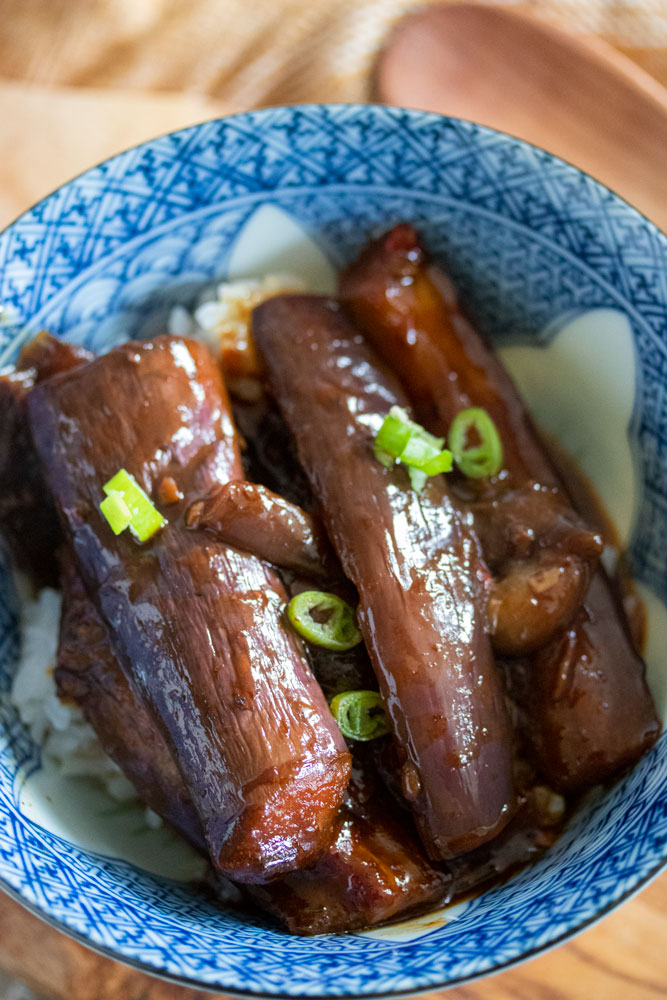 Instructions for Chinese eggplant with garlic sauce
Wash and slice your eggplant into 4 in/10cm long pieces. Sprinkle the eggplant with coarse salt and let it sit for at least 30 minutes. This step is important as it draws out the bitterness.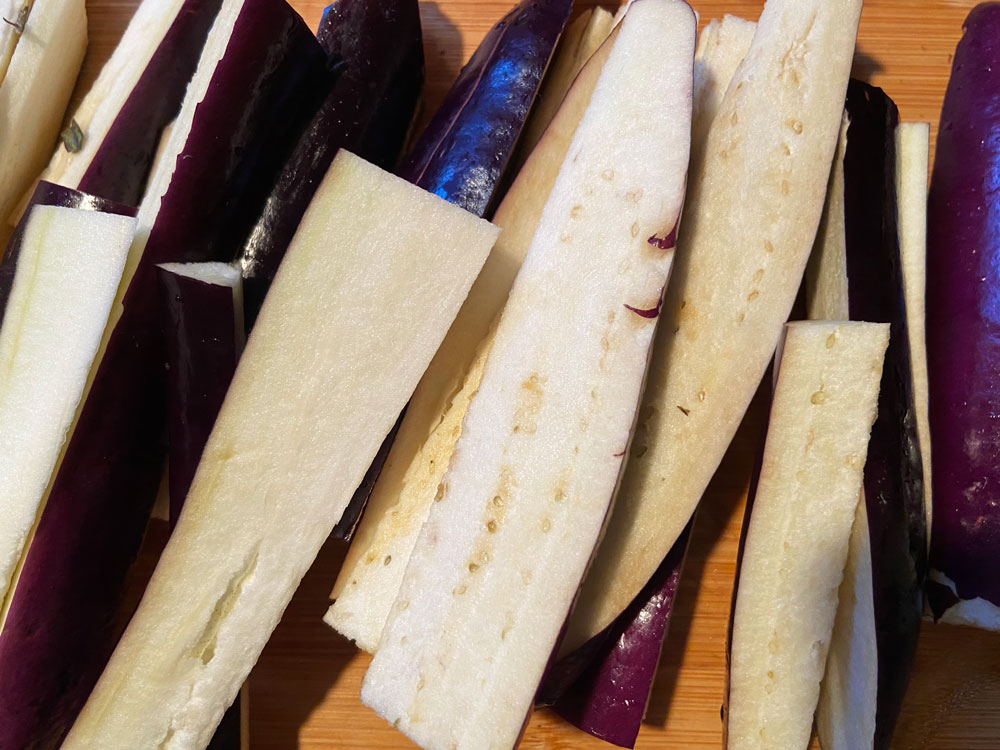 2. Chop your scallions, ginger, Thai chillis, and garlic.
3. Make your sauce by combining dark and light soy sauce, vinegar, sesame oil, sugar, cornstarch and water.
4. Set your Instant Pot to Saute, heat up 1 tbsp of oil. If you are including protein, add your ground meat in now, and cook until brown. Add the ginger, garlic, scallions, and Thai chillis until fragrant.
5. Add the broad bean chilli sauce and stir for 30 seconds.
6. Add in the eggplant and stir it around for a couple seconds. Add in your sauce.
7. Set your Instant Pot to High Pressure for 6 minutes. Allow for natural release.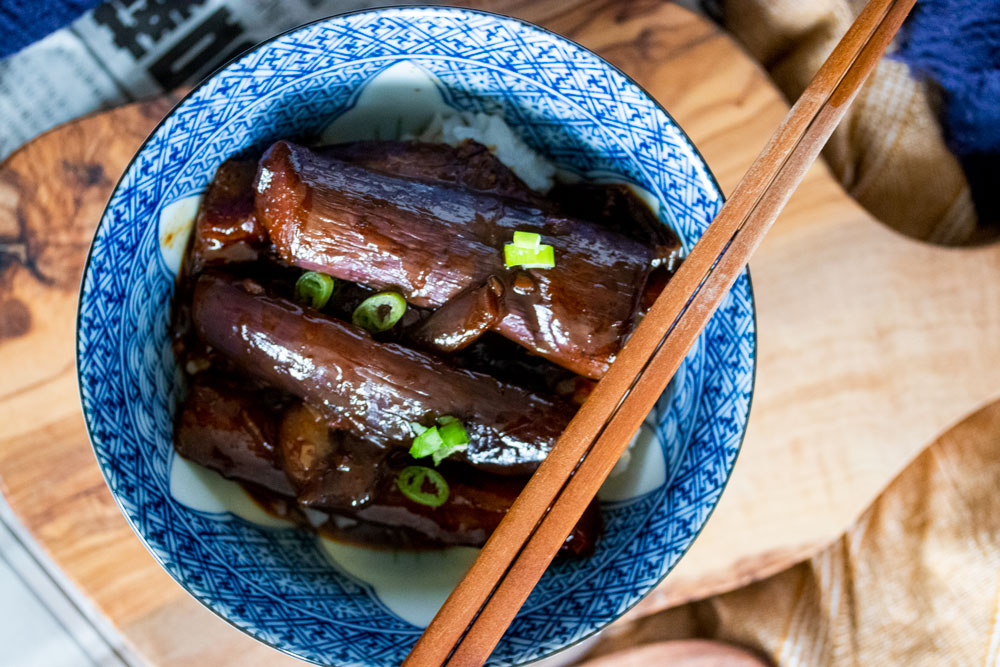 Looking for more Instant Pot recipes?
Instant Pot Braised Pork Belly, Shanghai-Style
An easy and quick Instant Pot recipe for a traditional Shanghai-style braised pork belly
Check out this recipe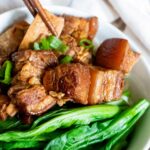 Instant Pot Taiwanese Braised Pork Rice
A simplified version of Taiwanese braised pork rice- homey, comforting, and fragrant.
Check out this recipe
Chinese Eggplant with Garlic Sauce (Instant Pot)
Make a healthier version of the traditional fragrant braised Chinese eggplant dish in minutes with a pressure cooker
Ingredients
2

long Chinese eggplants

Coarse salt

½

lb (220 grams)

ground meat (optional)

(beef, turkey or pork)

2

scallions

chopped

2

slices

ginger

3

cloves

garlic

minced

2

Thai chillis

chopped

1

tbsp

doubanjiang

(broad bean sauce)

½

tbsp

dark soy sauce

1

tbsp

light soy sauce

1

tbsp

dark vinegar

1

tbsp

sesame oil

1

tbsp

granulated sugar

1

tbsp

cornstarch

⅔

cup

water

1

tbsp

vegetable oil
Instructions
Slice eggplant into 4 inch/10 cm stalks. Sprinkle with coarse salt and let it sit for 30 minutes. You'll see the eggplant "sweat." Pat dry.

Chop and dice your garlic, scallions, ginger, and Thai chillis. Set aside.

Make your sauce by mixing the dark and light soy sauces, vinegar, sesame oil, sugar, cornstarch, and water. Mix well.

Set Instant Pot to Saute. Heat up 1 tbsp of oil. If you are making protein, cook the meat until brown. Add in the garlic, scallions, ginger, and Thai chillis and stir for 1 minute until fragrant.

Add in 1 tbsp of the broad bean sauce, stir for 1 minute.

Add in your eggplant and pour in the sauce. Mix until everything is coated evenly.

Set Instant Pot to High Pressure and cook for 6 minutes. Let Natural Release for 5, and then Quick Release.