Tofu can be a huge miss if not prepared properly, but when pressed and given ample sauces to soak in, it can become a star protein sources for vegans and non-vegans alike. We'll be using gochujang, a spicy but slightly sweet Korean sauce/marinade and extra-firm tofu as the key ingredients to this dish.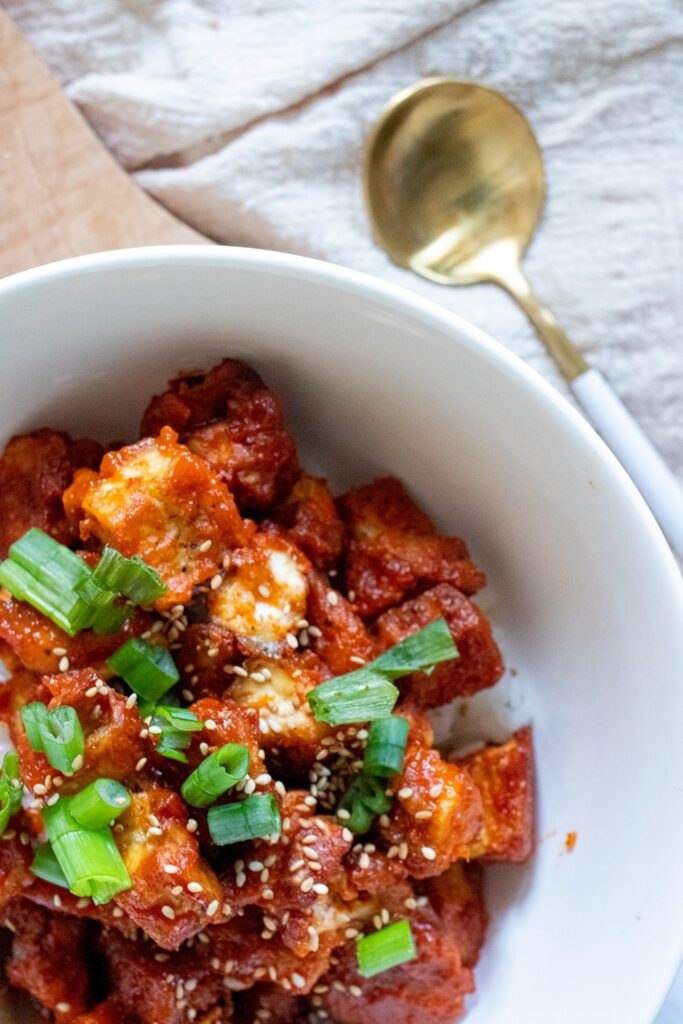 How does tofu absorb flavor?
Honestly, there's a ton of different tofus out there-- silken, soft, firm, extra firm and each one serves a different purpose based on the dish you're cooking. Most silken and soft tofus are found in stew or soup dishes, while firm or extra firm tofu (which contains less liquid) are used in scrambles (in lieu of egg) and anything involving frying or baking.
To ensure that your extra firm tofu is able to absorb the gochujang mixture, you want to press out as much liquid as you can. Some people use a tofu press. I simply drain and place my tofu between two flat plates and wrap it with paper towels. Sometimes I'll put a couple cans of beans on the top plate to apply more weight/pressure to the tofu. I'm all about efficiency (or just call me lazy), but I only do this for about an hour and change the paper towel out once when its absorbed too much liquid.
A hack to ensure that your tofu is less liquid-y is to freeze it. Place your tofu in the freezer the night before, then take it out and defrost it. You'll notice that it holds less liquid, but it will also have a more sponge-like texture. I've honestly never noticed a difference in taste since the sauce does a lot of its magic.
Starting your Korean gochujang crispy baked tofu
Once you've drained and pressed the tofu, cube it and generously toss it with cornstarch, black pepper, soy sauce, and a little bit of olive oil. You want to make sure it's coated evenly so each tofu is baked to a golden perfection. The smaller you cut the tofu, the more surface area is exposed to oven heat, the crispier it will be. I typically cut it 4x4 and then slice it through the middle laterally.
Lay out your tofu blocks on a baking sheet covered with parchment paper and bake at 400F/205C for 40-45 minutes or until a golden brown. Watch your tofu. My oven tends to run cold, which is why it takes me longer to bake. Other recipes may recommend only 30 minutes in the oven. You don't want it still wet/crumbly, but you don't want to burn it!
In the last couple of minutes your tofu is baking, start to make your gochujang sauce. You can mix it in a bowl and transfer it to a shallow pan or just pour all the ingredients into the pan to save yourself a dish to wash. Mix 2 generous tablespoons of gochujang, 2 tablespoons of mirin (sweet rice wine), 1 tablespoon of soy sauce, 1 teaspoon of sesame oil, 2 cloves of minced garlic, grated ginger and some black pepper. Stir in half a cup of water. It will look very liquid-y.
Bring the sauce to a simmer and make a cornstarch slurry by mixing one tablespoon of cornstarch with two tablespoons of water. You want to mix it well in a separate bowl before you pour it into the saucepan.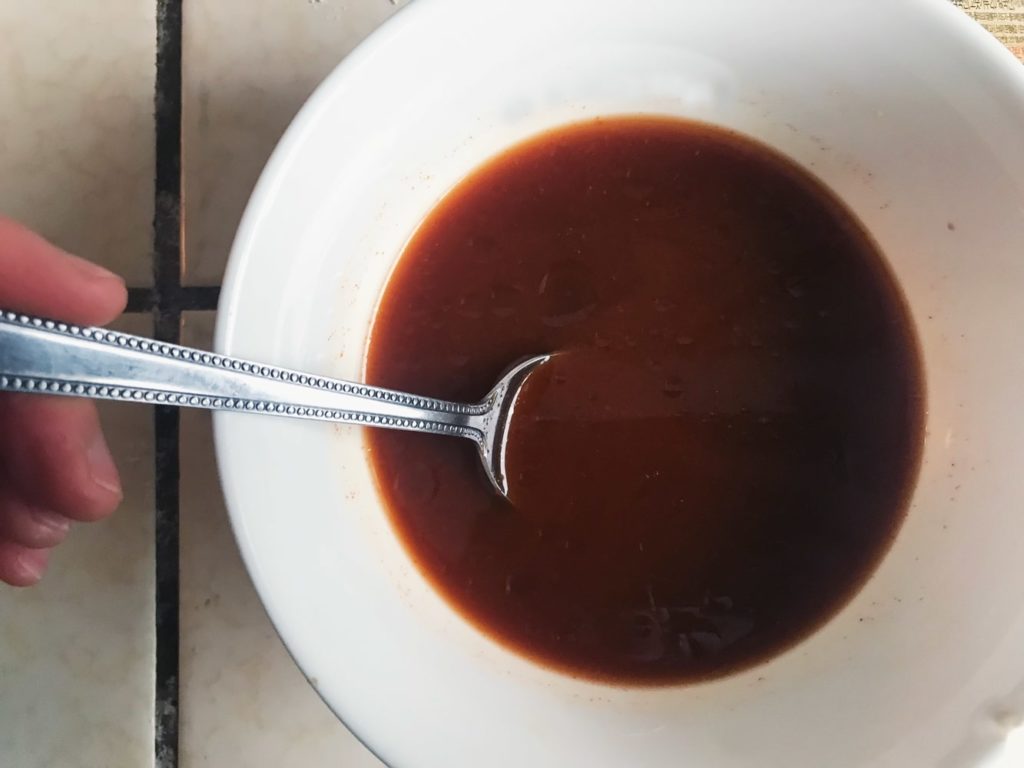 Once you pour in the cornstarch slurry, you'll want to mix it quickly and keep the heat low. It will thicken up within seconds. Immediately stir in the baked tofu and coat generously.
Top with chopped scallions and white sesame seeds and serve with a side of rice. This spicy dish will have anyone thinking tofu is bland think again.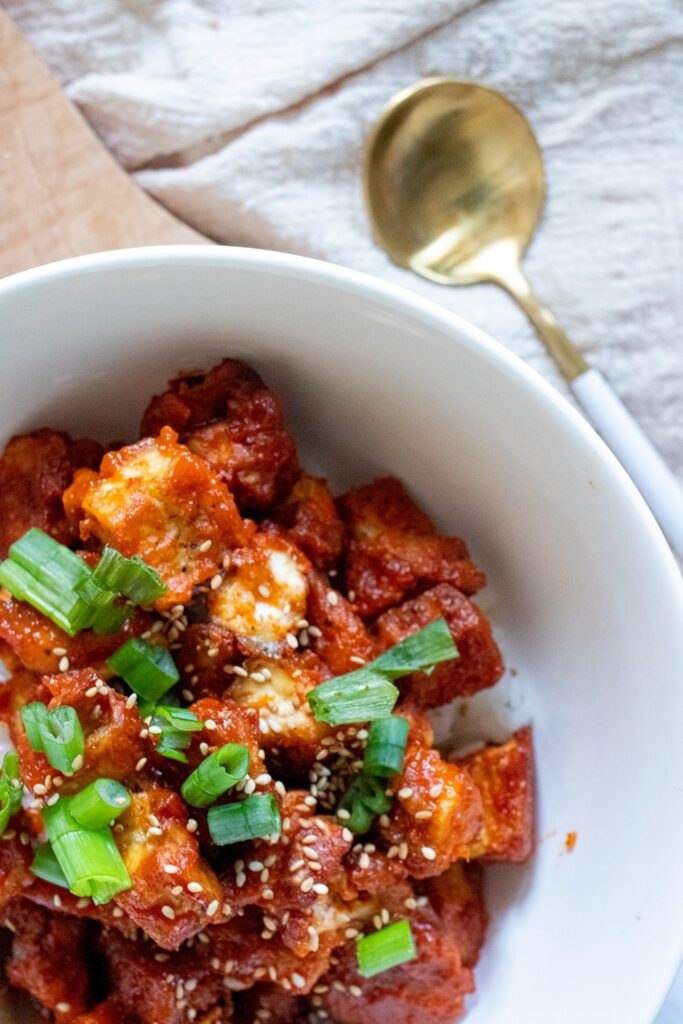 📖 Recipe
Korean Gochujang Crispy Baked Tofu
Crunchy, spicy, and a little bit sweet-- this is the perfect recipe to end bland tofu
Ingredients
16

oz

extra firm tofu sliced into 16 blocks

sliced into 16 blocks

1

teaspoon

black or white pepper

3

tablespoon

cornstarch

1

tablespoon

olive oil

1

tablespoon

soy sauce
Gochujang Sauce
2

tablespoons

gochujang

½

cup

water

1

tablespoon

soy sauce

2

tablespoons

mirin

1

teaspoon

sesame oil

1

teaspoon

grated ginger

2

cloves

minced garlic

1

teaspoon

black pepper
Cornstarch Slurry
1

tablespoon

cornstarch

2

tablespoons

water
Toppings
Scallions and white sesame

to taste
Instructions
Preheat oven to 400°F/205°C. Line a baking sheet with parchment paper and set aside.

Drain and press firm tofu. In a large mixing bowl, mix black pepper, cornstarch, oil, and soy sauce. Toss in tofu and generously coat with mixture. Bake in oven for 30 minutes or until crispy (if your tofu is too wet, it won't crisp up!)

Mix the gochujang, water, soy sauce, mirin, sesame oil, grated ginger, and minced garlic in a shallow saucepan and simmer. Create a cornstarch slurry with 1 tablespoon cornstarch and 2 tablespoon water. Pour into gochujang mixture and stir until the sauce thickens. Keep your eye on the sauce as you don't want it to stick to the pan.

Throw the baked tofu in the sauce and coat generously. Toss lightly so it's all covered.

Serve with white rice and top with some chopped scallions and white sesame seeds.
Notes
Remember, the key to crispy and flavorful tofu is to drain and press your tofu. You want to squeeze as much liquid out as possible.
Nutrition
Looking for more easy vegetarian recipes?
Tomato Egg Stir-Fry
A fragrant traditional Chinese dish made easy for a weekday meal
Check out this recipe