Salt and pepper shrimp (椒盐虾) is a crowd favorite Cantonese dish for those who love anything salty and crunchy (like well-done fries or potato chips)! The salt and pepper mixture is great on a number of proteins such as salt and pepper squid, salt and pepper tofu, and salt and pepper pork ribs.
The great thing about salt and pepper dishes is that there's one tried and true formula. Lightly batter the protein with a starch, such as potato starch, cornstarch or tapioca starch. Fry in shallow oil, and then sprinkle over the salt and pepper mixture. The recipe is relatively simple but the dish looks incredibly impressive!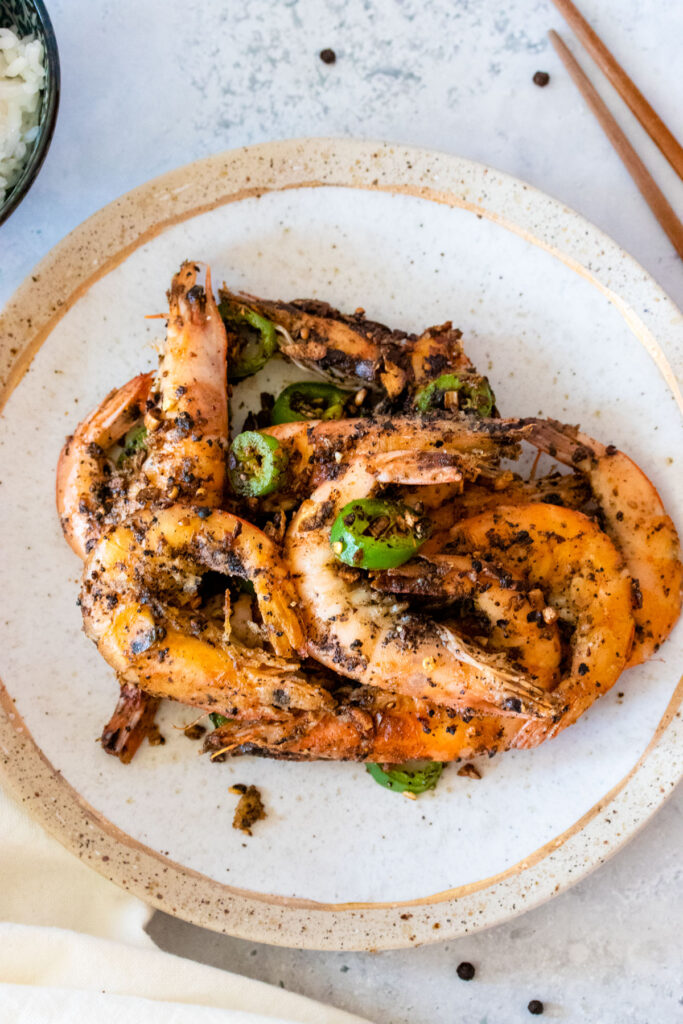 Ingredients for salt and pepper shrimp
Whole peppercorns
Salt
Shaowing wine
Vegetable oil or any neutral oil for frying
Whole shrimp (deveined) - I always have frozen shrimp and it doesn't affect the quality. Feel free to use fresh shrimp, too. I prefer using the whole shrimp because the head is always the tastiest part for me! However, you are free to remove the heads if that's what you're comfortable with.
Garlic
Green chili pepper - Feel free to sub with red chili pepper if that's what you have on hand. You are also free to use both as aromatics.
Instructions
Toast the whole peppercorns and salt in a pan on low heat. Keep close watch and stir every now and then. You'll know the mixture is ready when the salt starts to darken (the color will change from white to yellow) and the peppercorn will start to release a smoky aroma.
Remove from heat and move to a pestle and mortar. Grind well! If you don't have a pestle or mortar, you can use a coffee grinder or put the mixture in a plastic bag and lightly beat with a rolling pin. You could try a food processor, but the salt and peppercorns might be too small for the blades.
Wash and devein your shrimp. The black vein runs down the back of the shrimp. Use a fork to puncture the shell and pull out this "vein" which is technically its digestive tract. Pat dry.
Add Shaoxing wine and then toss the shrimp with cornstarch.
Heat up a neutral oil in a pan. Place shrimp in one layer on the pan and ensure that the shrimps are not touching one another.
Fry shrimp for 30-40 seconds on each side or until shrimp is fully orange. Remove from heat and set aside on a paper towel to drain some of the oil.
Use the leftover oil and fry the minced garlic until golden brown. Toss the shrimp back in with the garlic for 10 seconds. Turn off heat.
Sprinkle the salt and pepper mixture over the shrimp and toss so shrimp is well-coated. You can add the mixture to taste, but I would recommend around 1 tsp.
Add in the minced green chili peppers. Toss and serve!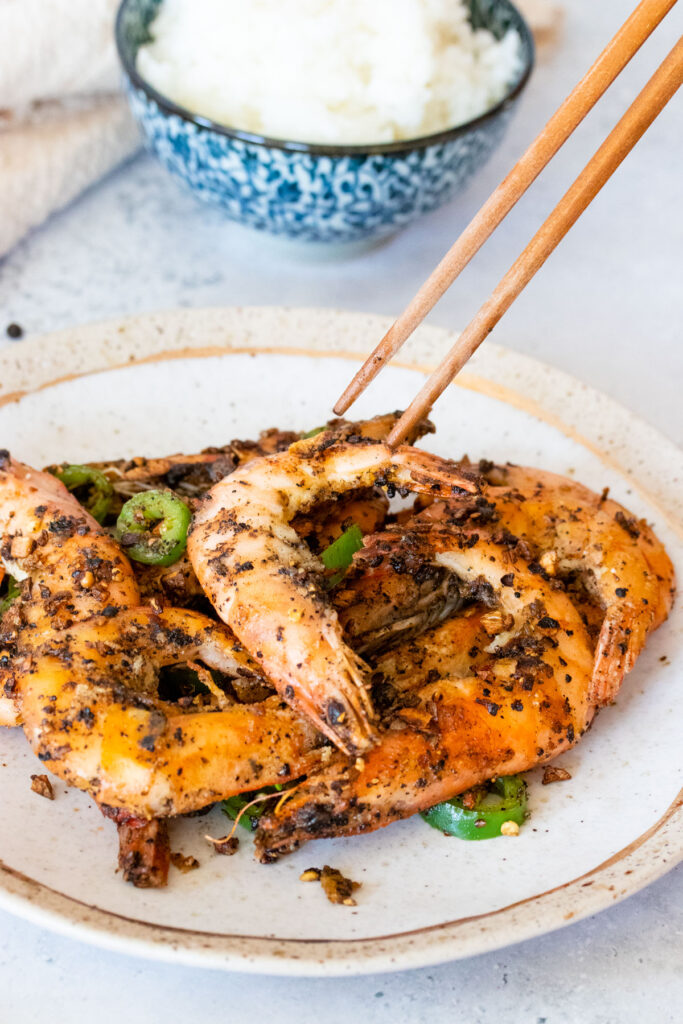 FAQ
What can I use to grind the whole peppercorn and salt?
A pestle and mortar works best! However, if you don't have one, you can place the toasted mixture into a plastic bag (such as a Ziploc bag) and beat lightly with a rolling pin.

Should I use frozen or fresh shrimp?
You can use either! I always have frozen shrimp on hand so I make sure to defrost before I make this dish. Fresh shrimp works just as well.

How do I prep my shrimp?
There is a "vein" that runs down the back of the shrimp which is actually its digestive tract. To be fair, there have been times that I've prepared a shrimp dish without removing these. I don't believe they present any health concerns, but I know many prefer to devein the shrimp.

Use a pair of kitchen scissors or a fork to lightly puncture the shell of the shrimp along the "spine". You'll see a dark vein-- use a thin, sharp tip to pull the vein out.

What type of peppercorn should I use?
There are variation of this dish. Some people like to use Sichuan peppercorns which will make this dish a lot spicier, so for those who want a real kick, you can use the Sichuan variety. However, I use the common black peppercorn. The differences shouldn't change the dish too much!

Can I add other aromatics?
Yes! You can use red chili pepper or use both green and red to add more color. You can also chop up some green onion (scallions) to add to the dish at the very end.

What are other shrimp recipes?
Shrimp is an amazing protein for those who are looking to reduce their red meat consumption! Try this 10 minute shrimp and egg stir fry or get a little hands on and wrap these shrimp dumplings.
📖 Recipe
Salt and Pepper Shrimp
This salt and pepper shrimp recipe is deliciously crispy, slightly spicy, and smoky for the perfect crunchy dish.
Ingredients
Salt and Pepper Mix
1

tablespoon

whole peppercorn

½

tablespoon

salt
Rest of Dish
450

g

whole shrimp

(deveined)

1

teaspoon

Shaoxing wine

(sub with dry sherry or rice wine)

3

tablespoon

cornstarch

3

cloves

garlic

(minced)

1

green chili pepper

3

tablespoon

vegetable oil
Instructions
Toast whole peppercorn and salt in a pan over low heat. Stir from time to time. Take off heat when the salt starts to darken and you can smell the fragrance of the peppercorn.

Remove from heat and let cool for a minute. Grind in a pestle and mortar.

If you're using whole shrimp, devein and wash shrimp. Put shrimp dry and place in a bowl.

Add Shaoxing wine to shrimp and then toss shrimp with cornstarch.

Heat oil in a pan. Lay shrimp in pan in one layer so they are not touching each other. Fry for 30-40 seconds on each side. Remove from heat and place on a paper towel.

Place pan back on heat and fry garlic until golden brown. Toss shrimp back in and stir-fry for 10 more seconds.

Turn off heat and sprinkle with 1 teaspoon of salt and pepper mix or to taste. Add in minced green chili pepper.