Since I've published my pure pork filling dumpling recipe, I've been playing around with different fillings. While my relatives have typically used purely pork in their fillings, I've been experimenting with pork and shrimp, and 100% shrimp dumplings while using wood ear mushrooms as an added crunch. These Chinese shrimp and pork dumplings are just as delicious and the bites of shrimp are a delight.
The base seasonings of each of these recipes usually stay the same, so with just one recipe under your belt, you're free to experiment, too!
Key ingredients in shrimp and pork dumplings
Ground pork: A certain amount of fat is required in dumpling filling to give the dumplings a satisfying mouthfeel. If you're going for a leaner cut, you can use 85% lean pork.
Shrimp: You can use fresh or frozen shrimp. If you're using frozen, remember to defrost thoroughly hours before you start the filling. You'll need to de-vein, peel, and remove the tails and mince/ground well.
Napa cabbage: I always like to add some type of vegetable and napa cabbage tends to be my go-to simply because that's what my mom has always used. You're free to sub with other leafy greens that will cook down well. You'll want to be able to dice it up the vegetable quite finely so it will mix well with the proteins.
Scallions, ginger, garlic: These are my three staples for flavoring my fillings. These three ingredients can be overpowering for some, so feel free to adjust accordingly.
Wood ear mushroom (黑木耳): You'll find these sold dried at Asian supermarkets. They don't have much flavor on their own, but they're popular in several Chinese dishes, have plenty of health benefits, and add a generous crunch.
Sesame oil, soy sauce, salt, white pepper: These are my go-to's for seasonings. Sesame oil helps to add just a bit more richness (but don't go overboard as the flavor is very strong). A mix of dark and light soy sauce adds a deeper saltiness. You can reduce the salt if you're watching sodium levels. White pepper helps to add a kick.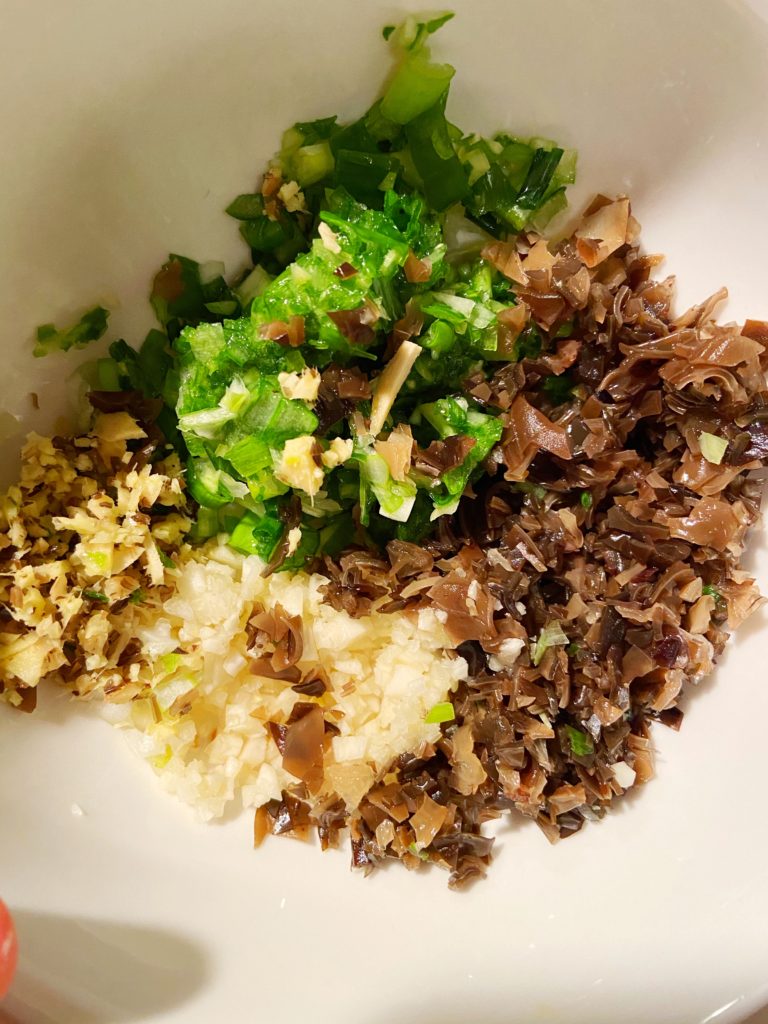 How to prep wood ear mushrooms
Wood ear mushrooms (黑木耳) are by far one of my favorite mushrooms. They're crunchy and can be dressed down as a cold appetizer, added into soups, and used in dumpling fillings! I'd say very few people outside of Asia are familiar with this ingredient, simply because they are mostly sold in speciality Asian stores. Additionally, they are are usually sold dried, so its usage can seem intimidating.
Key things to note when preparing wood ear mushrooms:
Soak your mushrooms for 1-2 hours maximum. You should not soak the mushrooms for any longer, and I've read cases where soaking the mushrooms for too long can cause bacteria to grow
Wash your mushrooms diligently after. As with all mushrooms, they're grown in dirt and it's better to be safe than sorry. Cut off the hard ends
By adding wood ear mushrooms to these dumplings, you're adding not only volume but an extra crunch. These are definitely my favorite additions to my dumpling mix.
Dumpling wrappers
I use to believe that buying pre-made dumplings wrappers was the best way to go. The packets typically come in packets of 50-60, they're affordable and extremely reliable. However, after following Healthy Nibbles dumpling wrapper recipe, I can't stand by my previous judgement. Yang, my partner, said that the homemade wrappers had a chewiness and heartiness that store-bought ones just didn't have.
I'll still purchase dumpling wrappers if I'm short on time (or energy), but will rely more on my homemade ones in the future. The key to Healthy Nibbles instructions is to flour your surface so your wrappers don't stick and to roll out the edges thinner than the center. It'll take a couple tries if it's your first time (as I did). Once you get the hang of the rolling, you'll have your own stack of homemade dumpling wrappers in 30 minutes.
Serve up with a noodle soup
Dumplings don't have to be the main dish! To spice it up a bit, I like to make a dumpling noodle soup, serving it up with some greens (such as Chinese broccoli). I find my only necessity to be a sauce made with Lao Gan Ma spicy chilli oil and a splash of soy sauce, a perfect mix of spice and umami.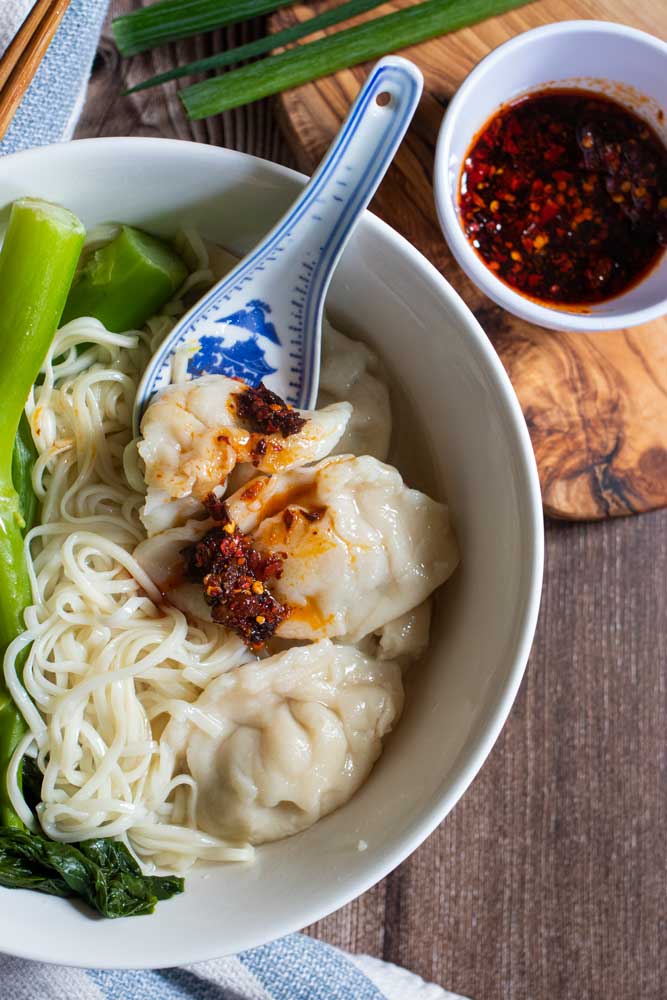 Shrimp Pork Soup Dumplings
A hearty dumpling ready to be cooked in a savory broth for a cold day
Ingredients
½

lb

napa cabbage

225 grams

3

grams

dried wood ear mushroom

1

lb

ground pork

450 grams

½

lb

shrimp

chopped and grounded

1

large

egg

1

tablespoon

sesame oil

½

tablespoon

shaoxing wine

sub with rice wine/cooking wine

1

tablespoon

dark soy sauce

sub with regular soy sauce

1

tablespoon

regular soy sauce

½

teaspoon

salt

½

teaspoon

white pepper

3

cloves

garlic

minced

2

stalks

scallions

finely chopped

½

inch

ginger

minced

60

dumpling wrappers
Instructions
Prepare Cabbage and Wood Ear Mushroom
An hour before you prepare your filling, wash and chop your napa cabbage into fine pieces. Squeeze out all the water and sprinkle a handful of salt. Let it sit to draw out any extra liquids.

After you are done preparing your cabbage, soak your dried wood ear mushrooms in a bowl of water. Ensure all the pieces of submerged.

Dump out the water you soaked your mushrooms in and diligently clean each piece. Chop off the hard ends and mince into tiny pieces.
Prepare Filling
If you're using frozen shrimp, ensure that they are completely defrosted. Peel and remove the tails. Mince into fine pieces.

Add ground shrimp into ground pork. Mix in whole egg.

Add in sesame oil, shaoxing wine, dark and light soy sauce, salt, and white pepper.

Incorporate napa cabbage, wood ear mushrooms, scallions, ginger, and garlic

At this stage, if you want to taste test, take a small portion of your filling and cook on an oiled pan.

Ensure that dough wrappers are defrosted. Prepare a cup of water to dip your fingers in if you are using packaged wrappers.
Fold
Place one scant tablespoon of filling in the center of the wrapper.

Wet your fingers and wet the entire inner edge of the wrapper.

Fold the dumpling by bringing the bottom edge to the top so it becomes a half circle. Squeeze the edges closed. Use your dominant hand to fold the edge into pleats. Ensure that pleats are all facing the same direction.

If you're planning on cooking the dumplings immediately, place on a floured baking tray or wooden board. If you're freezing them, place on a baking tray and freeze on tray first. Then transfer to a Ziploc bag.
If Pan-Frying
Heat 2 tablespoon of vegetable oil in a skillet. Place dumplings in bottom down and let it cook for 2 minutes until bottoms are slightly browned.

Pour in ½ cup of water and immediately cover with a lid. This will create a steaming effect in the pan and cook the dumplings thoroughly. Cook for 3-4 minutes.

Remove lid and let dumplings cook until liquid evaporates. Serve.
If Steaming
In a deep pan, fill with one cup of water and place steaming rack.

Cover plate with napa cabbage or rub with oil and lay on top of the steaming rack

Place dumplings on plate in a circle. Cover and cook for 7-8 minutes.
Nutrition
Looking for other dumpling recipes?
Shanghai Pork Cabbage Dumplings
A traditional dumpling made simple, boiled or pan-fried, this is the perfect recipe that can be frozen for a rainy day
Check out this recipe