There are plenty of hole-in-the-wall dumpling places in San Francisco, many selling one lb of frozen dumplings for a couple dollars. But there's just something about making your own filling and folding the wrappers that hits the spot. This pork cabbage dumpling is one of the more common fillings, easy to make, and great steamed, pan-fried, or served with a piping hot broth.
I remember visiting my great-aunt's as a child and watching 2 generations of women making dumplings for big family dinners. My great-aunts, my grandmother, and my mom would sit around a square table, folding dumplings while chattering away to the latest family gossip. I never thought to learn the recipe until I moved back to the States.
Where to find dumpling wrappers
You can choose to make your own wrappers (I use this recipe from Healthy Nibbles) or purchase them at your local Asian grocery store. I typically purchase my wrappers as they're affordable and dependable (plus saves me the time of rolling out each wrapper). Typically the wrappers come in packs of about 40. You'll want to get the circular wrappers.
What type of fillings can I use?
Most traditional dumplings use ground pork. In the olden days, pork was reserved as a rare treat and the term for meat 肉 (rou) typically refers to pork meat. Other types of meat are differentiated by their animal origin.
You'll want to use fatty pork for the best mouthfeel. In this recipe, I've used easy to find produce such as napa cabbage, scallions, ginger, and garlic to mix in with the meat. Lastly, you'll use an egg as a binder. At times, I've skipped the egg and the flavor turned out just fine.
The key to keeping the meat together and well-flavored is to drain your vegetables. I always dice my napa cabbage and let it drain for 30 minutes before creating the mixture. You can squeeze it between your hands over the sink to wring out the liquid in the vegetable.
If you're looking for more protein, try my pork and shrimp dumpling recipe!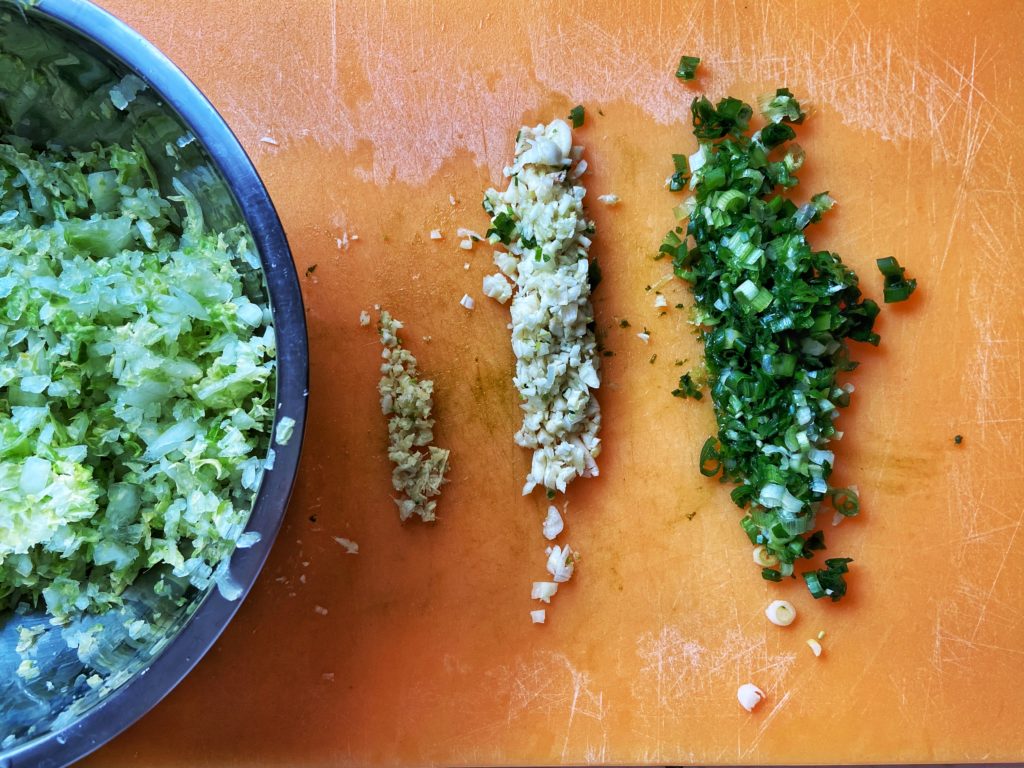 Finely mince your scallions, garlic, and ginger.
Break the egg into your ground pork and mix in well. You'll then want to add in sesame oil, dark and light soy sauce, and shaoxing wine, which is a Chinese cooking wine. If you don't have shaoxing wine, you can sub with any other cooking wine. Then, add your seasoning to taste.
If this is your first time making the mix, you can test it by taking a teaspoon and cooking it on the pan. Taste the cooked portion and continue to adjust your seasoning until your happy with the filling.
Add in your produce right before you begin filling and wrapping your dumplings. You don't want extra liquids in your pork filling.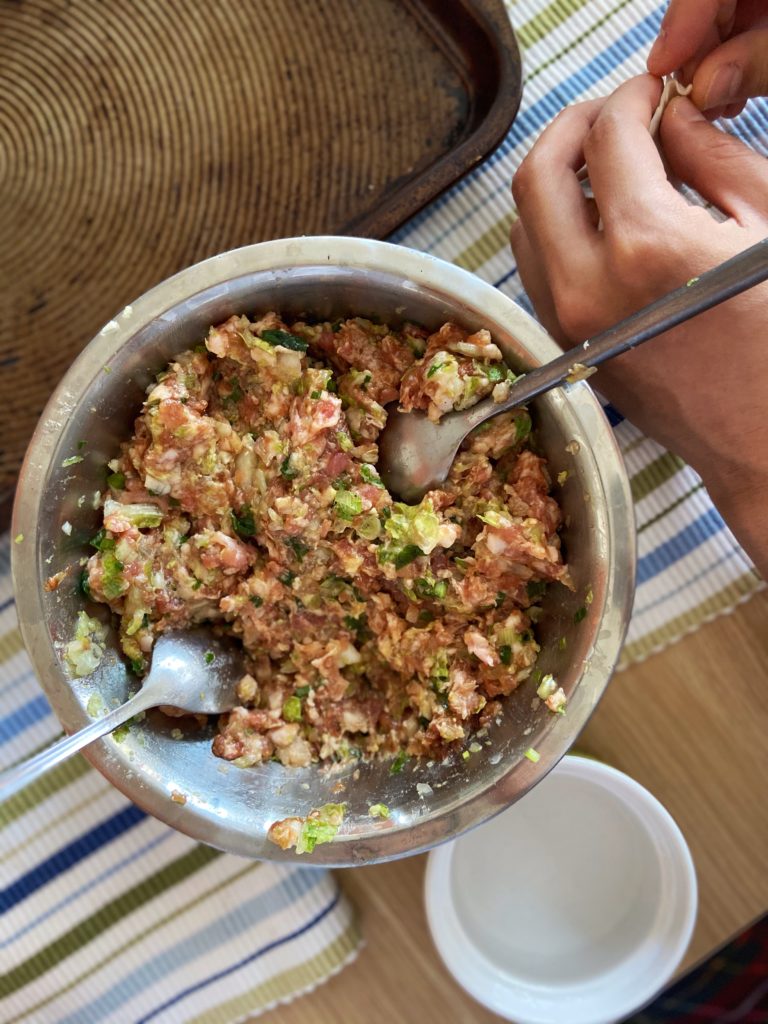 Folding your dumplings
If this is your first time folding dumplings, it can seem like a hard skill to perfect. However, once you get the hang of it, two people can finish a pack of wrappers in under 20 minutes. Plus, there's no perfect way to fold a dumpling. As long as your fillings aren't bursting out of the seams and your dumplings remains closed during cooking, it's perfect the way it is.
The first key thing to learn is the portion of meat for your dumpling. Depending on how large your wrappers are (they do come in different sizes) you'll want to adjust. We typically purchase smaller wrappers that are about 3.5 inches, so we usually fill it with about a tablespoon of the filling. If you use larger wrappers you might want to use 1.5 to 2 tablespoons of filling.
Steps to folding dumplings:
Place 1 tablespoon of filling in the center of your wrapper
Dampen your fingers and wet the outer edge of the wrapper that is facing you (the side with the filling)
Fold the wrapper in half so it represents a half circle. Press the edges closed
Use the index and thumbs of both your hands to begin pleating. Start from the center and fold in one direction. Press firmly for each pleat to ensure that they remain closed
Once you get to the one edge, go back to the center and continue pleating in the same direction
Place your finished dumplings on a floured surface to prevent the bottom from sticking. If you're going to freeze them, place them on a baking tray so you can easily place your dumplings in the freezer
Cooking your dumplings
You can pan-fry, boil, or steam your dumplings
To panfry:
To panfry, heat your pan with some neutral oil and place your dumplings in a circle and ensure that they aren't touching. Cook for about 2 minutes so the bottoms are slightly crispy. Prepare your lid.
Pour in ½ cup water and immediately place a lid over the pan. The oil and water will create a very dramatic reaction so you'll want to cover it and let it steam. Steam for about 3-4 minutes. Uncover and let cook until water evaporates.
To steam:
You don't need a fancy steamer or bamboo basket to steam your dumplings. Place a steam rack in a deep pan filled with 1 cup of water. Lay a plate over the steam rack and lay napa cabbage over the plate. If you don't have napa cabbage, rub a little sesame oil on the plate so the dumplings don't stick. Place your dumplings in a circle on the plate.
Cover the pan with a lid and let it steam for 7-8 minutes.
If you are cooking from frozen, you will want to let these pan-fry or steam for longer to ensure that the pork cooks.
📖 Recipe
Shanghai Pork Cabbage Dumplings
A traditional dumpling made simple, boiled or pan-fried, this is the perfect recipe that can be frozen for a rainy day
Ingredients
½

lb

napa cabbage

225 grams

1

lb

ground pork

450 grams

1

large

egg

1

tablespoon

sesame oil

½

tablespoon

shaoxing wine

1

tablespoon

dark soy sauce

1

tablespoon

regular (light) soy sauce

½

teaspoon

salt

½

teaspoon

white pepper

3

cloves

garlic

minced

3

stalks

scallions

finely chopped

½

inch

ginger

minced

1

pack

dumpling wrappers
Instructions
Filling
10 minutes before making your pork mixture, wash and chop your napa cabbage into fine pieces. Squeeze out all the water and add salt to draw out extra liquids.

Mix egg into the ground pork.

Add in sesame oil, shaoxing wine, dark and light soy sauce, salt, and white pepper.

Mix in napa cabbage, scallions, ginger, and garlic before folding the dumplings. Incorporate evenly.

Ensure that dough wrappers are defrosted. Prepare a cup of water to dip your fingers in.
Fold
Place one tablespoon of pork mixture into the center of the wrapper.

Wet your fingers and wet the entire inner edge of the wrapper.

Fold the dumpling by bringing the bottom edge to the top so it becomes a half circle. Squeeze the edges closed. Use your dominant hand to fold the edge into pleats. Ensure that pleats are all facing the same direction.

If you're planning on cooking the dumplings immediately, place on a floured baking tray or wooden board. If you're freezing them, place on a baking tray and freeze on tray first. Then transfer to a Ziploc bag.
Pan-Fry
Heat 2 tablespoon of vegetable oil in a skillet. Place dumplings in bottom down and let it cook for 2 minutes until bottoms are slightly browned.

Pour in ½ cup of water and immediately cover with a lid. This will create a steaming effect in the pan and cook the dumplings thoroughly. Cook for 3-4 minutes.

Remove lid and let dumplings cook until liquid evaporates. Serve.
Steam
In a deep pan, fill with one cup of water and place steaming rack.

Cover plate with napa cabbage or rub with oil and lay on top of the steaming rack

Place dumplings on plate in a circle. Cover and cook for 7-8 minutes.
Nutrition
Looking for more dumpling recipes?
Shrimp Pork Soup Dumplings
A hearty dumpling ready to be cooked in a savory broth for a cold day
Check out this recipe