A 20-minute recipe for spicy vegetarian and vegan-friendly mapo tofu - a traditional Chinese classic.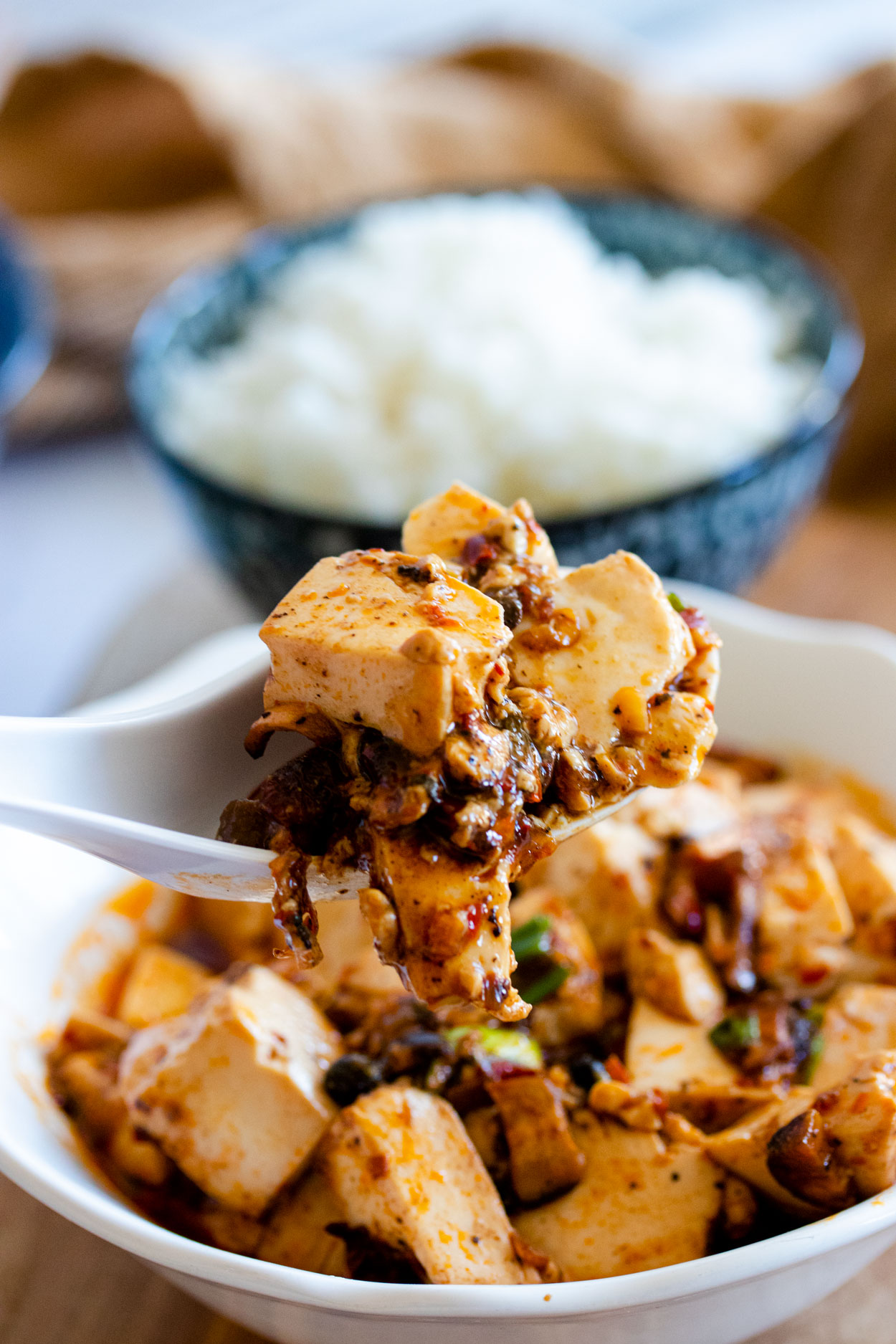 Jump to:
What is mapo tofu?
Although Shanghai cuisine sits close to my heart, Sichuan cuisine, the region known for its tongue-numbing dishes, will always be my first choice. Mapo tofu ((麻婆豆腐) is a tofu-based dish that is set in a spicy sauce (made up of chili sauce and chili oil). The dish has become increasingly popular in the West, and the dish can be easily made in 20 minutes. This recipe will teach you how to make vegetarian mapo tofu.
A traditional mapo tofu dish is made with Sichuan peppercorns which creates a numbing sensation. I have terrible memories of biting into these peppercorns as a child and wondering why my tongue was vibrating. I tend to leave peppercorns out and rely more on chilies and chili sauce (such as Lao Gan Ma) for a kick. We'll use both chili bean sauce and chili oil to add this depth of flavor, and fermented black beans for salti-ness.
Ingredients
Silken tofu (you can also use soft tofu if that's what you have on hand)
Chili bean sauce (辣豆瓣酱)- adds a slight spice and salty flavor
Chili oil (辣油)- we always use the brand Lao Gan Ma (老干妈) which, nowadays, you can find at most grocery stores in the international section
Fermented black bean (豆豉) - used as a seasoning and adds saltiness with a slight sweetness
Shiitake mushrooms - sub for the ground beef that is usually used in this dish
Garlic, scallions, Thai bird chilies, and sugar for flavoring
Instructions
Prep your aromatics (garlic, scallions, Thai bird chilies) and dice the shittake mushroom
To prep the fermented black beans, rinse them under water
Heat oil in a skillet, and stir-fry garlic and then the Thai bird chilies, let the garlic brown a bit
Add chili bean sauce and chili oil and stir until the oils begin to release their fragrance. This should be about 1-2 minutes. Then add in your fermented black beans.
Add diced shittake mushrooms and stir-fry until the mushrooms are caramelized.
Add ½ cup water and then your cornstarch slurry (1 part cornstarch, 2 parts water) and let it cook down for just a couple of seconds
Finally, add your cubed tofu. Be gently while folding it into the sauce. Let it simmer for a couple minutes.
To finish off, add sugar and a handful of chopped scallions.
You're done and ready to serve this with a bowl of steaming rice!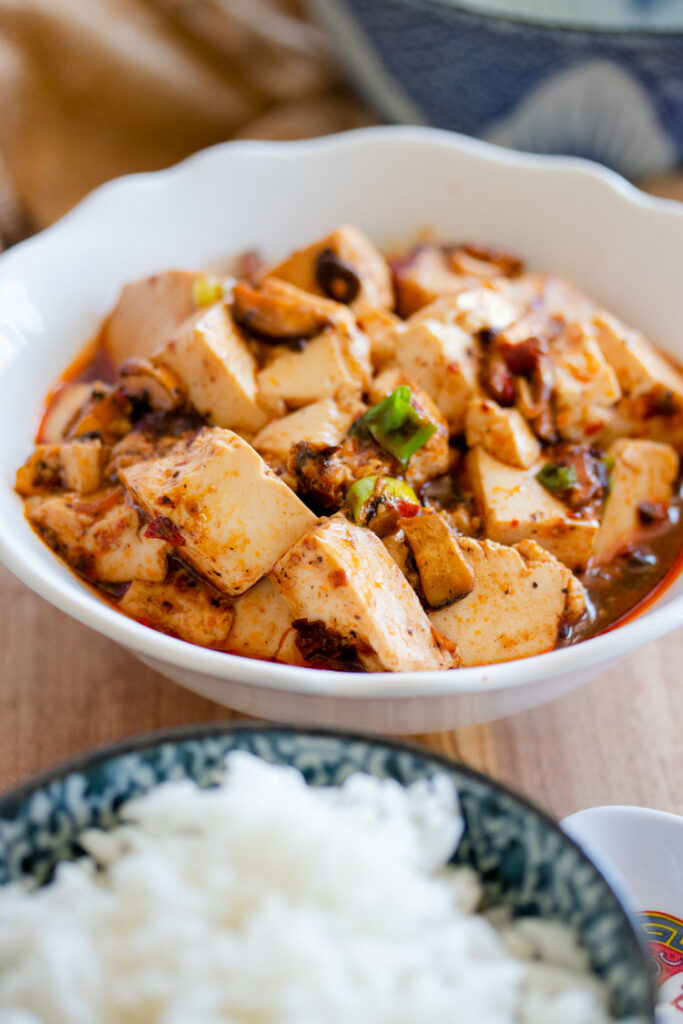 How to adjust spiciness of mapo tofu?
As a traditionally Sichuan dish, mapo tofu should be spicy and that's why many enjoy it. In my recipe, I have already omitted the Sichuan peppercorns.
However, if you feel like it is still too spicy you can:
Halve the amount of chili oil
Omit the Thai bird chilies
I would recommend testing these flavors to see what works for you most! The best part is having the tofu swimming in its spicy sauces.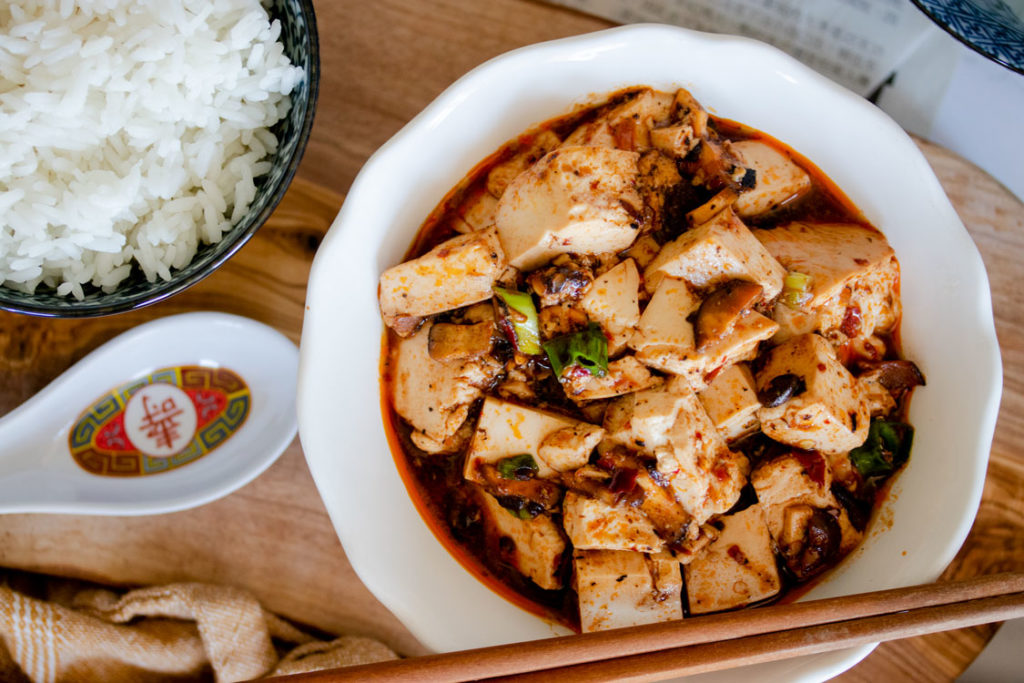 Looking for more easy Chinese recipes?
Kung Pao Chicken (No Peanuts)
A fragrant no-peanut kung pao chicken recipe with a mild spicy kick for everyone to enjoy!
Check out this recipe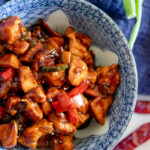 Chinese Eggplant with Garlic Sauce (Instant Pot)
Make a healthier version of the traditional fragrant braised Chinese eggplant dish in minutes with a pressure cooker
Check out this recipe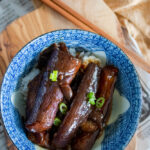 📖 Recipe
Mapo Tofu
A 20-minute recipe for spicy vegetarian and vegan-friendly mapo tofu
Ingredients
2

tablespoon

vegetable oil

3

cloves

garlic

(minced)

2

Thai bird chilies

(finely chopped)

1

tablespoon

chilli bean sauce

1

tablespoon

chilli sauce

1

tablespoon

fermented black beans

(rinsed)

4

shiitake mushrooms

(diced)

½

cup

water

1

tablespoon

cornstarch

(mixed with 2 tablespoon water)

16

oz

silken tofu

(sliced into 1 in cubes)

½

teaspoon

sugar

2

stalks

scallions
Instructions
Heat 2 tablespoon of oil in a hot skillet. Stir-fry garlic for 1 minute, then add Thai chilli peppers and stir-fry for another minute.

Add 1 tablespoon of chilli bean sauce and 1 tablespoon of chilli oil, stir-fry for 1 minute. Lastly, add your rinsed fermented black beans and stir-fry for 1 more minute.

Add mushrooms and let them cook down until soft, about another 3 minutes.

Add water and then your cornstarch slurry. The sauce will start to thicken up in a couple seconds.

Add tofu cubes and stir carefully so tofu is evenly coated. You don't want to break up the tofu. Let the tofu simmer for 2 minutes.

Add your sugar and chopped green scallions. Give it one final stir and serve over rice.