Tofu katsu is a crispy vegan version of the popular Japanese deep-fried pork cutlet (tonkatsu). This fried tofu is delicious over rice and served with a hearty bowl of golden Japanese curry.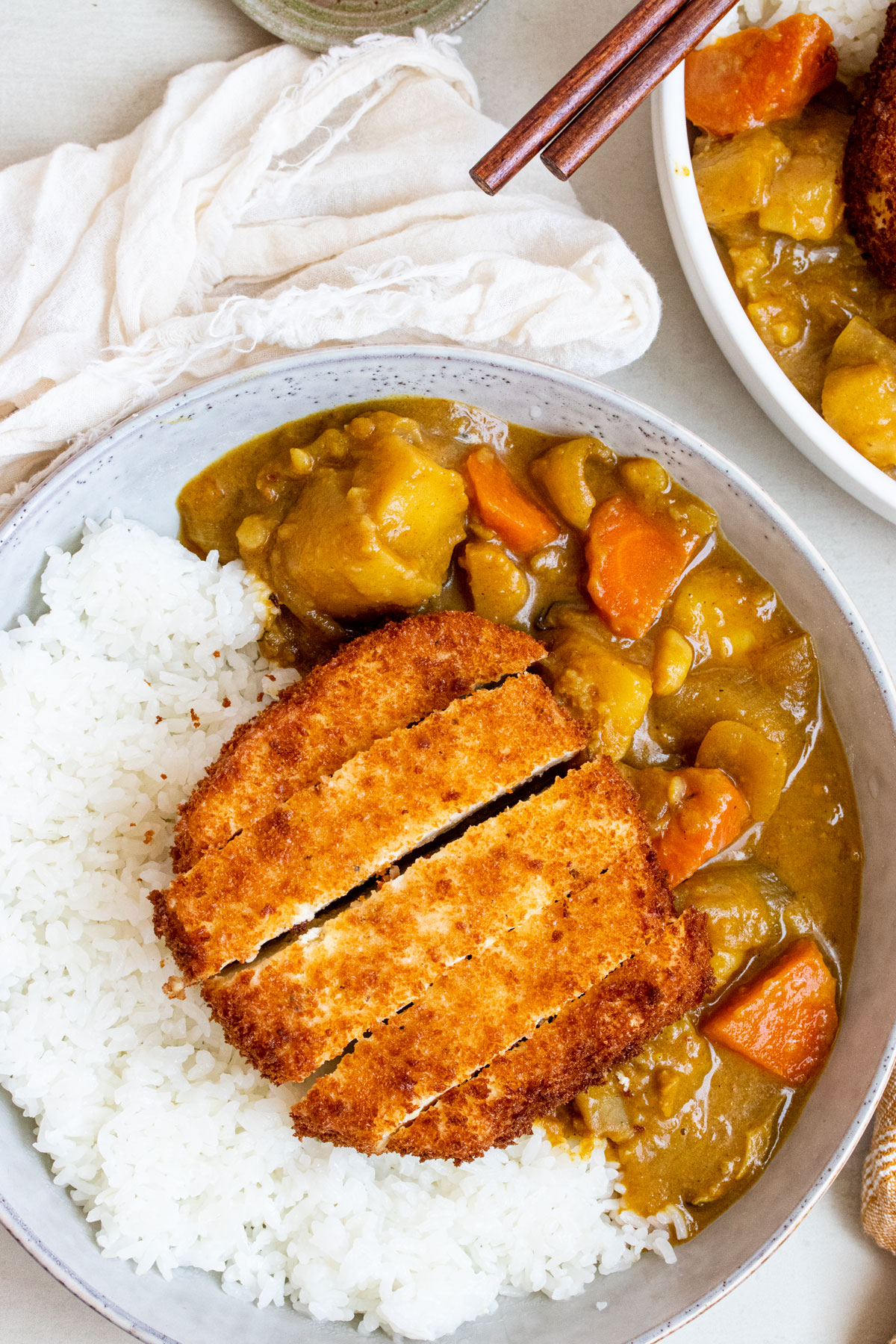 Jump to:
A great Japanese pork cutlet (tonkatsu) has a golden and crispy exterior and gives a juicy bite. The dish is such a treat and typically served with a bed of shredded cabbage. To protein can be topped with a tonkatsu sauce (the most popular being the Bull Dog brand) or a light drizzle of Kewpie mayo. Kewpie mayo is slightly sweeter than typical mayo and I would not recommend subbing one for the other in this case.
In this recipe, we'll be making a delicious and heart curry alongside the katsu, so hold the sauce!
What type of tofu should I should?
There are many different types of tofu depending on liquid content. For soups and broths, it's best to use silken or soft tofu. The texture is almost pudding like and works well with dishes that are more liquid-based.
For recipes that require pan-frying, baking, or deep-frying, it's important to use firm or super firm tofu. Firm tofu has less water content, making it easier to crisp up on a pan or in the oven. It's important to prep your tofu properly, too, so it's properly pressed.
How do I prepare my tofu for deep-frying?
The great thing about this being a vegetarian/vegan recipe is that we can skip the meat-pounding part! However, it's still important to properly press you tofu to remove as much liquid as possible. To make it easier, you can get a tofu press.
However, if you don't have a tofu press, drain you tofu. Wrap the tofu in a paper towel. Then sandwich the tofu between two flat plates, then place a heavy weight on the top plate to press down on the tofu. Let sit for 15 minutes, change the paper towel, and then let sit for another 15 minutes. Slightly time-consuming, but such an important step!
Freezing tofu for pan-frying/deep-frying
My favorite fool-proof method for prepping tofu is by freezing the tofu. This is the best method to get rid of any sogginess and gives it better texture and bite.
Drain and remove tofu from package
Slice the tofu based on how you want to use it after it's been pressed
Place in air-tight container or wrap in saran wrap. Freeze overnight.
Thaw in fridge or on the counter (if you're keeping an eye out).
Remove any extra liquid and it's ready to use!
How do I make vegetarian Japanese curry?
The most popular way to make curry is to use the Golden Curry cubes. You can follow my vegetarian Japanese curry recipe which is filled with golden potatoes, carrots, and delicious oyster mushrooms as a perfect companion to this tofu katsu.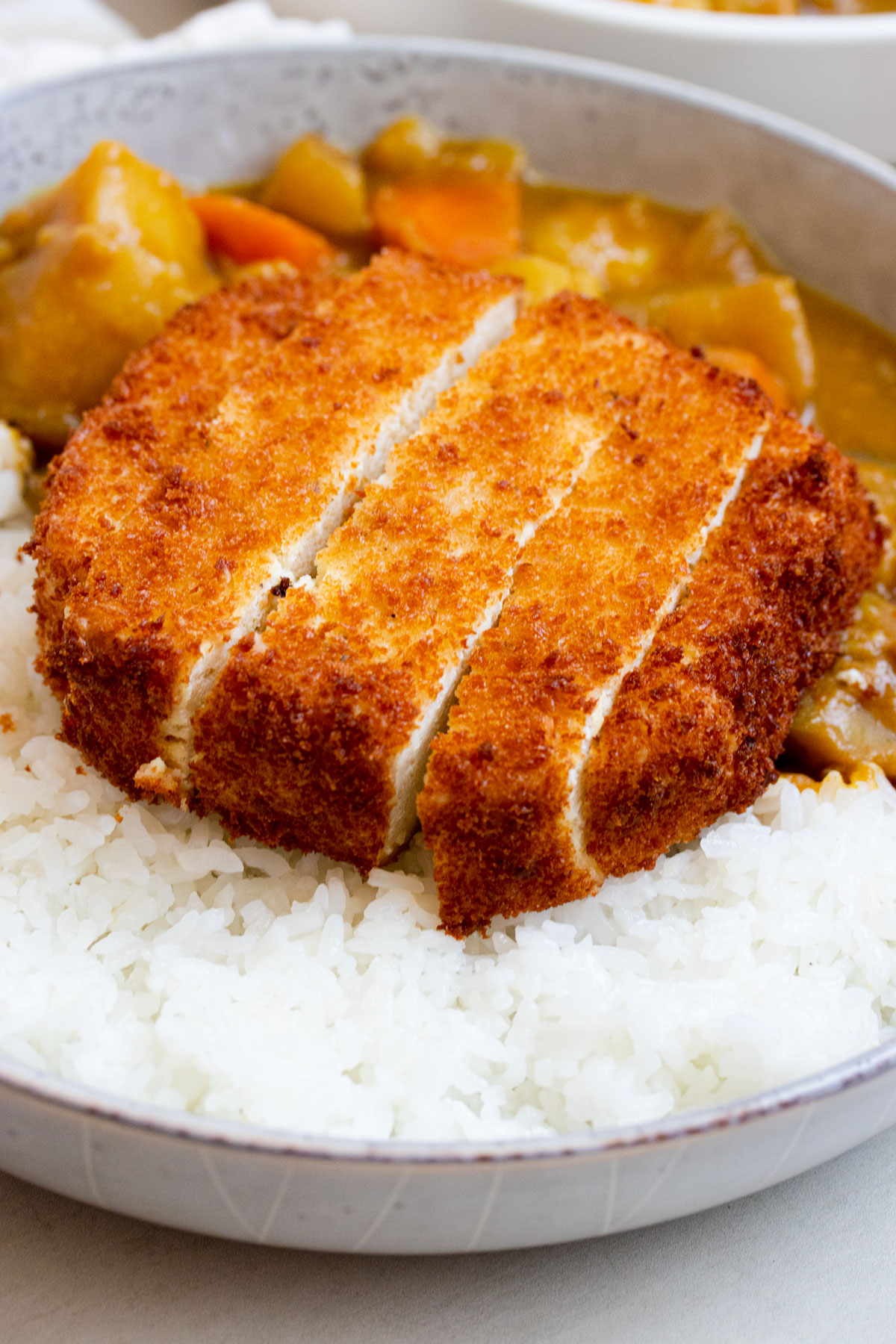 Ingredients
Firm or super firm tofu - As mentioned above, it's extremely important to we use either one of those two types of tofus and not soft tofu.
Flour - I use all-purpose flour to coat the tofu
Plant-based milk - You'll need a liquid to dredge the tofu. You can use unflavored and unsweetened nut milk. I typically use almond milk, but you are free to use cashew or oat milk.
Panko breadcrumbs - It's so important to use panko breadcrumbs and not the typical breadcrumbs used in Western recipes. I only use the Kikkoman breadcrumbs when making Japanese deep-fried dishes. The pieces are a bit larger, but they are also softer and absorb less oil so it makes for an airy, crunchy texture.
Japanese curry - To make the curry, follow this Vegetarian Japanese Curry recipe.
Step-by-step instructions
Make the Japanese curry before hand! This process takes a little longer if you are making it from scratch with fresh ingredients. However, the flavor is worth the time, if you can spare it.
Prep tofu either by pressing day-of or freezing the tofu overnight for a spongy texture. See above on how to prep tofu for pan-frying or deep-frying.
Slice the tofu hamburger-style so you have two "patties". You can even cut the edges so the tofu will look more like a traditional katsu.
Lightly season the tofu with some salt and ground pepper on both sides.
Dip the pieces in flour, plant-based milk, and panko, in that order.
Heat up a deep pot with neutral oil, I typically use canola oil. To test if the oil is ready for frying, I stick a chopstick in and check if there are bubbles forming around the chopstick.
Shallow-fry the tofu katsu on both sides for 2-3 minutes until golden brown.
Remove from pan and onto a plate covered with a paper towel to soak up some of the oil.
Serve with Japanese curry and rice.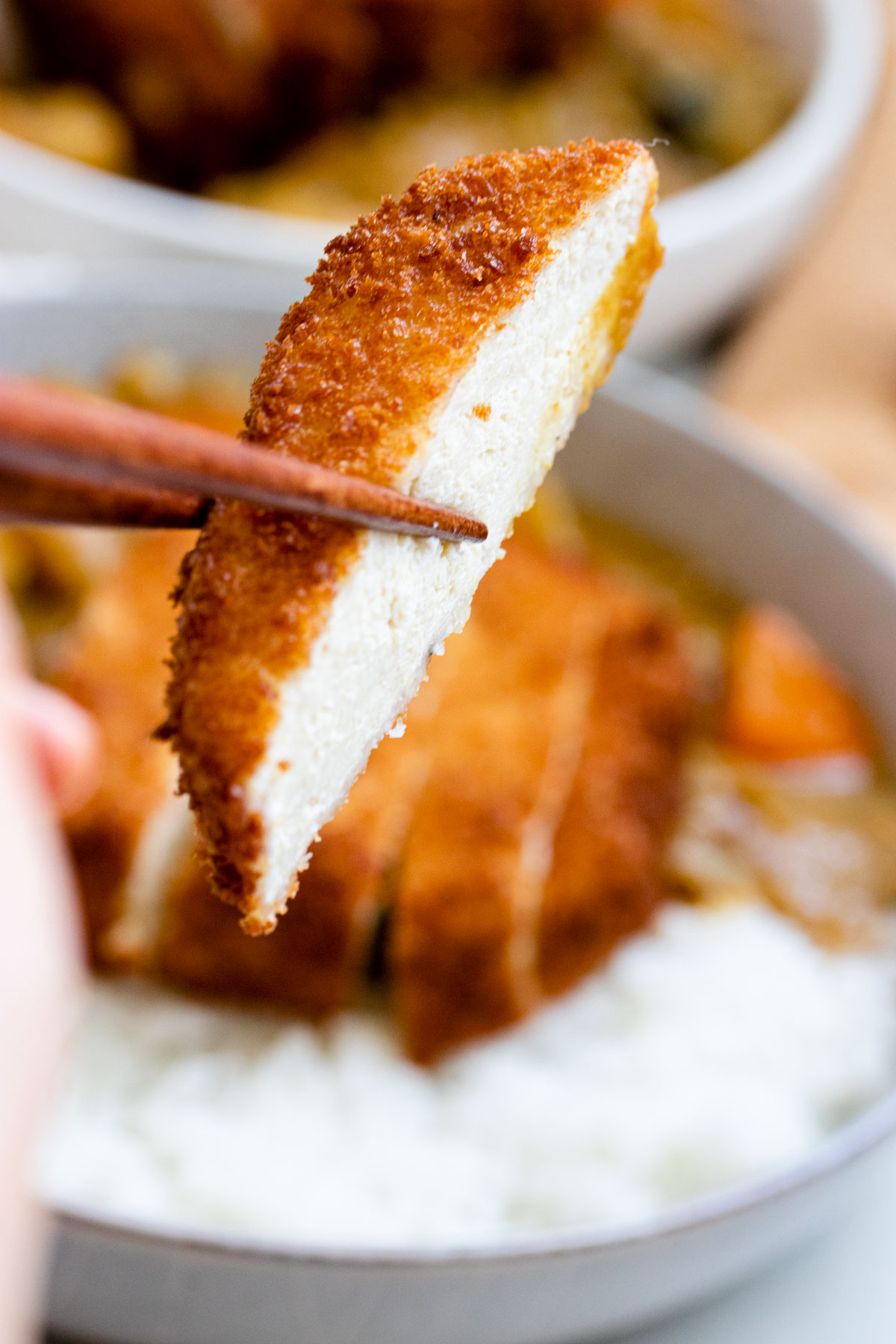 If this dish is for you, try out these other vegetarian or tofu-based recipes:
📖 Recipe
Tofu Katsu with Curry
A crispy vegan version of the popular Japanese deep-fried pork cutlet (tonkatsu) made with tofu and 3 other simple ingredients. Delicious over rice and served with a hearty bowl of golden Japanese curry.
Ingredients
2

servings

Japanese curry

16

oz

firm tofu

(pressed)

Salt

(to taste)

Black pepper

(to taste)

½

cup

flour

½

cup

plant-based milk

1

cup

Panko breadcrubs

Neutral oil
Optional
Kewpie mayo

Bull Dog tonkatsu sauce
Instructions
Prepare the tofu
Remove and drain the tofu from the package.

Wrap tofu in paper towel and place between two flat plates or boards.

Place a heavy weight (such as a can of beans) on the top plate to press down on the tofu.

Change the paper towel after 15 minutes and press again for another 15 for a total of 30 minutes.
Make the katsu
Place the flour, plant-based milk, and panko in individual bowls.

Slice the tofu so you have two square "patties" that are about an inch thick. You can also cut the edges so the tofu is shaped more like a cutlet.

Season each side with salt and pepper.

Dip the tofu pieces in the flour, milk, and then panko.

Heat up a deep pot with neutral oil (such as canola oil) on medium-high heat. To check if the oil is ready, stick a wooden chopstick in and see if small bubbles form around the chopstick.

Fry the tofu katsu 2 minutes on each side until golden brown.

Remove fried tofu from pot and let sit on a paper towel to soak up excess oil.

Serve with rice and curry.