Shanghai-style scallion oil noodles are the epitome of finding flavor in simplicity. Frying scallions infuses their fragrance into the oil. Finally, adding light and dark soy sauce with a pinch of sugar creates a delicious caramel-colored umami mixture that is perfect over plain wheat noodles.
This dish takes, at most, 15 minutes to make and is so addictive you'll definitely go back for a second serving.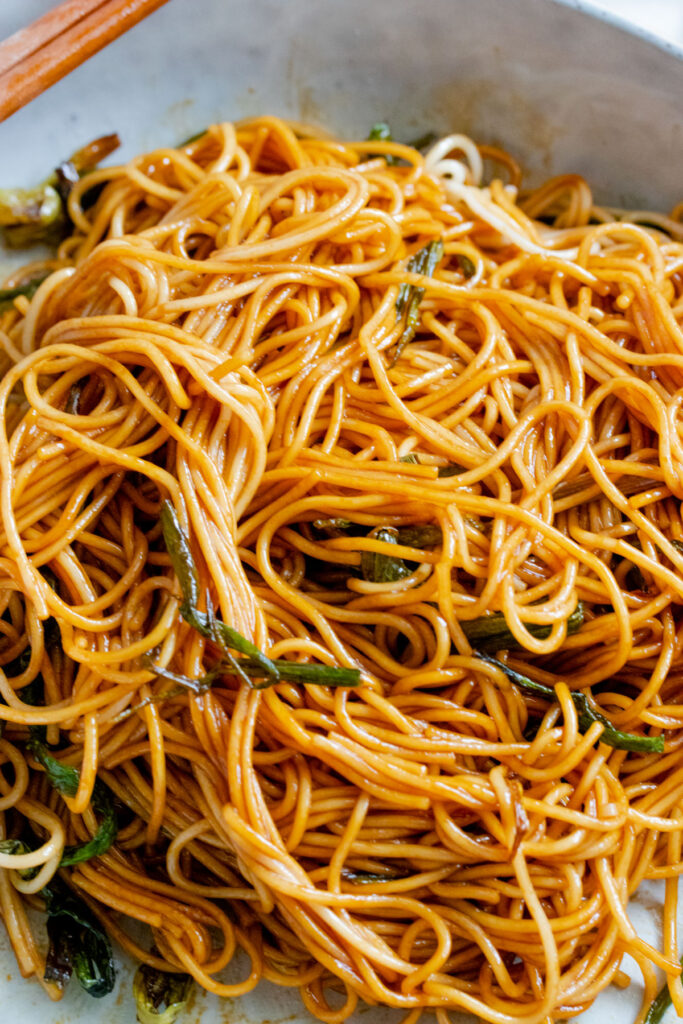 What is scallion oil?
Scallion oil is developed through frying chopped scallions and infusing its peppery sweetness into a neutral oil. Raw scallions are particularly sharp, but fragrant with a peppery kick. They are typically best and most commonly served as the last fragrant topping for many Asian dishes. You'll enjoy a delicious handful of scallions sprinkled on top of this 10-minute shrimp and egg stir-fry, incorporated into the filling in my Chinese shrimp and pork dumplings, or as a tasty addition to my homemade quick and easy kimchi recipe.
While this particular recipe portions out just enough for the noodles, some enjoy scallion oil so much they will typically infuse a cup of oil with scallions on low simmer and preserve the deliciousness in a mason jar. The oil can be used to stir-fry noodles, rice, or as part of a dipping sauce. You can even use the scallion oil as a spread with this sourdough Chinese scallion pancake recipe.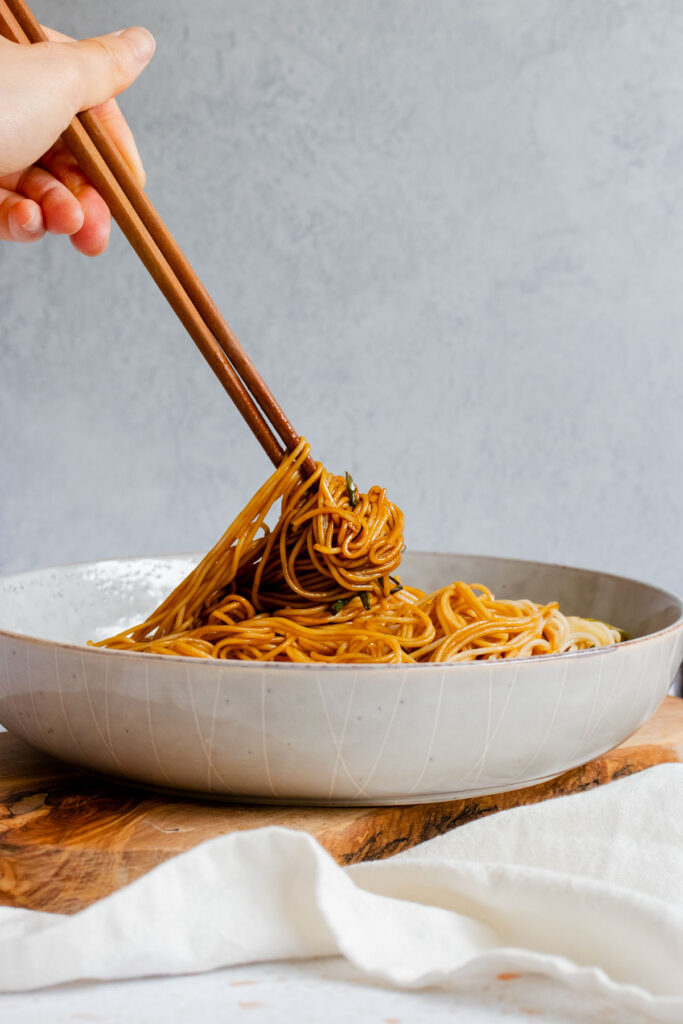 Ingredients
Thin noodles: You'll find a variety of noodles at any Asian grocery store, but look for the thin round ones for this dish.
Scallions: These are long green stalks with white bulb roots, you cannot sub with other allium vegetable
Canola oil: Any neutral oil will do, but canola oil is typically the most common. Don't use olive oil as the flavor can quickly overpower the scallions (which are the best part!)
Soy sauces: Use both light and dark soy sauce. Light soy sauce helps to add salt. Dark soy sauce will give great color, and provide a savory kick. If you don't have dark soy sauce, you can also sub with oyster sauce.
Sugar
How to make Shanghai-style scallion oil noodles
Prep your scallions by cutting off the roots, and then the stalks into thirds. The sliced parts should be around 2.5-3 inches long. Julienne by splitting the pieces length-wise. Make sure to dry your scallions as any water will react with the oil.
Heat up any neutral oil in a pan and fry the scallions on low-medium heat. Fry until golden brown and somewhat crispy, which can take around 15 minutes. Use a pair of chopsticks to give them a stir every couple of minutes and keep close watch!
While the scallions are cooking, boil a pot of water and cook the thin noodles, about 3 minutes. You'll want them al dente. Drain, rinse under cold water, and set aside.
When the scallions are done, remove from pan but leave the oil in. Add in both light and dark soy sauces and sugar until the mixture bubbles, this will only take a couple second.
Place noodles in a bowl, pour over the oil-soy sauce mixture and top with fried scallions. Mix well and enjoy!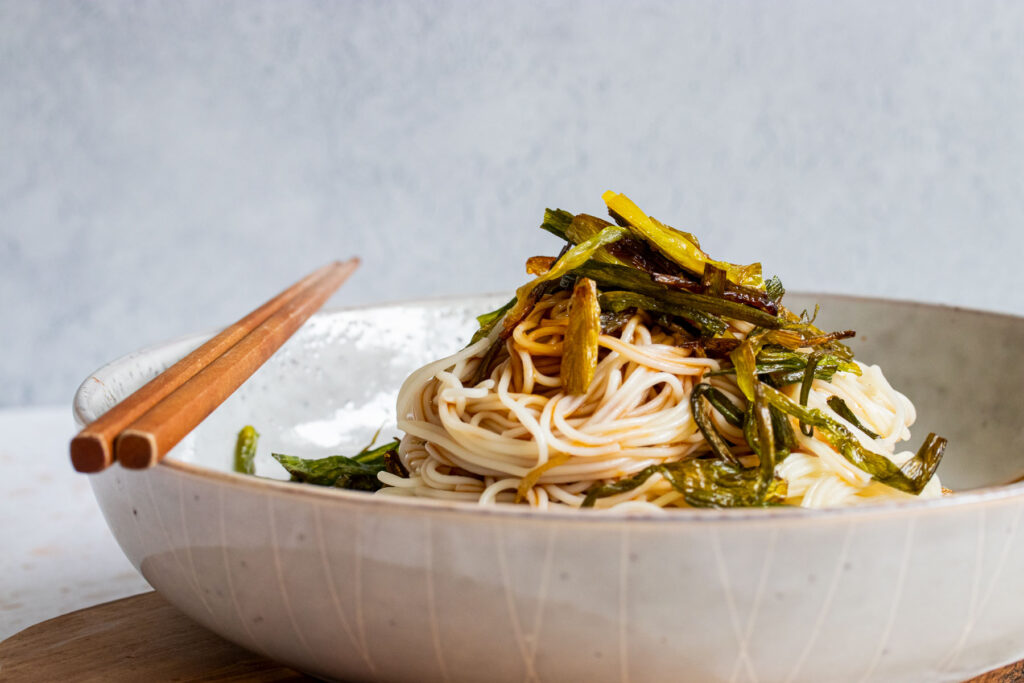 📖 Recipe
Scallion Oil Noodles
This delicious Shanghainese-inspired scallion oil noodle recipe is simple, but packed with great umami flavor.
Instructions
Chop scallion into thirds and julienne

Heat up oil in a pan and fry scallions on low-medium heat until golden brown. This will take around 15 minutes.

While waiting for scallions, boil pot of water and boil noodles based on package instructions, around 3-4 minutes. Drain, rinse with cold water, and set aside.

Remove scallions from pan and set aside. Add both soy sauces and sugar into pan until mixture bubbles.

Place noodles in a bowl, pour over oil-sauce mixture and top with scallions. Mix and enjoy!