Scallion pancakes are abundant in China. Walk down any street, and you'll find a vendor expertly pouring batter onto a hot griddle, filling it with yummy scallion goodness. They press, flip, and serve it to you piping hot, sometimes with a Chinese donut wrapped within. Each pancake only costing several cents.
As always, I was on a quest to recreate a childhood food. You won't find many scallion pancake vendors here in the US, but these are easy to find in the frozen section. It's not that I've refused to try the frozen version, I just haven't. However, I've found that these are easily replicable in a home kitchen!
Using sourdough starter in scallion pancakes
As always, this recipe stemmed from me, once again, having too much discard. I've made sourdough pancakes, sourdough waffles, sourdough crackers, and sourdough chocolate chip cookies. Now I wanted something home-y and savory.
Sourdough starter is just a mix of flour and water, two key ingredients in scallion pancakes. My starter mix is a 1:1 ratio, so 100% hydration. You will have to adjust the recipe based on your starter ratios. As with all Chinese recipes, it's all feel and look. If the dough feels too dry, then add in a little bit more water, 1 teaspoon at at time. If the dough is too tacky and sticks to your hand, add in a sprinkling of flour.
Ingredients for scallion pancakes
This recipe is so simple and perfect for a weekend brunch (since it still requires some rest time).
Sourdough starter (100% hydration)
Flour
Warm water
Oil
Scallions
Only five (technically four, since sourdough is water and flour) ingredients to make this delicious snack.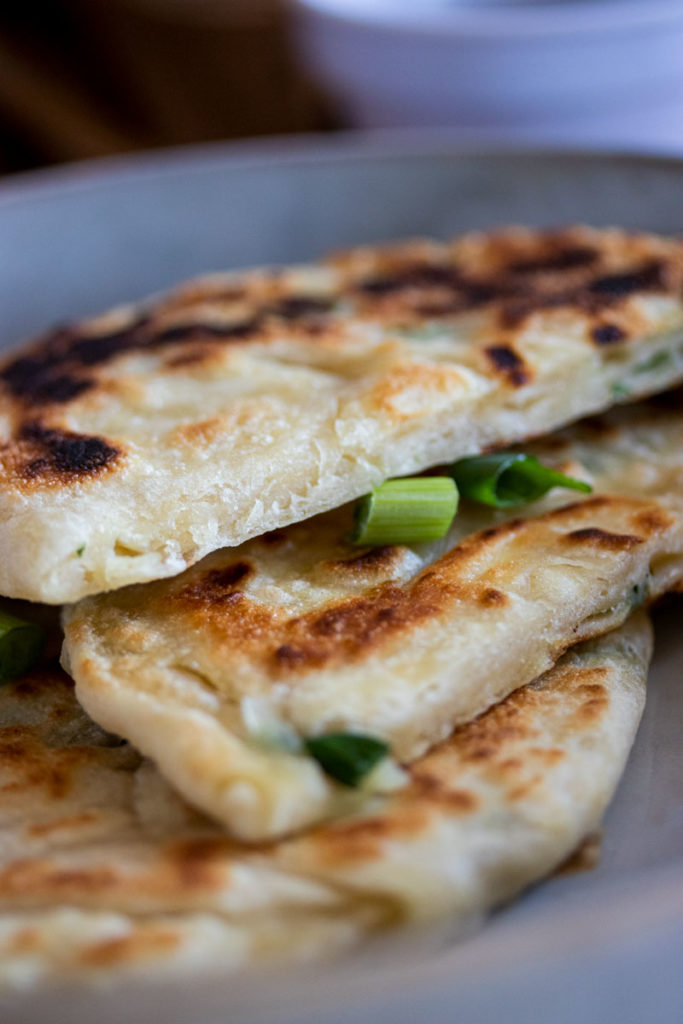 Instructions for Chinese pancakes
Mix 70 grams of sourdough starter, 140 grams of flour, 50 grams of warm water in a bowl. Use less water and add more based on the dough texture. It should be smooth and easy to fold (not sticky). Let sit covered for 1 hour
Flour your surface (I use rice flour) and roll out your dough into a rectangle/square. You'll want to roll out the dough as thin as possible. If you find that the dough is fighting back, let it rest for 5 minutes.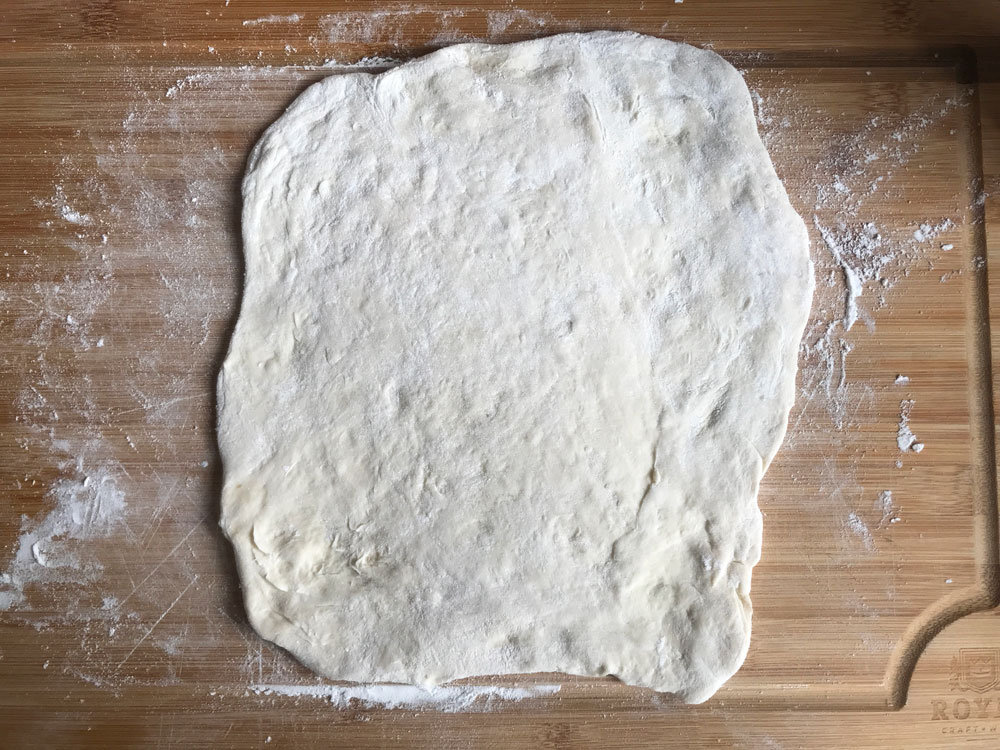 3. Spread 1 tablespoon of vegetable oil on the dough and sprinkle your chopped scallions
4. Roll the dough from the bottom up tightly. Squeeze with your hands and pull the dough lengthwise.
5. Cut in half. Then roll each half into a spiral.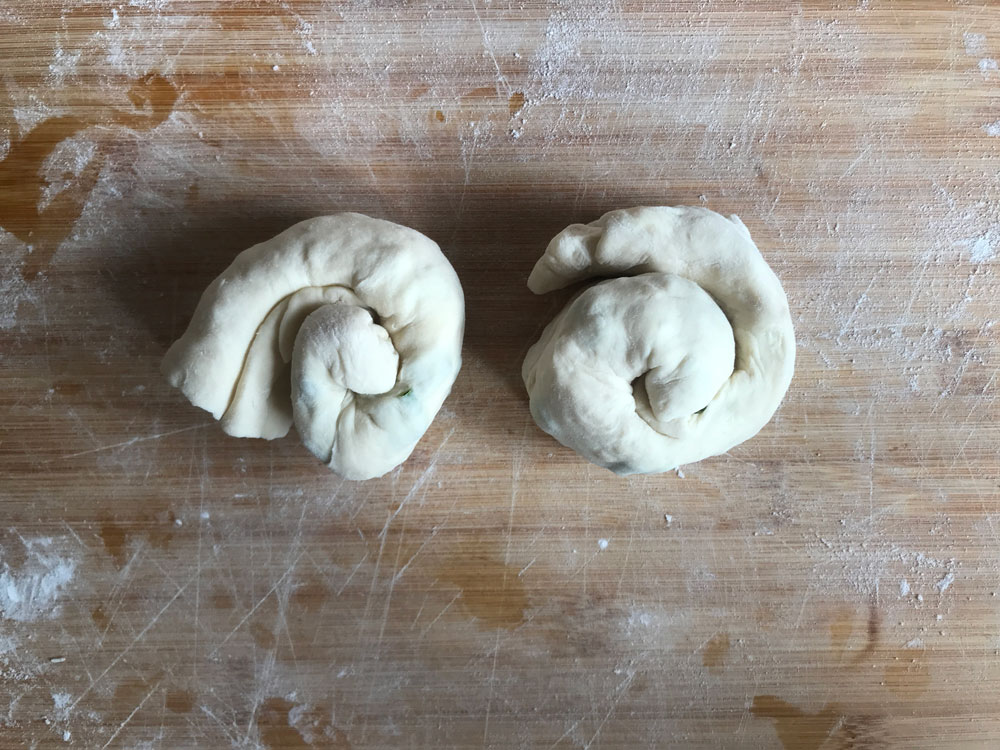 6. Press down and roll with a rolling pin until flat. Rolling it thinner will ensure that the inside is cooked without burning the outside layer.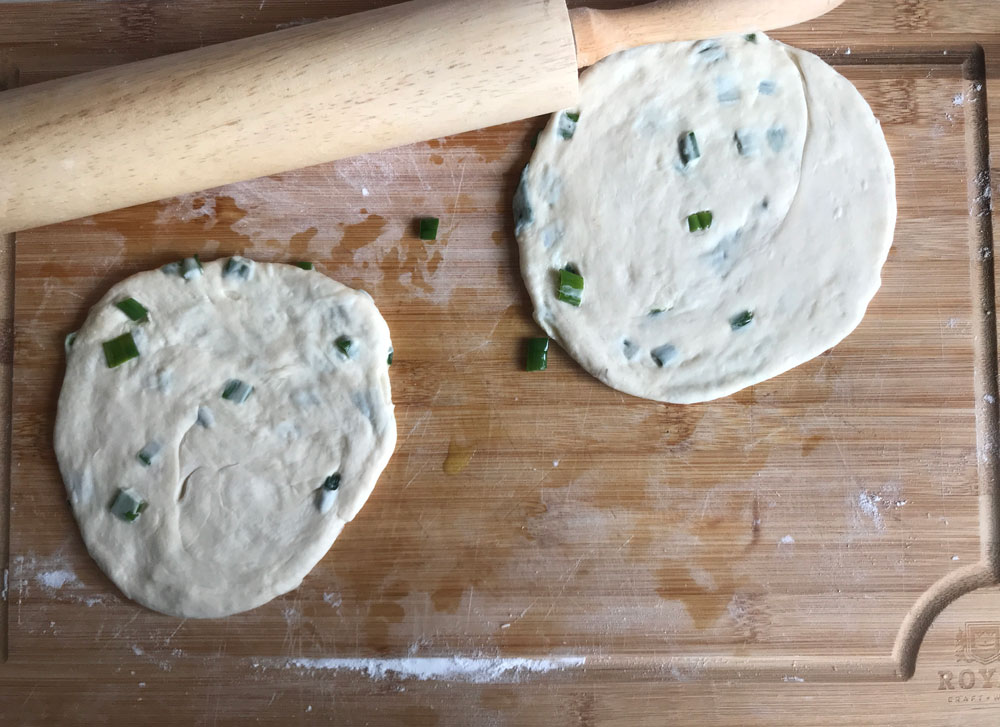 7. Heat up a hot pan with oil and cook until both sides of browned nicely.
8. Make yourself a little dipping sauce with a little soy sauce, rice vinegar, and chilli oil.
More sourdough discard recipes
Sourdough Chocolate Chip Cookies
Soft, melt-in-your-mouth chocolate chip cookies with the bread-y goodness of sourdough bread
Check out this recipe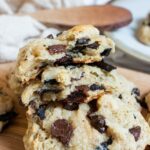 Rustic Sourdough Discard Crackers
An easy and delicious cracker to make use of your sourdough starter discard
Check out this recipe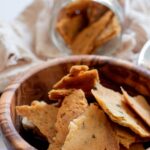 Sourdough Scallion Pancakes
Use your sourdough starter discard to make this flaky, chewy Chinese scallion pancake
Ingredients
140

grams

all purpose flour

70

grams

sourdough discard

(100% hydration)

50

grams

warm water

1

teaspoon

salt

1

tablespoon

vegetable oil

(for filling)

2

scallions

(chopped)

2

tablespoon

vegetable oil

(for cooking)

Rice flour

(for dusting)
Instructions
Mix sourdough discard, flour, and water in a bowl until dough is easy to work with and smooth. Cover with a dish towel and let sit for 1 hour.

Flour surface and knead salt into the dough. Roll out dough into a thin rectangle (as thin as possible without the dough ripping)

Spread vegetable oil evenly across the dough, sprinkle scallions.

Roll dough from the bottom up until it resembles a thin egg roll. Pull the dough lengthwise.

Cut the dough in half. Roll each half into a spiral shape.

Flatten each piece of dough and roll with a pin until thin. Each pancake should be about 6-7 inches in diameter.

Heat a pan with oil until hot. Cook the pancakes for 2 minutes on each side or until golden brown.