Updated on January 24, 2021 by Julia
As someone who bakes at least a loaf of sourdough a week, it's very easy to go through a 5 lb bag of flour. When I first started building my starter, I was appalled that I had to get rid of half of my starter every morning and re-feed it with equal ratios of flour and water. However, I've learned that a well-fed starter means sourdough with better lift and a beautiful crumb. I'm not a fan of waste though, and finally decided to make use of the starter I had to discard every morning. I wanted something easy to make and easy to store: rustic sourdough discard crackers.
A rustic sourdough discard cracker recipe that only requires 3 base ingredients
Every recipe I found required extra flour and another 5 extra ingredients. However, the point was that I didn't want to use extra flour, I wanted the sourdough starter discard to be the star of the recipe. With a base of only 3 required ingredients, you can add any type of seasonings to create a flavorful rustic cracker that can be eaten on its own or with a hummus or dip.
Simply stir together olive oil with 200 grams of sourdough starter. Crack in 1 teaspoon of salt and you have simple sourdough crackers.
What if I want more flavor to my sourdough crackers?
This recipe is extremely easy to modify. At the end of the day, I'm only providing you a base for a whole host of opportunities. I've mixed in Italian herb seasoning for a taste that's more traditional. Everything But the Bagel Seasoning from Trader Joe's for a fun and salty cracker reminiscent of a morning breakfast item. Want to make healthier cheesy crackers? Use sriracha (or another favorite hot sauce of yours) and mix in nutritional yeast to keep this recipe vegan.
If you're feeding your starter every day, then every day is an opportunity to experiment with the flavors.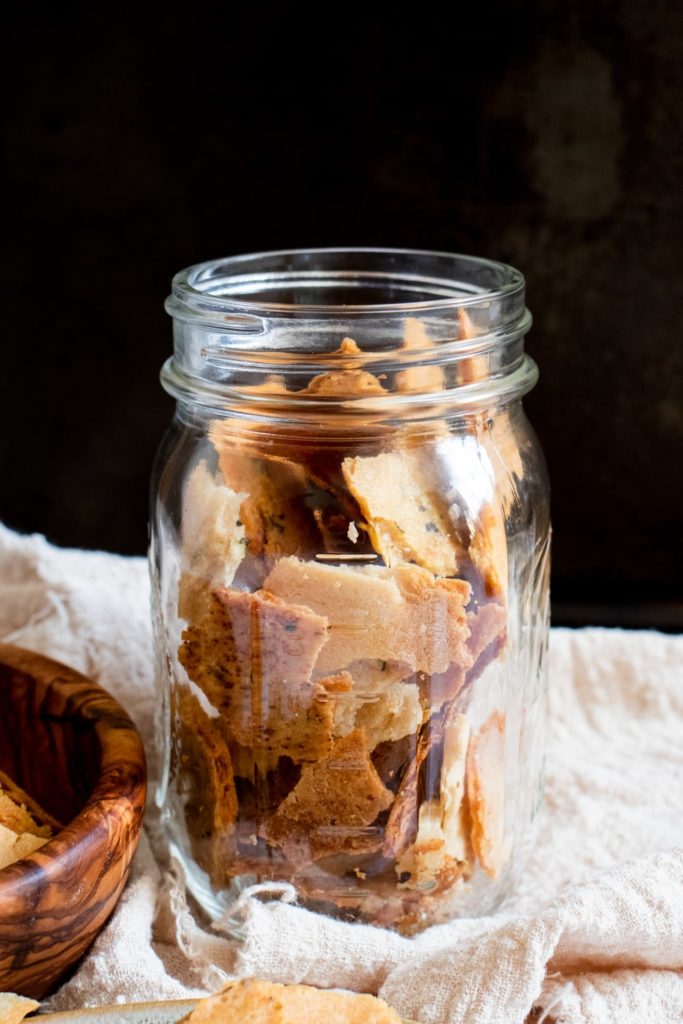 Are there other ways I can use my sourdough discard?
There's plenty! Another recipe I have up are my sourdough chocolate chip cookies if you're craving something sweeter.
Rustic Sourdough Discard Crackers
An easy and delicious cracker to make use of your sourdough starter discard
Ingredients
200

grams

sourdough starter

1½

tablespoons

olive oil

2

grams

Himalayan pink sea salt

A crack of salt to sprinkle on top
Optional Mix-Ins
Nutritional yeast

Sriracha

Italian herb seasoning

Everything But The Bagel seasoning
Instructions
Pre-heat your oven to 325°F/163°C and cover a baking tray with parchment paper

Stir 200 grams of sourdough starter and 1 1/2 tablespoons of olive oil in a medium bowl

Season with salt (See notes)

Pour on parchment paper and use a spatula to spread the sourdough as thin as you can. It will have some resistance so it maybe require several swipes. Spread it as thin as possible

Top with another crack of salt across the top

Bake in oven for 50 minutes. At the halfway point, flip the whole cracker over so each side is baked evenly.

Check that the cracker has a hard, crispy texture and remove from oven. Let cool for 15 minutes. After cooled, use your hand to break the sourdough into uneven pieces. Store in a mason jar to keep fresh.
Notes
You're free to try any add-ins to customize this recipe. Here are a few suggestions in lieu of just the salt.
Sourdough Cheeze-Its
Add in 7 grams nutritional yeast and 7 grams sriracha sauce
No need to top with salt as the sriracha sauce should be salty enough
Italian-Seasoned
Mix in ½ tablespoon Italian herb seasoning