This vegan version of a classic Korean comfort dish is the perfect hearty recipe for a rainy day in. Filled with meaty shiitake mushrooms and cabbage, you'll be left feeling satisfied even without the addition of protein!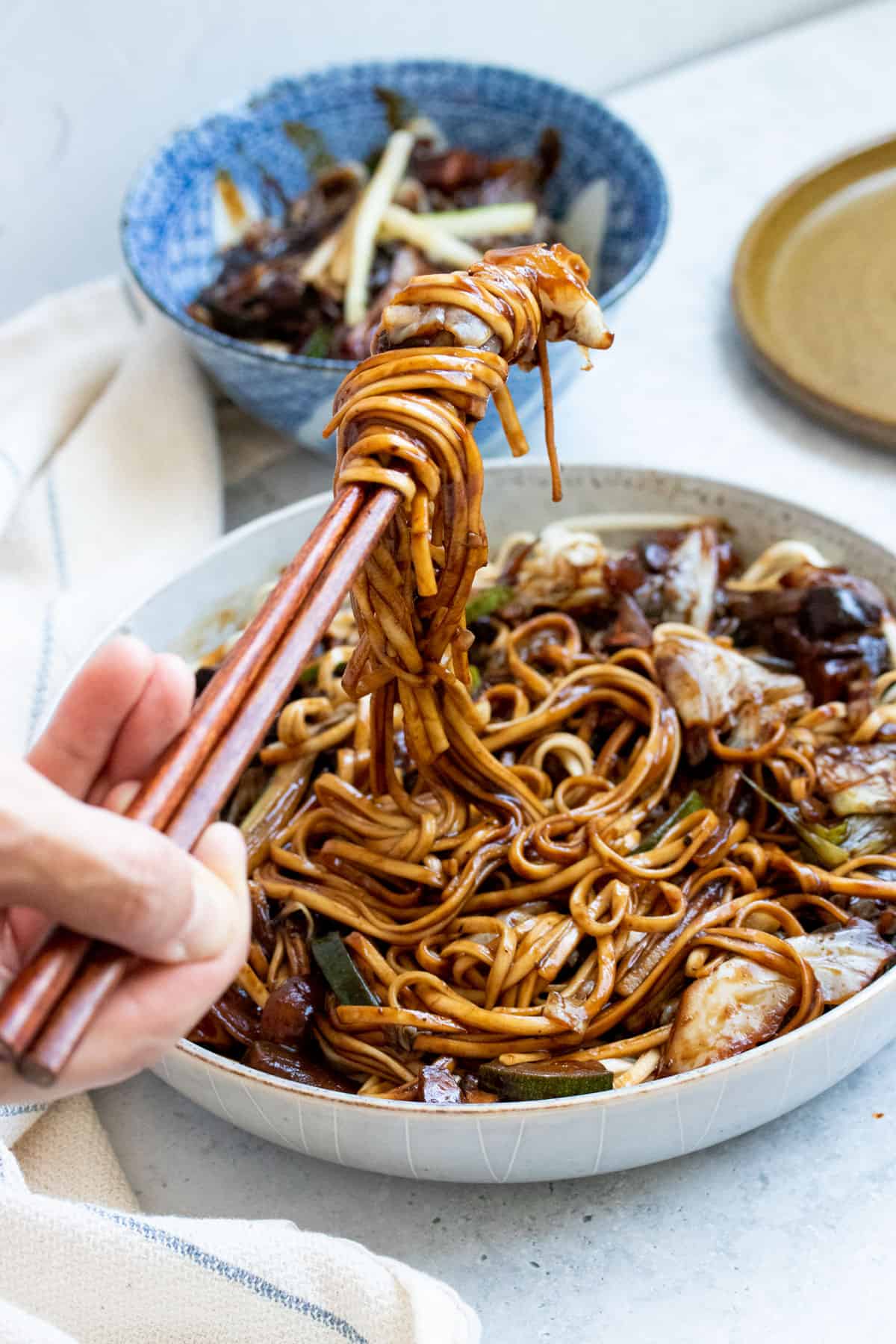 Jump to:
What is jajangmyeong?
Jajangmyeon, also known as Korean black bean noodles, is a hugely popular Chinese-Korean dish. Wheat noodles covered in a thick, savory black bean sauce that's also great for dipping tangsuyuk (sweet and savory pork). It's the best comfort food to have on a rainy night at home. The sauce can get messy, but it's worth it! There is a very similar Chinese dish called zha jiang mian, which literally translates to fried sauce noodles. However, the sauces are not the same, so you can't sub one for the other!
In my opinion, the best way to have this dish is to have it split half and half with jjampong (spicy seafood noodle soup). The jajangmyeon/jjampong combo is always my go-to dish to order.
What is jajangmyeon sauce?
The key to jajangmyeon is chunjang (black bean sauce) which is made soybeans, flour, and caramel, and then fermented. The sauce is quite heavy and salty on its own.
The first step is to fry the sauce in some oil, this is what make the chunjang into jajang-- through the frying process. Because the sauce is quite salty, you will want to add sugar to help balance out the flavors. The first time I tried to make this dish, I skimped on the sugar and it was so salty, we couldn't finish the dish!
The next step, adding water or stock, is included in this recipe to thin out the sauce, helping to lighten it up. However, if you prefer a thicker sauce, you can skip this step, which will make it gan jajangmyeon, dry black bean noodles.
You should be able to find black bean sauce in any Asian grocery store with a Korean section. You will usually find the sauce next to gochujang (spicy chili paste).
Ingredients for jajangmyeon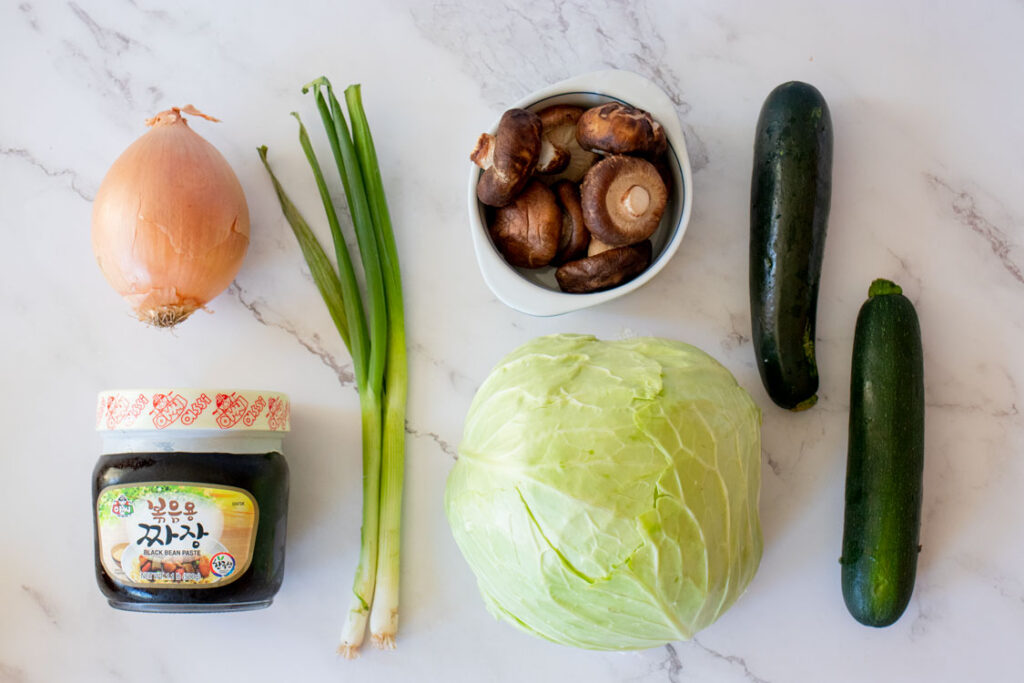 Chunjang - Black bean noodle sauce which be the base of the dish
Shiitake mushrooms - To sub for the meat, we'll use an ample amount of mushrooms to provide the same "meat-y" texture and fill the dish out. You can use other mushrooms such as brown mushrooms or portobello mushrooms.
Zucchinis
Onion
Cabbage - The cabbage adds bulk to the dish and helps to lighten the otherwise heavy black bean sauce
Green scallions
Because these noodles can be quite heavy in flavor and texture, it's great to serve these with refreshing cucumber slices or pickled radish.
Instructions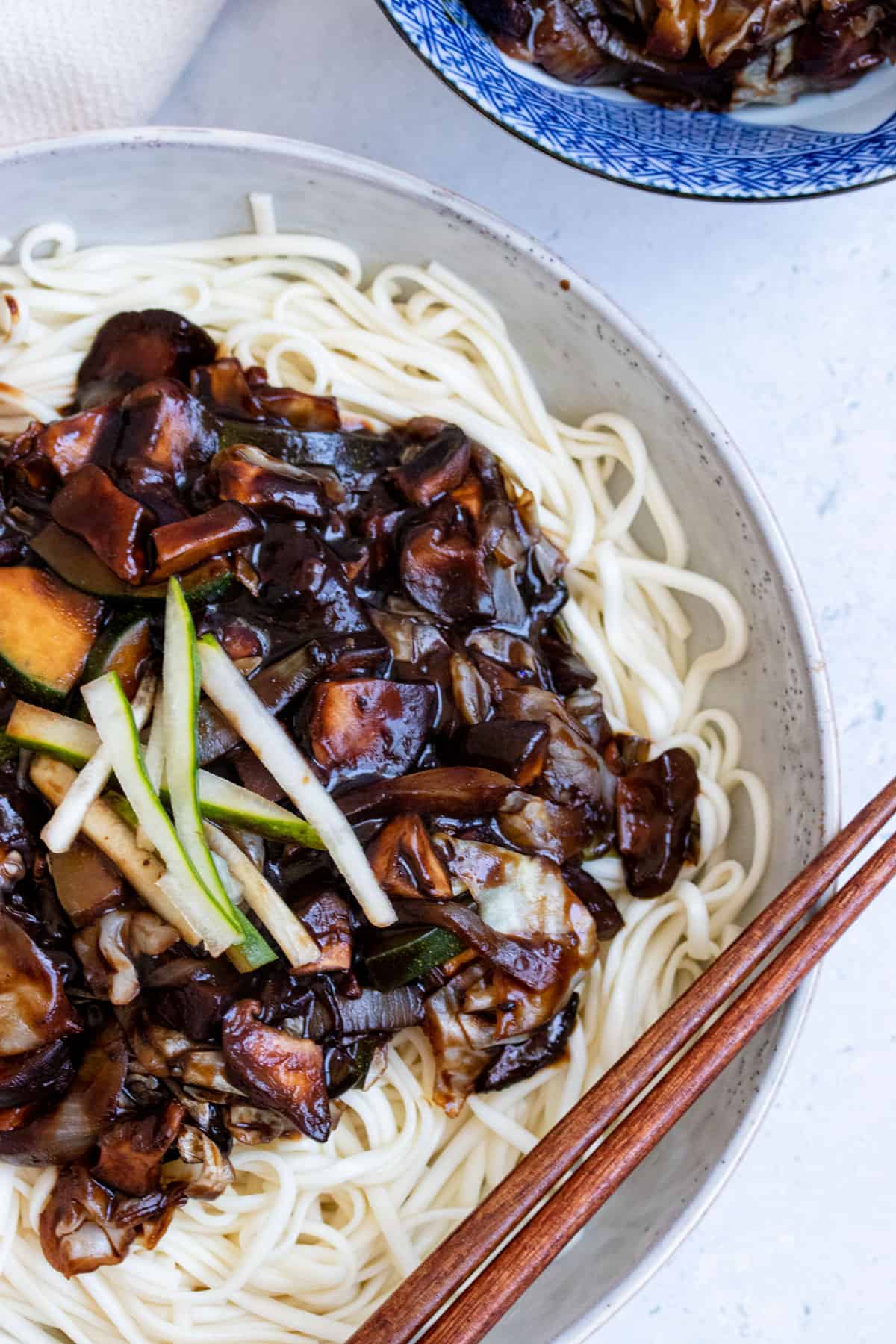 Heat up a pot of water until boiling. Cook the dry noodles until al dente, around 8 minutes. You can cook for a little longer if you prefer your noodles softer. Drain and rinse with cold water so they stay chewy. Set aside as you prep your vegetables and black bean sauce.
In a hot skillet, add oil and cook down onions until translucent. Add the zucchinis and cabbage and cook down for another 3-4 minutes. Lastly, add the scallions and stir-fry for another 30 seconds. Set aside the cooked vegetables in a separate plate.
In the same hot skillet, add the Korean black bean sauce with sugar. Stir until the sugar is mixed in. You can add a little oil if you feel that the black bean sauce is too thick. Then, add in 1 cup of water or vegetable broth if you'd like it more savory. Let it simmer.
Make cornstarch slurry with 1:2 cornstarch to water ratio. Add into the black bean sauce. Let the sauce thicken.
Add your vegetables back in and mix until everything is evenly coated.
Place your noodles in a bowl and scoop the sauce over. Use chopsticks to mix the sauce into the noodles so it's evenly coated and you get a bit of everything with each bite!
You can serve this with julienned cucumbers and pickled radish to add something refreshing between each bite!
Looking for more vegetarian Asian dishes?
When in Asia, it can be hard to find vegetarian or vegan dishes! A lot of Asian cooking uses either pork lard as the fat or adds ground meat to stir-fry vegetable dishes.
Try my vegetarian takes on stir-fry eggplant with garlic sauce or vegan japchae (stir-fry glass noodles) to still be able to enjoy Asian food without the meat!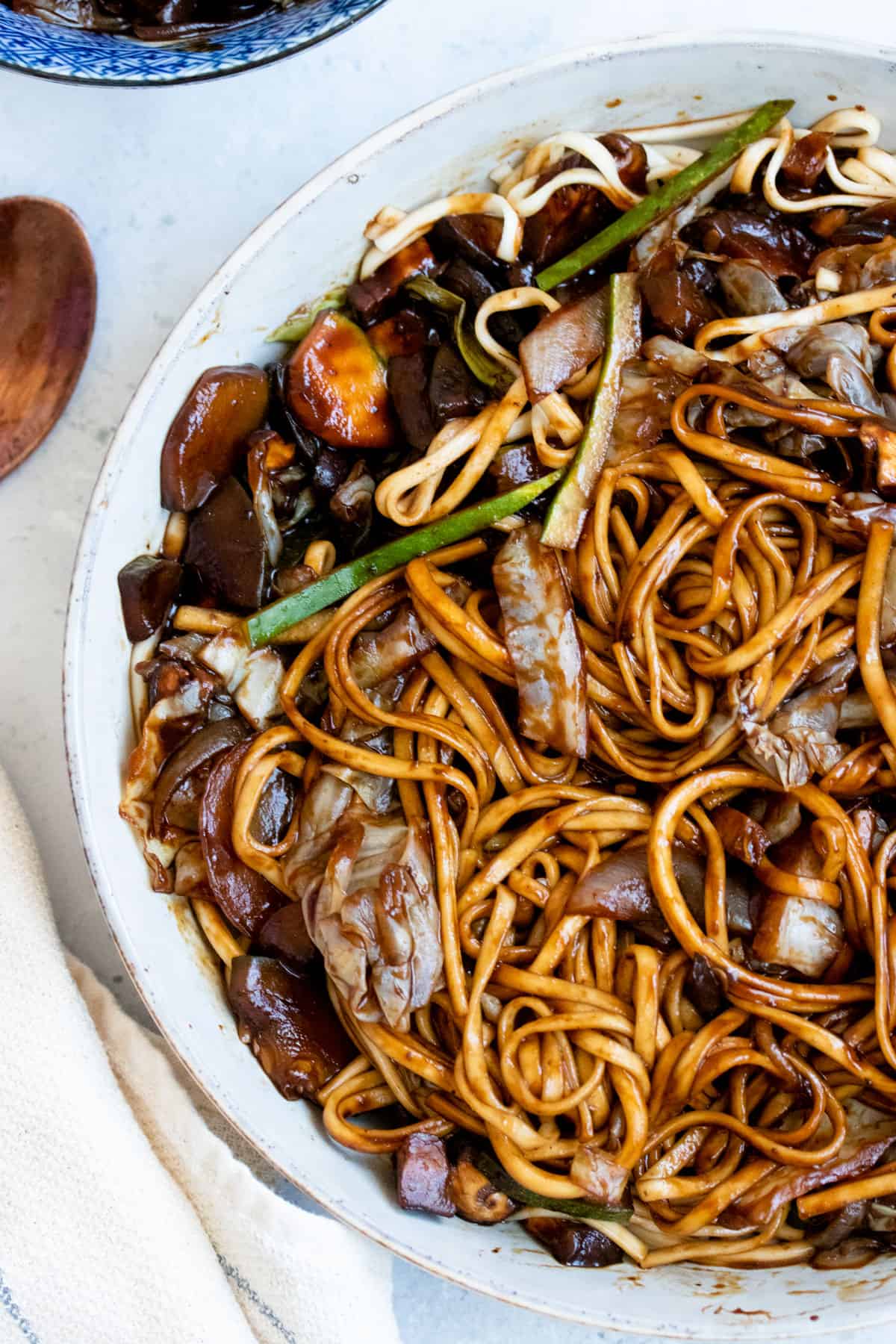 📖 Recipe
Vegan Jajangmyeon (Korean Black Bean Noodles)
Vegan jajangmyeon, a tasty and savory Chinese-Korean dish, for the ultimate comfort meal
Ingredients
8

oz

dry wheat noodles

1

tablespoon

vegetable oil

½

medium onion

(thinly sliced)

12

oz

shiitake mushrooms

(sliced)

2

medium zucchini

(quartered)

½

medium cabbage

(chopped)

1

scallion

(chopped)

¼

large cucumber

(julienned)
Jajang Sauce
6

tablespoon

black bean sauce

2

tablespoon

granulated or brown sugar

1

cup

water or vegetable broth

2

tbsp

cornstarch

(mixed with 4 tablespoon water)

Salt and pepper

(to taste)
Instructions
Boil pot of water and cook dry noodles. When thoroughly cooked, drain, rinse with cold water, and set aside.

Heat up a skillet with vegetable oil. Stir-fry onions for 1 minute or until translucent.

Add sliced shiitake mushrooms and stir-fry for 1 minute. Then add the zucchini and cabbage until both cook down, about 3-4 minutes. Lastly, add the scallions and stir-fry for another 30 seconds. Set aside in a separate plate.

In the same skillet at medium heat, add Korean black bean paste and sugar until the sugar has dissolved. Then, add 1 cup of water or vegetable broth. Lower heat to simmer.

Make cornstarch slurry with 1 part cornstarch 2 parts water. Add to black bean sauce mixture.

Add vegetables to black bean sauce and stir until vegetables are evenly coated.

Place noodles in a bowl and top with black bean sauce.

Julienne cucumbers and slice pickled radish to serve on the side.