How did tomato and egg stir-fry become my go-to dish?
Tomato and egg stir-fry (番茄炒蛋)was my go-to dish as a child. If anyone asked me what I wanted for dinner, I responded with "番茄炒蛋." I didn't need to eat it with rice or any base starch. If it were kosher, I would've just eaten the entire dish on its own.
When my dad immigrated to the States in the late 80's, he worked in a Chinese restaurant as a cook to make ends meet. He said he had perfected the tomato and egg stir-fry. Funnily, he rarely cooks now, but when my mom does allow him into the kitchen, this is the only dish he cooks. My mom says he's a one-trick pony. I can't say he's wrong though because he somehow always makes it just right. The eggs are slightly fluffy and the tomatoes are cooked down so the ingredients are swimming in a savory tomato sauce.
So tomato egg stir-fry is just two ingredients?
Yes, two base ingredients and a couple necessary seasonings. However, that's what makes this such a simple and cost-effective weekday meal that you can make for both lunch and dinner. If you're just cooking for yourself, you're set for the day with this two serving recipe.
However, it's not just about throwing tomatoes and egg into a wok or skillet and calling it a day. Key steps will give you just the right texture and flavor!
Tomato egg stir-fry instructions
Quarter your tomatoes into wedges. Crack five eggs into a bowl and add salt, pepper (white or black), a teaspoon of shaoxing wine, and 2 teaspoons of water. Whisk the eggs until well incorporated
The water helps to create a "steamed" egg effect. This makes the eggs softer and fluffier.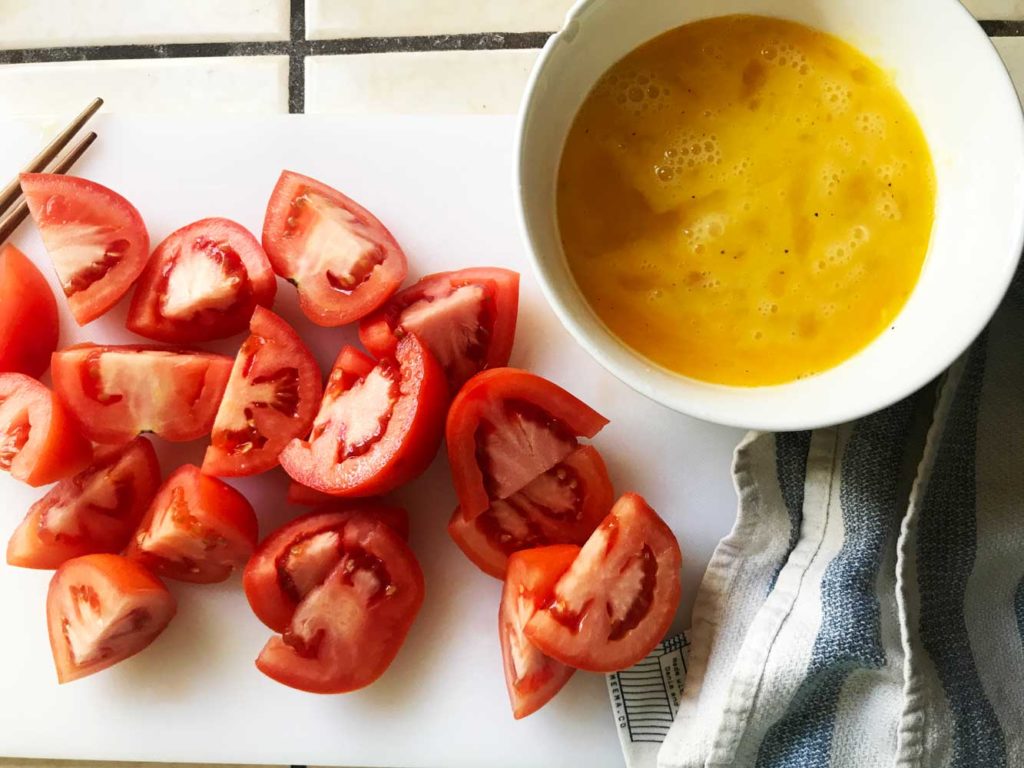 Heat your wok or skillet up until hot and add your cooking oil. Use a neutral oil such as vegetable oil. Pour in your eggs and let it sit for a couple seconds as the sides start to bubble. Scramble your eggs into bite-sized chunks. You don't want the eggs to be too small compared to the tomatoes.
The second the eggs feel firm, but are still slightly undercooked, take them out and into a bowl. Set aside as we'll put it back into the skillet when the tomatoes have cooked down.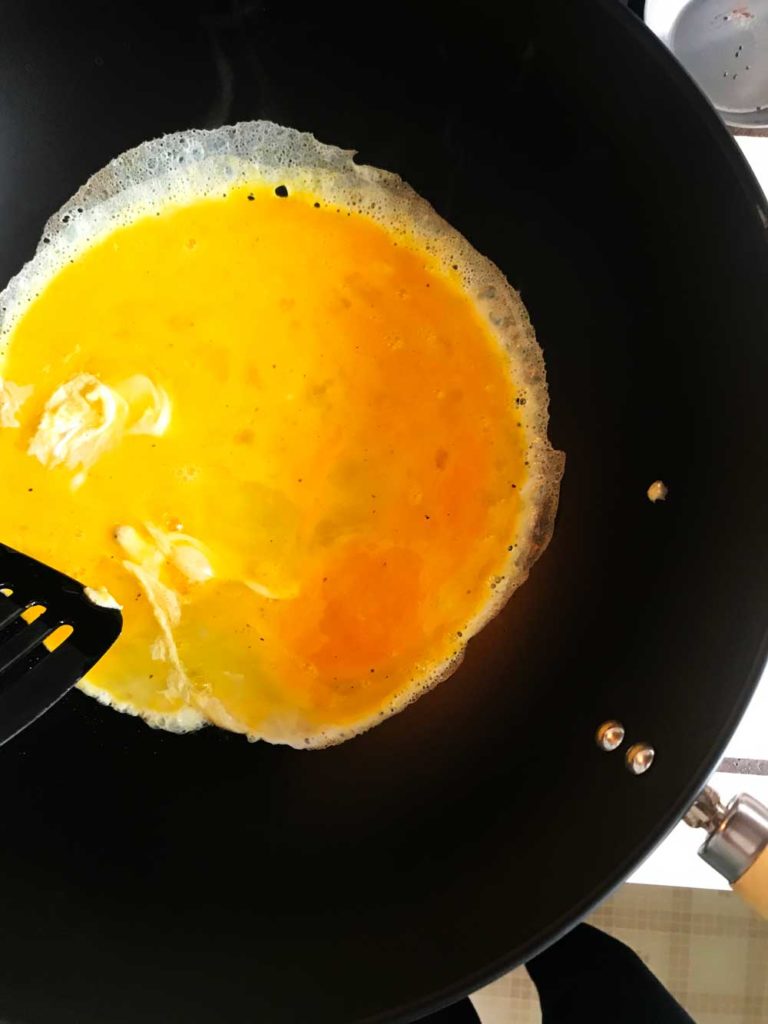 Heat up the wok again and throw in your tomato wedges. Add your sugar and a dash of salt. The sugar is necessary to combat the acidity of the tomatoes. Let the tomatoes cook down. At this point, I like to add a dash of chicken stock for a bit more flavor, although this is quite untraditional.
The key is to be patient and to let the tomatoes release its juices. Place a lid on your skillet to create a steamer like environment. Once they're cooked down, add in your scallions and your cooked eggs. Stir-fry for another 1-2 minutes.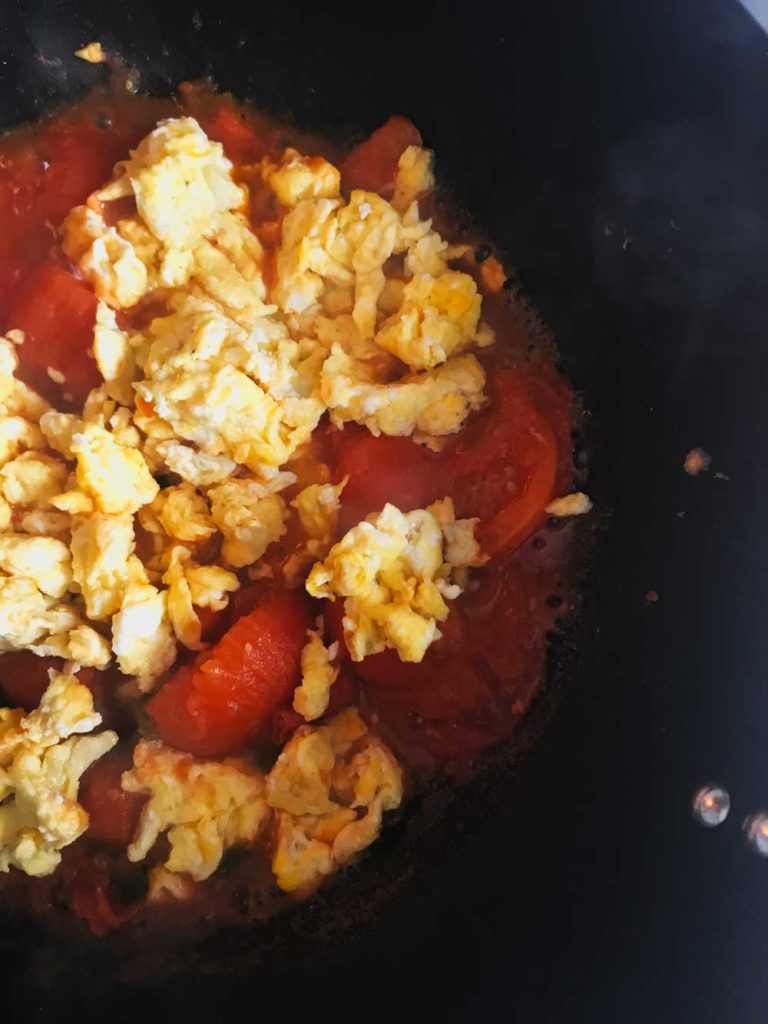 Serve with white rice or even with noodles!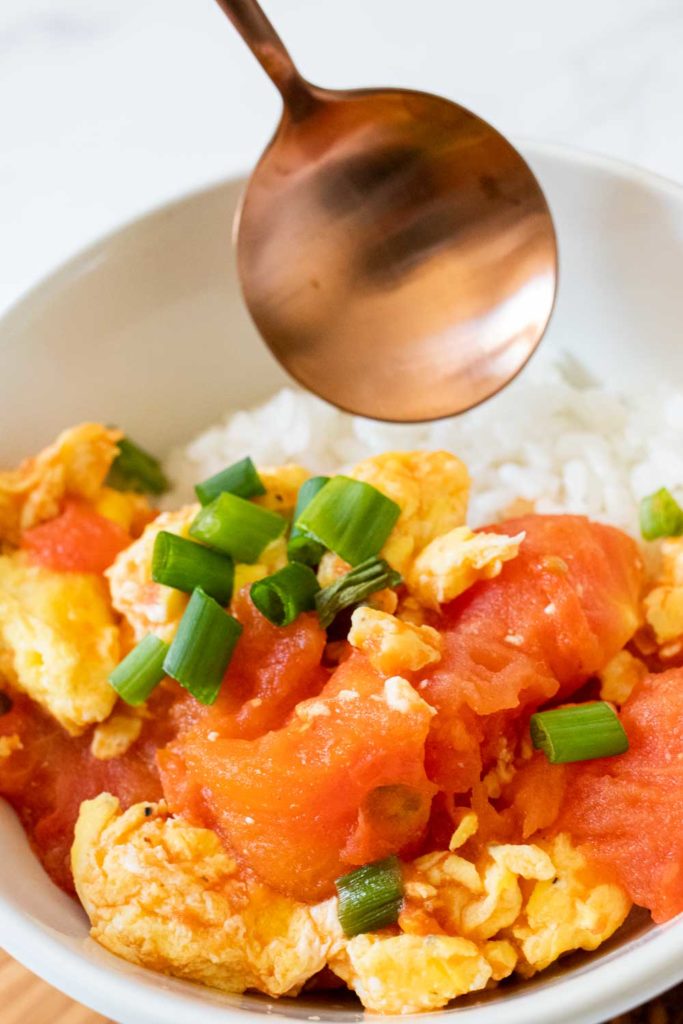 📖 Recipe
Tomato Egg Stir-Fry
A fragrant traditional Chinese dish made easy for a weekday meal
Ingredients
4

roma tomatoes

5

large

eggs

2

teaspoon

water

½

teaspoon

salt

(divided)

¼

teaspoon

white pepper

(sub black pepper)

1

teaspoon

shaoxing wine

2

tablespoon

vegetable oil

(divided)

2

teaspoon

sugar

¼

cup

broth

2

stalks

scallions

chopped
Instructions
Cut your tomatoes into quarter wedges

Break eggs into a bowl and season with 2 teaspoon water, ¼ teaspoon salt, ¼ teaspoon white or black pepper, and 1 teaspoon shaoxing wine. Whisk together.

Heat 1 tablespoon of oil into a hot skillet and scramble eggs. Take off heat and place into a separate bowl when they are cooked but still slightly wet.

Heat 1 tablespoon of oil into same skillet and cook tomatoes. Cook down until tomatoes are soft. Add in 2 teaspoon sugar, ¼ teaspoon salt, and ¼ cup broth and place lid on skillet until the juices have been released from tomatoes (about 4-5 minutes).

Add in chopped scallions and stir for a couple seconds. Add in cooked eggs and cook for another 1-2 minutes as the tomato sauce thickens.
Nutrition
Looking for other easy weekday recipes?
Chinese Stir-Fry Rice Cakes
If you're a fan of the stir-fry rice cakes at Din Tai Fung, you'll love these savory Chinese stir-fry rice cakes cooked with fatty pork loin and salty potherb mustard greens.
Check out this recipe