Updated on February 26, 2021 by Julia
When I was a kid, I always assumed kung pao chicken (宫保鸡丁/gongbaojiding)was only a Westernized dish. To be fair, the Westernized and Chinese version are cooked differently. The Chinese one has origins in Sichuan meaning you'll be getting much more of a spicy kick and is traditionally a dry stir-fry. The Westernized version is typically much sweeter and I've seen recipes that use orange juice. The Western version also has much more sauce.
In this version, we'll be making a kung pao chicken that is reminiscent of the dry stir-fry version. There'll still be sauce, but just enough to flavor the dish and your rice! The dried chilli peppers will provide a fragrant spiciness and chilli broad bean sauce (豆瓣酱/doubanjiang) for a nice umami flavor.
No Peanut Kung Pao Chicken
While this dish typically requires peanuts, I feel like I've met more people with nut allergies than those who don't! To bulk up this dish, we'll be adding a variety of vegetables such as carrots, cucumbers, and bell peppers for crunch and color.
If you want to add different nuts such as walnuts or pecans, just ensure to toast them before you start prepping and add them back in when you're adding the chicken back into the skillet at the end.
Ingredients for Kung Pao Chicken
Kung pao chicken is a just a lovely stir-fry of chicken and vegetables mixed with a delicious soy-based sauce. We'll add dried chilli peppers for a slight spicy kick. The Sichuan version of this dish also includes peppercorns, but I'm not a fan of the numbing effect so I've chosen to omit the ingredient.
You'll need:
Chicken Marinade
Chicken breast – you'll want to cube your chicken breast into bite-size pieces. Some people prefer to use chicken thigh, so its all up to preference
Shaoxing wine – adds flavor to any meat
Salt
Dark soy sauce
Ground white pepper
Cornstarch
Kung Pao Sauce
Light soy sauce
Dark soy sauce – add a beautiful color and deeper flavor
Chinese black vinegar
Sugar – balances the soy sauce and vinegars
Cornstarch + water – helps to thicken the sauce
Vegetables and Fragrants
Chilli broad bean sauce (doubanjiang)
Dried chilli peppers (halved and deseeded)
Scallions (chopped)
Garlic (diced)
Carrots, cucumbers, and bell peppers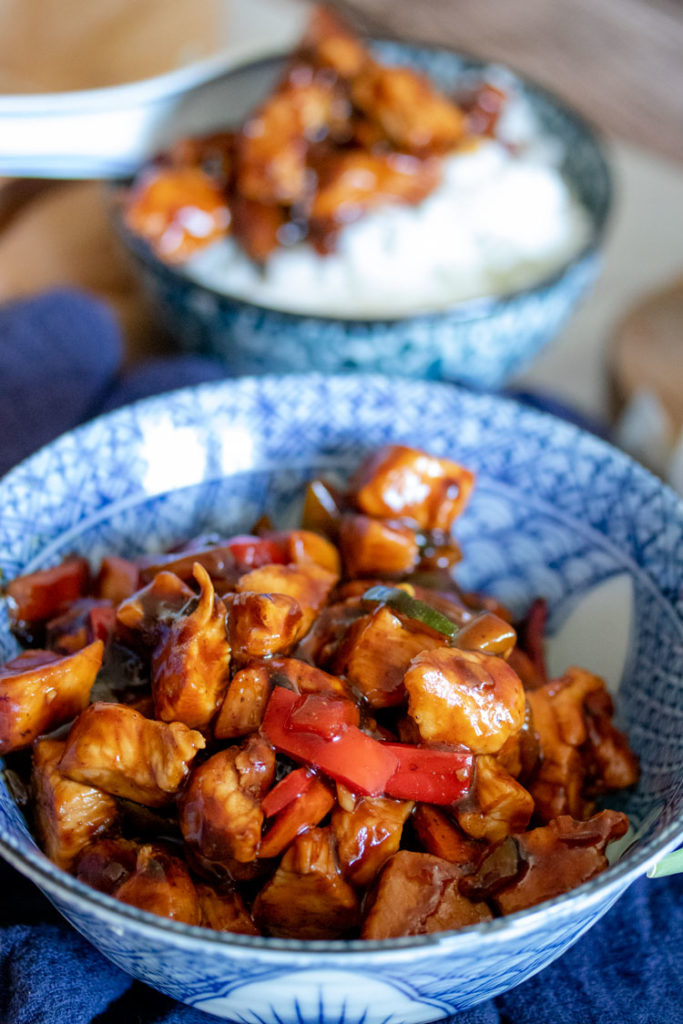 Kung Pao Chicken Recipe Instructions:
Cube chicken breast into bite-size pieces. Marinate with Shaoxing wine (Chinese cooking wine), soy sauce, salt, white pepper, and cornstarch. Let sit and prepare your sauce and vegetables
Make sauce by mixing light and dark soy sauce, vinegar, sugar, water, and cornstarch.
Prepare the rest of your ingredients
Heat up oil in skillet and sauté the chicken until done. Make sure to flip so you're searing both sides. When done, set aside in a separate bowl.
Add more oil to the skillet and sauté the garlic, chilli peppers, and scallions. Add the chilli broad bean sauce and cook until the sauce releases its natural oils
Stir-fry the carrots first as they are harder in texture. After about a minute or so, add in your cucumbers and bell peppers. Cook for another minute or so.
Add your chicken back in and pour in the sauce and coat the skillet evenly. Let is simmer so the sauce starts to thicken.
Serve over rice!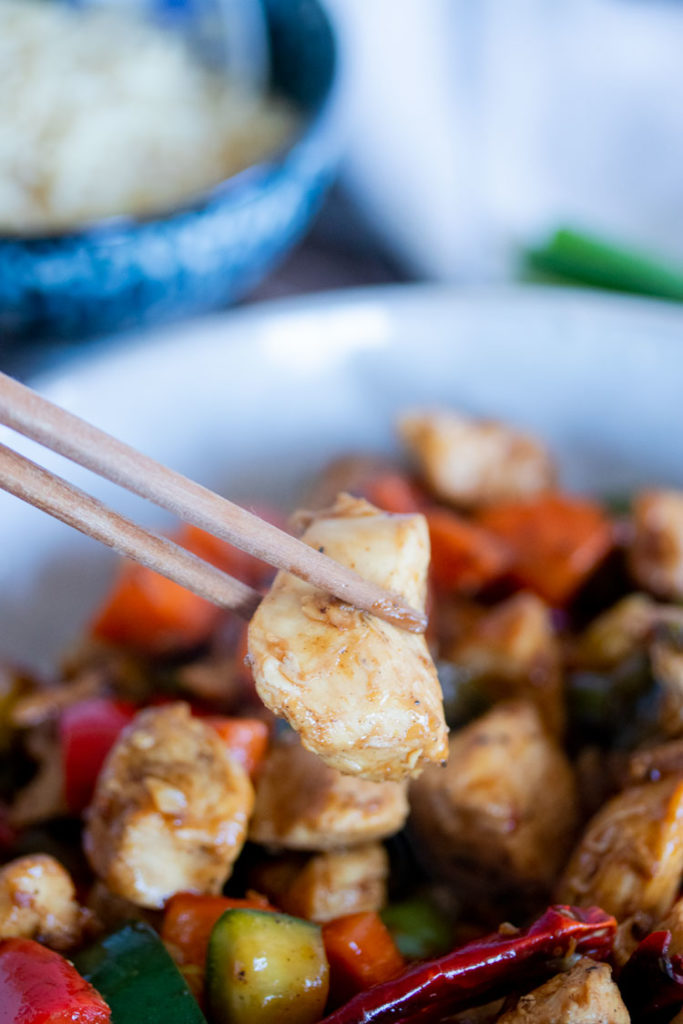 Looking for more Chinese stir-fry dishes?