What is gyudon (beef bowl)?
Gyudon is a popular Japanese quick meal consisting of thinly sliced beef simmered in a delicious savory-sweet sauce made up of mirin, sake, and soy sauce. Eggs are incorporated into the stir-fried beef at the end for extra protein and fluffy texture. This Japanese beef rice bowl is great for those on the go, but still looking for something extra flavorful.
Packaged gyudon can even be found in convenience stores across Asia as its simply beef and rice over a bowl of rice. A couple minutes of microwaving and you're set with a meal that will hold you over for the rest of the day. However, making it at home is just as easy and anything homemade is always more delicious!
Gyudon recipe ingredients
Beef: Use either beef chuck or beef ribeye. You can usually ask your butcher to thinly slice the meat as it can be difficult to achieve that level of thinness at home. Sometimes, Asian grocery stores will sell thinly slice meat for Korean BBQ, those are also great for gyudon!
Onion
Neutral oil
Sake, mirin, soy sauce: These three ingredients make up the savory sauce (with some sugar). If you prefer to make this dish non-alcoholic, you can replace the sake with water instead.
Eggs: We add the eggs at the end, and gently steam them so they are soft and fluffy and help to fill out the dish. I have typically beaten the eggs and incorporated into the beef, but other recipes make onsen eggs and add it as a separate topping. The soft egg yolk is great with the fattiness of the beef.
Scallions and sesame seeds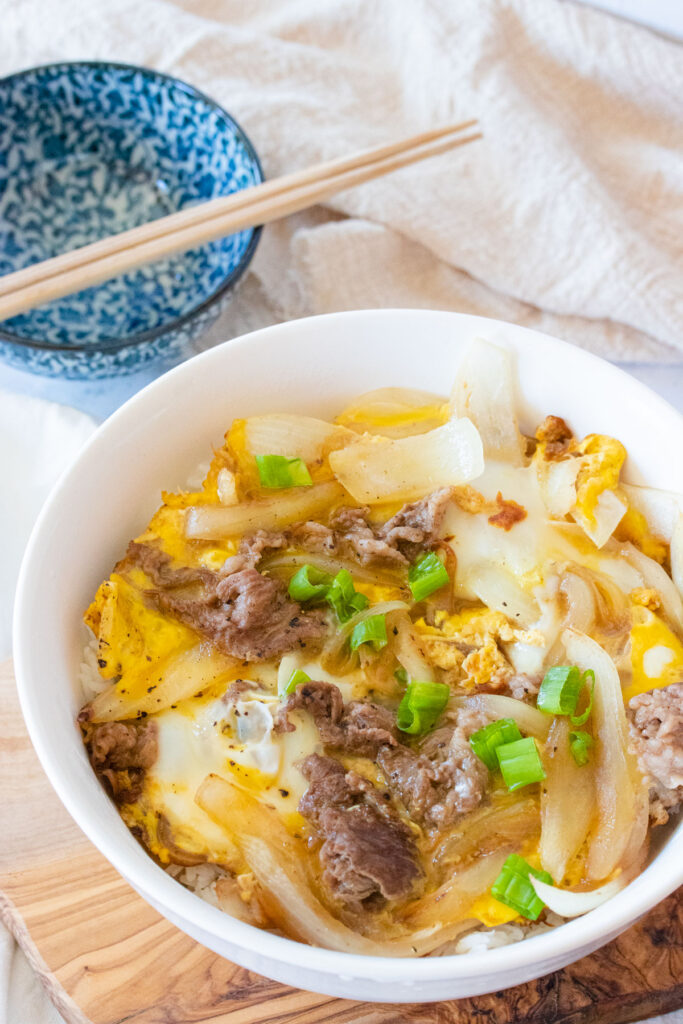 How to make gyudon at home
Prepare a cup of cooked rice before you start making the protein. To prepare a cup of rice, wash ½ cup of uncooked rice and drain. Put in pot with 1 cup of clean water. Bring water to a rolling boil, then lower heat and place lid on the pot. Let simmer for 20 minutes. Turn down the heat and let the rice sit for 10 minutes.
Thinly slice onion and beef (if bought whole).
Heat oil in a pan and cook down the onions. Stir frequently until onions are soft, this can take about 10 minutes.
Add beef into the pan with sugar. Cook until beef is no longer pink and browned.
Add sake, mirin, and soy sauce and cook for 3-5 minutes.
Pour lightly beaten eggs evenly over the beef so its evenly coated. Place a lid onto the pan to gently steam the egg so its still runny (and not overcooked!).
Gently slide the egg, beef, and onions over a bowl of steaming white rice. Top with chopped scallions and optional sesame seeds.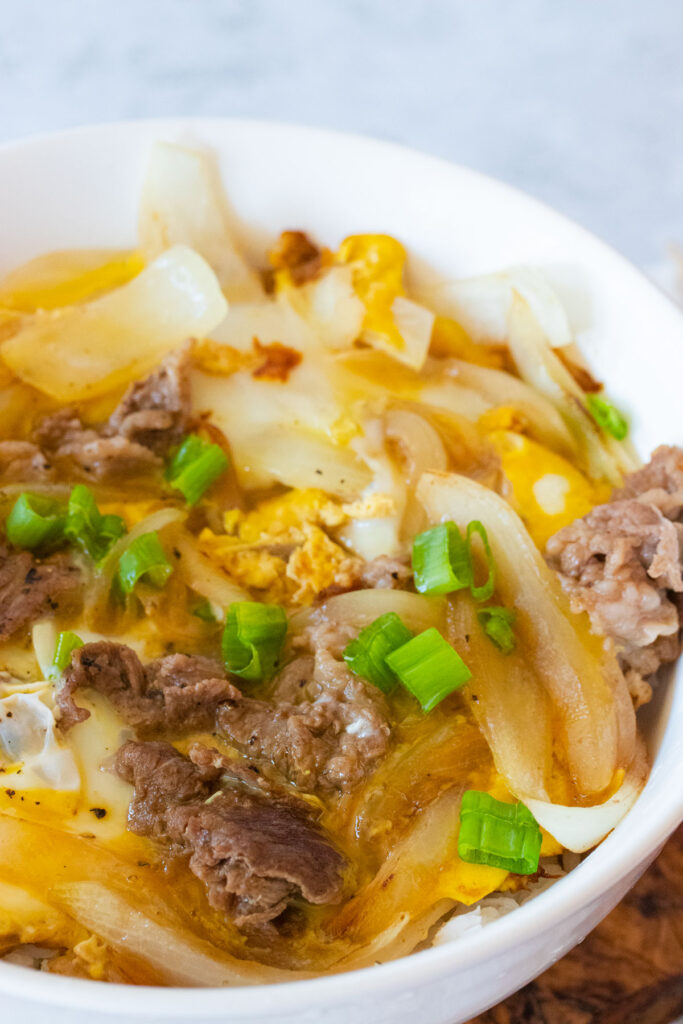 Tips for the best gyudon
Be patient with the onions! You want to make sure they're soft and cooked down, you don't want to be bite down on raw onion in this sweet/savory dish.
You don't have to slice the beef at home! Many Asian grocery stores sell sliced beef as "hot pot beef" or "shabu beef" in the frozen section.
Beat the egg lightly and don't overcook it! We don't want scrambled eggs, but a runny egg that almost holds the beef like a fluffy omelette. A couple minutes of steaming with a lid on the pan should be enough to get this level of texture.
Looking for more quick 10-minute recipes?
Having to make lunch everyday can be such a headache when you're so busy with everything else. Try my 10-minute shrimp and egg stir-fry or quick and easy kimchi fried rice for healthy meals you can make in a pinch!
📖 Recipe
Gyudon (Japanese Beef Rice Bowl)
A traditional Japanese recipe, gyudon (Japanese beef rice bowl) is a an easy protein-rich dish. Served with thinly sliced onions and a perfectly silky egg, this is the ultimate comfort food.
Ingredients
Instructions
Thinly slice beef and onions.

Heat up oil in a pan. Cook the sliced onion until soft, about 10 minutes. Stir often.

Add sliced beef to the pan and sugar. Cook beef until browned and no longer pink.

Add sake, mirin, and soy sauce. Reduce heat and simmer for 3-5 minutes.

Lightly beat two eggs in a separate bowl. Pour over beef evenly.

Cover pan until egg is cooked but still runny.

Scoop rice into a bowl and top with beef and eggs.

Top with optional sesame seeds and chopped scallions.