Kimchi fried rice has always been my go-to fried rice recipe because it's so easy for anyone in a rush. I always have either commercial kimchi or homemade kimchi and gochujang at home. Add in a couple cups of rice in a skillet, and you have yourself kimchi fried rice and under 10 minutes!
The great thing is that if you're vegetarian, this is the perfect vegetarian kimchi fried rice for you! If you're vegan, make sure to purchase vegan kimchi. Most commercial kimchi brands contain fish sauce.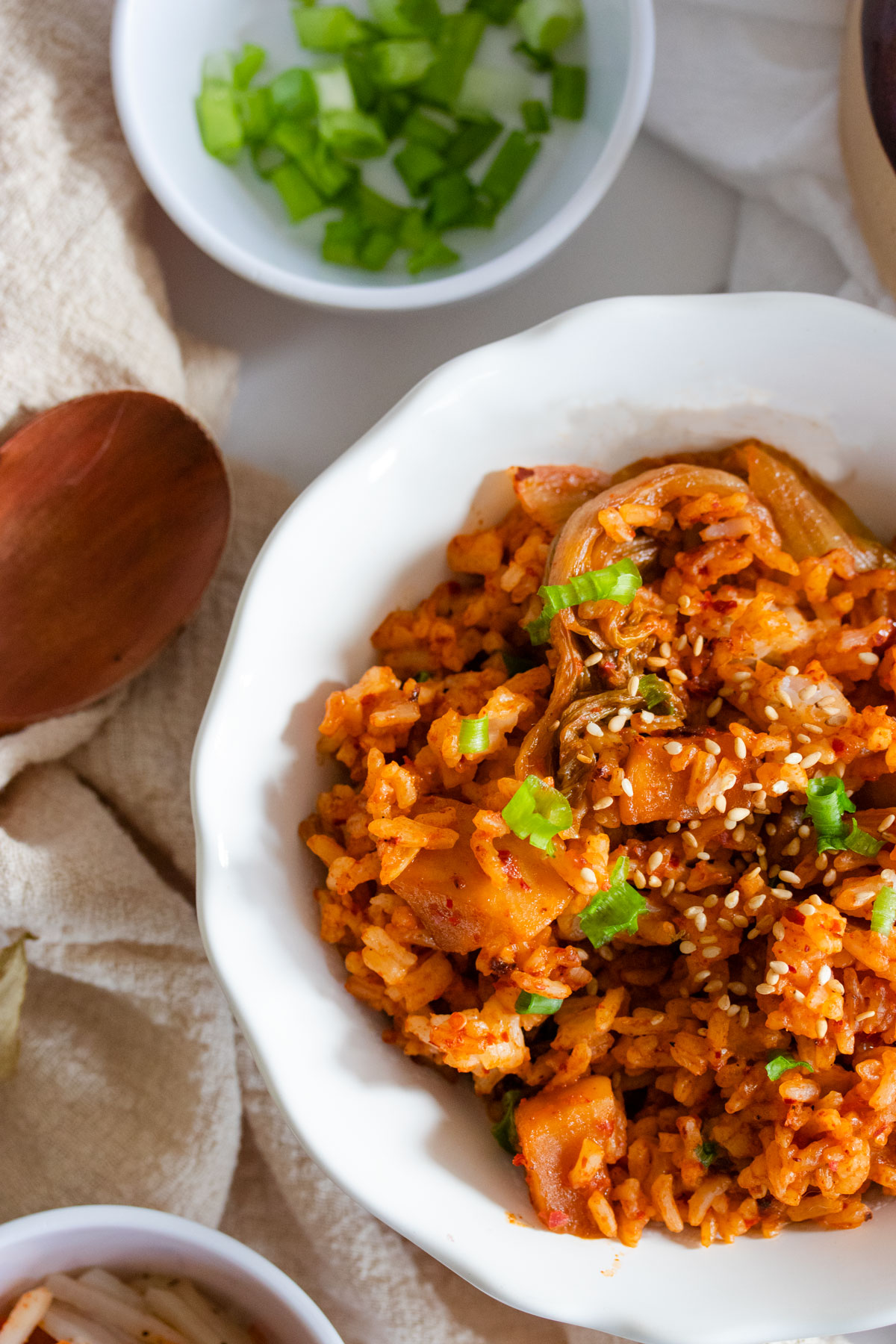 Jump to:
What is kimchi?
Kimchi is a traditional side dish in Korea made of salted and fermented vegetables. You'll typically find these in grocery stores with napa cabbage as the key ingredient. Other vegetables such as daikon can be fermented, too! As you can see from my dish, my kimchi is a mix of quartered daikons and napa cabbage.
As with all fermented things, the longer it ferments, the more sour it becomes. This is why I always have kimchi at home because it sits well in the fridge. Kimchi that is been fermented for a longer time is best for kimchi fried rice because the rice balances out the acidity. Fresh kimchi is just as delicious, but hasn't acquired as unique of flavors. Want to make your own at home? Try my quick and easy kimchi recipe.
Ingredients for quick kimchi fried rice
1 cup of kimchi (and some of the kimchi juice)
2 cups of overnight cooked rice - I always recommend using rice that has been kept in the fridge overnight. This helps to remove moisture from the rice so it doesn't become mushy when you stir-fry it. If you're making fresh rice, spread it onto a baking sheet and let it sit in the fridge for 30 minutes before using.
1 heaping tablespoon gochujang (Korean red chili paste)
I like to add additional toppings such as sesame seeds, green onions and even a sunny side up egg. I wasn't kidding when I said this is a quick and easy recipe.
Instructions
Heat up a skillet and add 1 tablespoon of neutral oil.
Add in 1 cup of chopped kimchi and stir-fry for 30 seconds.
Add 1 tablespoon of gochujang and stir-fry for 30 seconds.
Add in 2 cups of cooked rice (ideally rice that has been in the fridge overnight). Break apart the rice and add in ½ cup of kimchi juice.
Stir-fry until all ingredients are well-incorporated.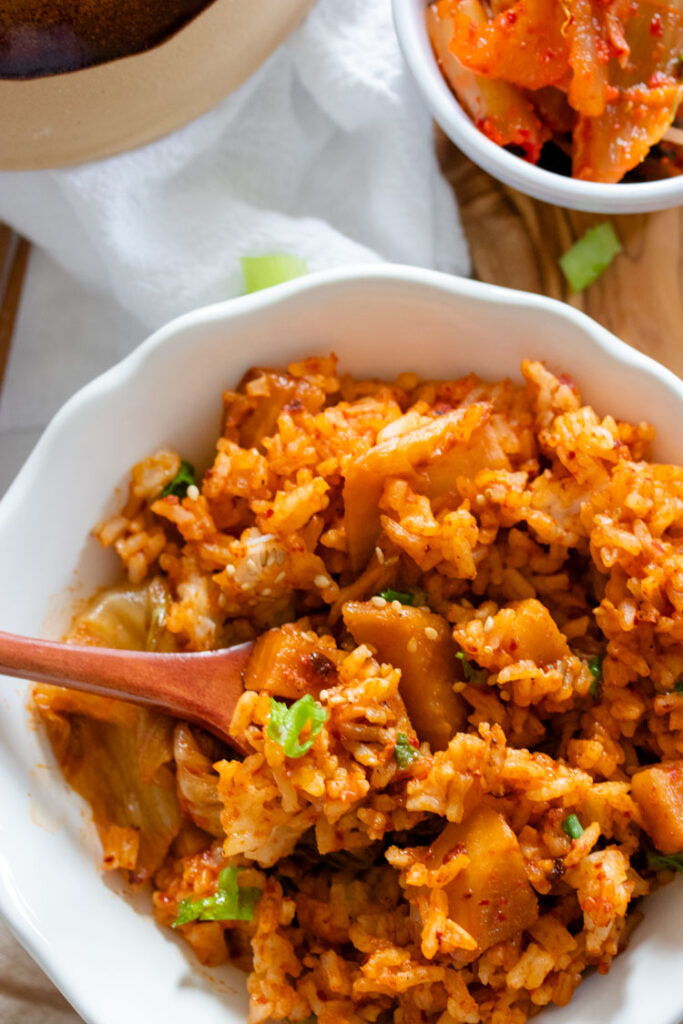 Optional toppings
The great thing about kimchi fried rice is that you can add in a variety of toppings that suit your palette. While it does have the spiciness and slight sweetness from the gochujang, this dish is an open palette.
Fried egg - I prefer to cook mine sunny side up and break the yolk into the rice
Spam - You can slice up the spam and fry it up before you add in your cooked rice
Scrambled eggs - Similar to my Chinese fried rice, you can cook the scrambled eggs before you start this recipe and set aside. Then add them back in at the very end! This is great if you like having pieces of egg to eat throughout the meal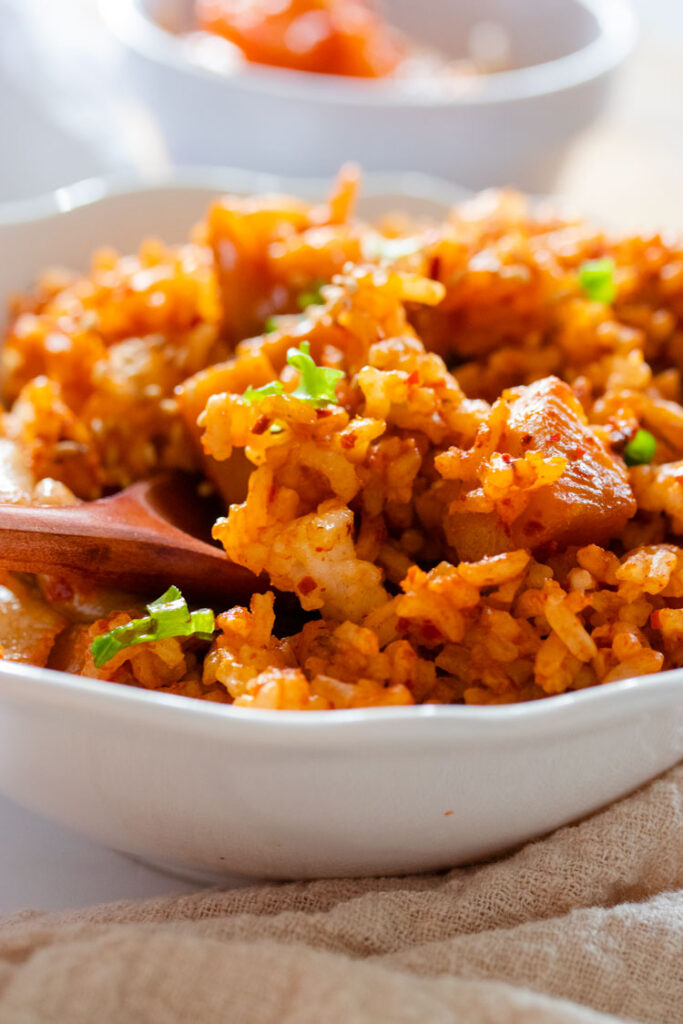 📖 Recipe
Quick and Easy Kimchi Fried Rice
A less than 10 minute recipe for kimchi fried rice that only requires 3 ingredients and comes with optional toppings of your choice!
Ingredients
1

tablespoon

vegetable oil

1

cup

kimchi

(chopped)

1

tablespoon

gochujang

½

cup

kimchi juice

2

cups

cooked rice
Optional Toppings
White sesame seeds

Fried egg

Spam

Scallions/green onions

(chopped)
Instructions
Chop one cup of kimchi so the pieces are bite-sized

Heat up skillet with 1 tablespoon of neutral oil. Add kimchi and stir-fry for 30 seconds.

Add 1 heaping tablespoon of gochujang and continue to stir-fry.

Add 2 cups of cooked rice and break the rice apart so there are no clumps.

Pour in ½ cup kimchi juice. Ensure that the gochujang and the kimchi juice are evenly distributed across the rice.

Serve and top with white sesame seeds and scallions.