What is Szechuan chicken?
Anyone who dines at a Sichuan restaurant might know that one of the best dishes to order is mala chicken (numbing chicken) or also known as la zi ji (spicy chicken). There are various other names for the dish, but the dish is defined by fried chicken bites buried under dried chili peppers. Sichuan peppercorn is used to add a different profile of spiciness and is used in any Sichuan dish to add a numbing spice effect. I have terrible memories of biting into these peppercorns whole as a child!
However, for this dish, we'll ground half of the Sichuan peppercorn so you'll still get the aroma. We also add 1 tablespoon of whole peppercorn, but you can omit these if you don't feel comfortable.
What is the difference between Sichuan and Hunan spices?
Sichuan and Hunan are two different provinces in China and their respective cuisines have very distinct flavor profiles.
Sichuan cuisine is known for being mala, which translates directly to numbing spice. Sichuan flavors are carried through spicy oils and the peppercorns. Other dishes that can also include these peppercorns can be found in my mapo tofu recipe or kung pao chicken (although my version omits peppercorns).
Hunan cuisine is xiangla, which stands for fragrant spice and is more of a dry spice. The cuisine gets its flavors from using an abundance of chili peppers which lends to its bright colors. Hunan cuisine can often be much more spicy than Sichuan cuisine.
Ingredients for Szechuan chicken
Chicken thighs or chicken breast - You can use either cuts. We always have chicken breast at home, but restaurants will typically use chicken thigh as its juicier and will be less likely to dry out.
Sichuan peppercorn - This is a key ingredient for Sichuan dishes. The peppercorn provides the ma la or numbing sensation that defines Sichuan/Chongqing cuisine.
Dry red chilis - The seeds in dry red chilis are extremely spicy so its important to slice the chilis vertically and to de-seed them if you're worried about the heat levels. You can also throw in the chilis whole, which I usually do. We'll be using a whole cup of chilis for this recipe.
Shaoxing wine - This is a key cooking wine that is usually used for meat marinades. It not only helps to remove any odors in seafood (such as fish), but adds a rich flavor. You can sub with dry sherry.
Dark soy sauce - Dark soy sauce is different from light soy sauce as its used more often in braising as the sauce adds a deep caramel color. It is less salty and slightly sweeter than light soy sauce.
Garlic, ginger, scallions - These are staple aromatics used in Chinese cooking
Salt and ground white pepper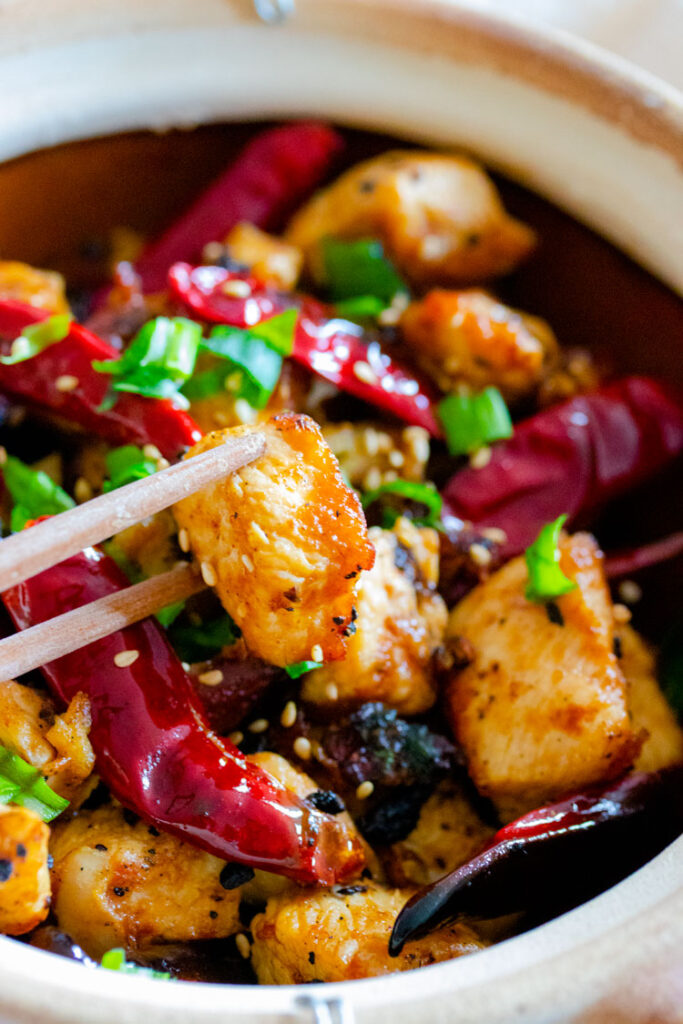 How to make Szechuan chicken
Slice chicken into bite-sized pieces, usually ½ inch cubes. Marinade in dark soy sauce, Shaoxing wine, salt, ground white pepper, cayenne pepper, and cornstarch. Let sit for 20 minutes.
Prepare the Sichuan peppercorn and dry chili pepper. Lightly dry toast peppercorn on a skillet. Remove from heat and ground in a mortar and pestle. Set aside. Slice the dry chili peppers vertically and remove the seeds if you are worried about the heat level.
Heat up a skillet or wok until very hot. Add in 3 tablespoon of oil. This will be used to lightly fry the chicken. Don't crowd the chicken or the pieces won't cook evenly. Fry on one side until golden brown, then use tongs to flip the pieces to cook the other side.
Remove chicken from the skillet and set aside in a separate bowl. Return the skillet to the heat and use the leftover oil to toast the whole Sichuan peppercorns for 1 minute.
Add in minced garlic and ginger slices. Stir-fry for 1 minute.
Add in 1 cup of dry chili peppers. Stir-fry until the peppers darken in color but make sure they do not turn black. You'll have to keep close watch as they can burn easily with such high heat.
Add the chicken back in with Shaoxing wine, sugar, scallions and the ground Sichuan peppercorn made in the beginning. Stir-fry for one minute until everything is evenly mixed.
Add optional scallions and sesame seeds as toppings and serve with rice.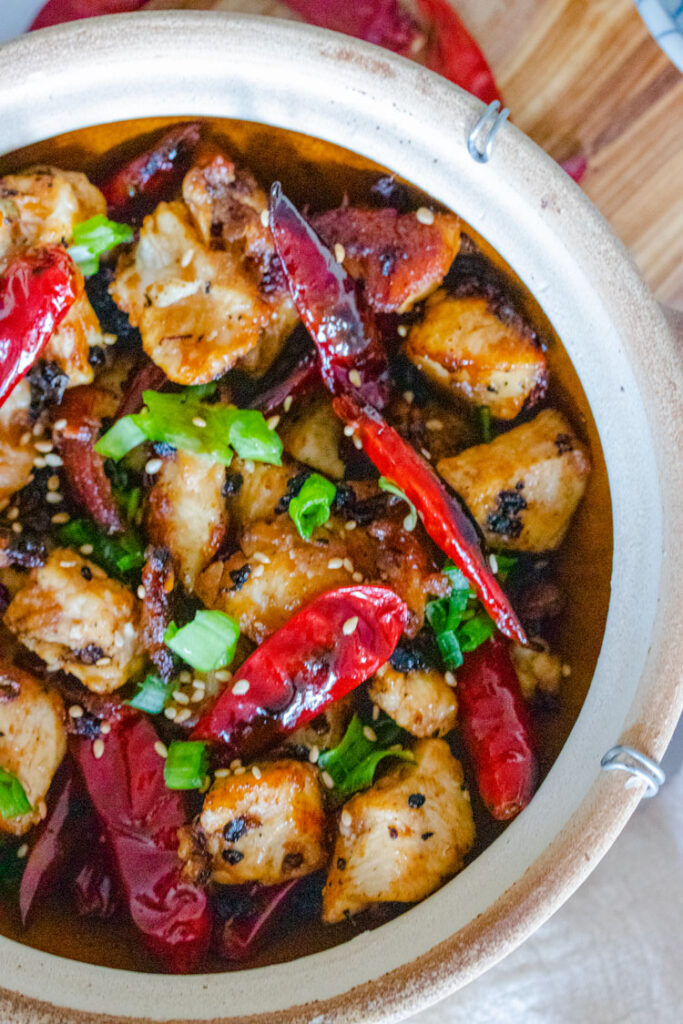 📖 Recipe
Szechuan Chicken
An easy and delicious recipe for authentic spicy Szechuan chicken using peppercorns and dry hot chili peppers
Ingredients
Chicken Marinade
16

oz

chicken breast

(or chicken thigh)

1

tablespoon

dark soy sauce

1

tablespoon

Shaoxing rice wine

⅛

teaspoon

salt

⅛

teaspoon

ground white pepper

½

teaspoon

cayenne pepper

4

tablespoon

cornstarch
Remaining Ingredients
3

tablespoon

vegetable oil

1

teaspoon

ground Sichuan peppercorn

1

teaspoon

whole Sichuan peppercorn

4

slices

ginger

3

cloves

garlic

1

cup

whole dried chili

½

teaspoon

sugar

1

teaspoon

Shaoxing rice wine

4

stalks

scallions
Instructions
Cut the chicken into ½ inch cubes. Mix with marinade ingredients and let sit for 20 minutes.

Prepare Sichuan peppercorns and dried chili while waiting for chicken. Toast 1 teaspoon of peppercorn and then ground with a pestle. Prepare dried chili by slicing vertically and remove seeds.

Heat up 3 tablespoon of oil in a very hot skillet. Fry chicken. Let the chicken brown on one side, then flip.

Remove chicken from the skillet and set aside. Add whole Sichuan peppercorns and let them toast for 1 minute.

Add ginger and garlic and stir-fry for 1 minute.

Add cup of whole dried chilis and stir-fry for another minute or until the chili darken. Do not let them go black so keep watch.

Add the chicken back in with Shaoxing wine, ground Sichuan peppercorns, sugar, and scallions. Stir-fry for another minute.