These refreshingly spicy noodles require only a few simple ingredients and less than 10 minutes of your time.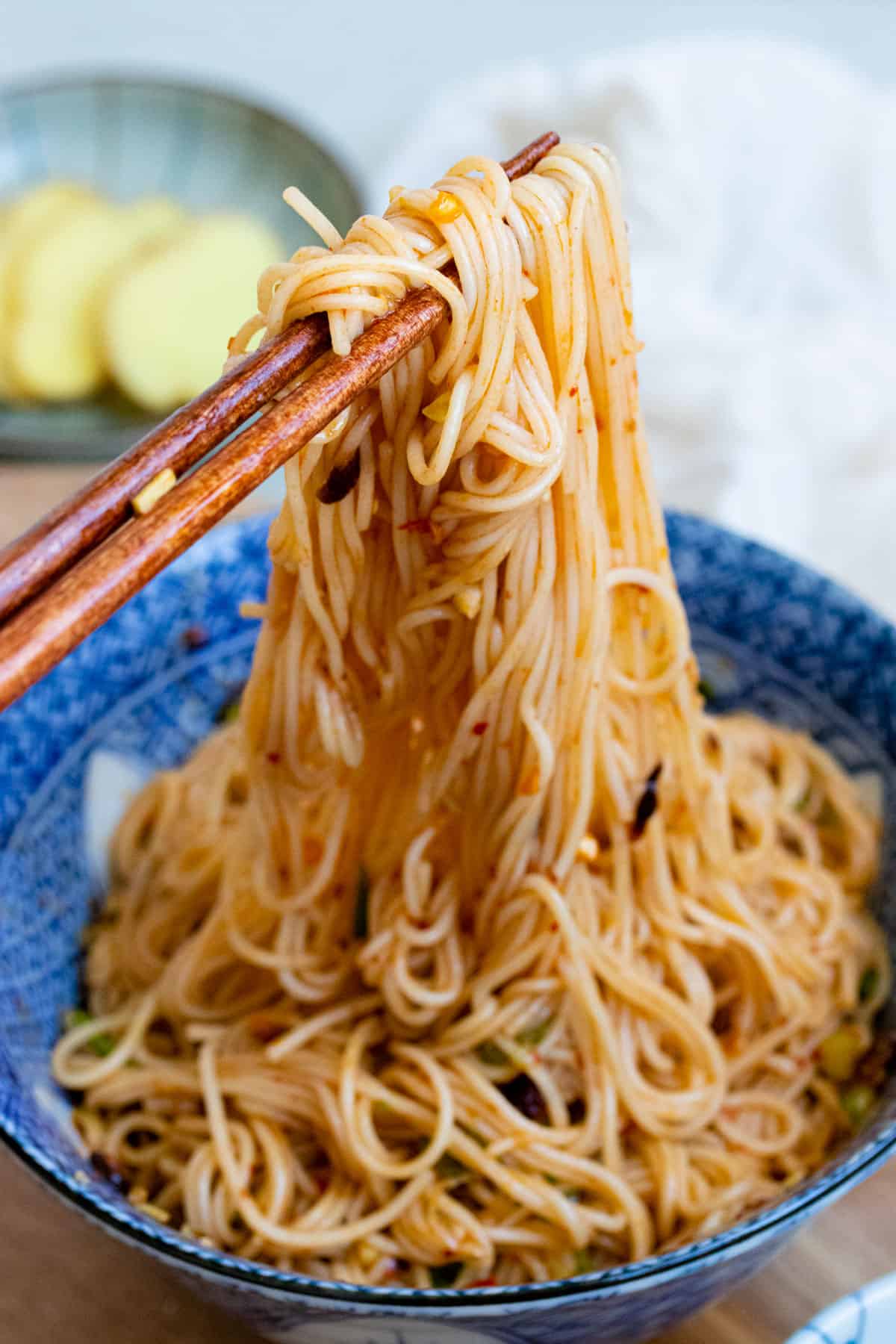 Shanghai summers are hot and humid, meaning that any extravagant cooking was usually off the table. Keeping the apartment cool was more important! This meant we ate a lot of noodles (requiring on a quick boil) mixed with a variety of delicious sauces and condiments. If lazy, it'd be a simple mixture of soy sauce, black vinegar, and sesame oil.
However, this spicy soy sauce noodles takes it up a notch with some spicy chili bean sauce and fragrants (e.g. garlic, scallions).
If you're looking to save time on home cooking, check out my other 10 minute recipes which include Peanut Sesame Cold Noodles or Shanghai Thick Stir-Fry Noodles.
Jump to:
Ingredients
Thin wheat noodles: If you ever go into an Asian supermarket, you'll find that there are a lot of options for thin wheat noodles from a variety of Asian countries. There's no particular one, but I try to seek out thin rounded wheat noodles.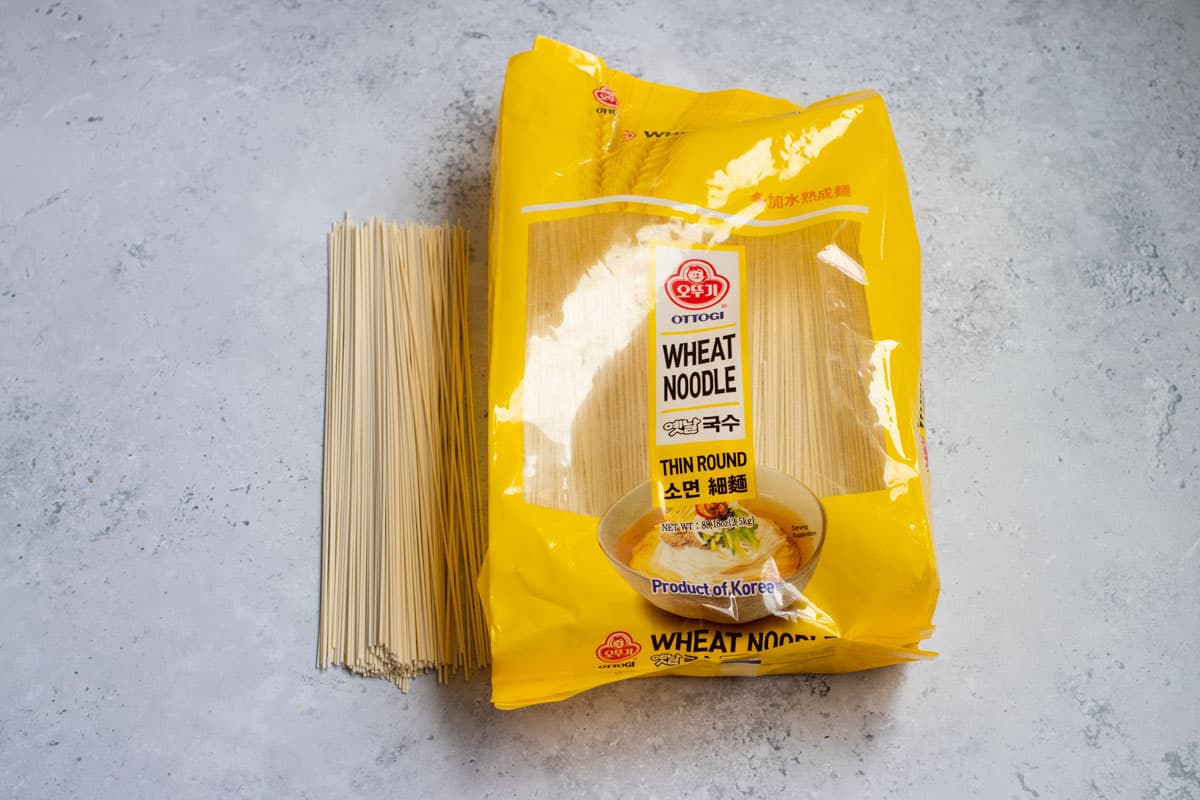 Light soy sauce: Light soy sauce is the soy sauce you usually find at any supermarket, you can also use the low-sodium version.
Chinese black vinegar: Chinese black vinegar is mildly acidic and sweet, which helps to balance out the soy sauce flavors. Chinese black vinegar can be more commonly found at Chinese super markets such as 99 Ranch or on Amazon. However, you can also sub with rice vinegar.
Sesame oil
Scallions
Garlic
Lao Gan Ma Spicy Chili Crisp: This ingredient is a must-have in any Chinese household. It's added to dips and a variety of sauce mixtures to give everything a bit of a kick. If you're worried about the spice level, you can cut this amount by half. You can find Lao Gan Ma at any Asian supermarket or online.
See recipe card for quantities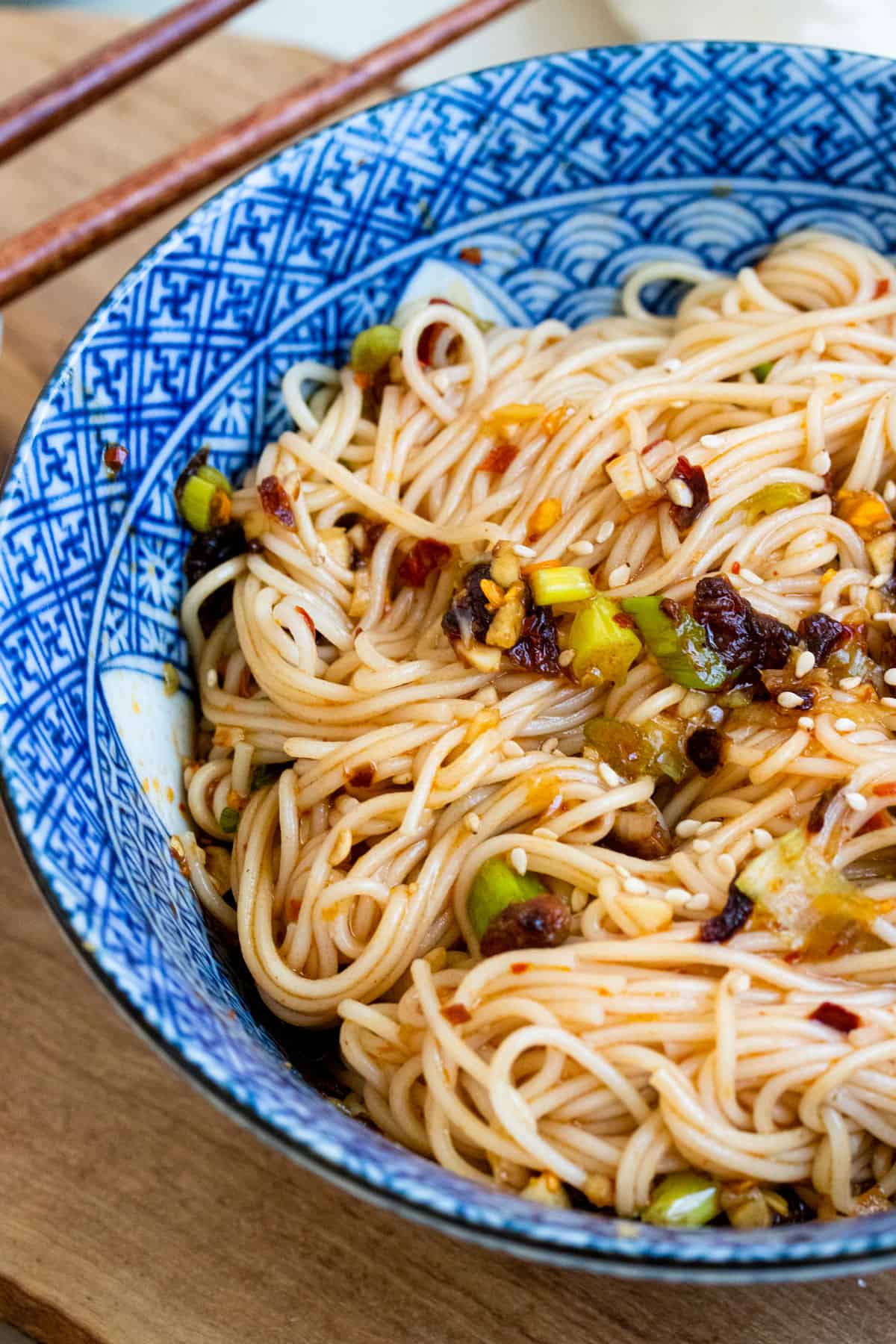 Instructions
Mince garlic. Add to a bowl with Lao Gan Ma, soy sauce, sesame oil, and black vinegar.
2. Add in chopped scallions and mix ingredients well.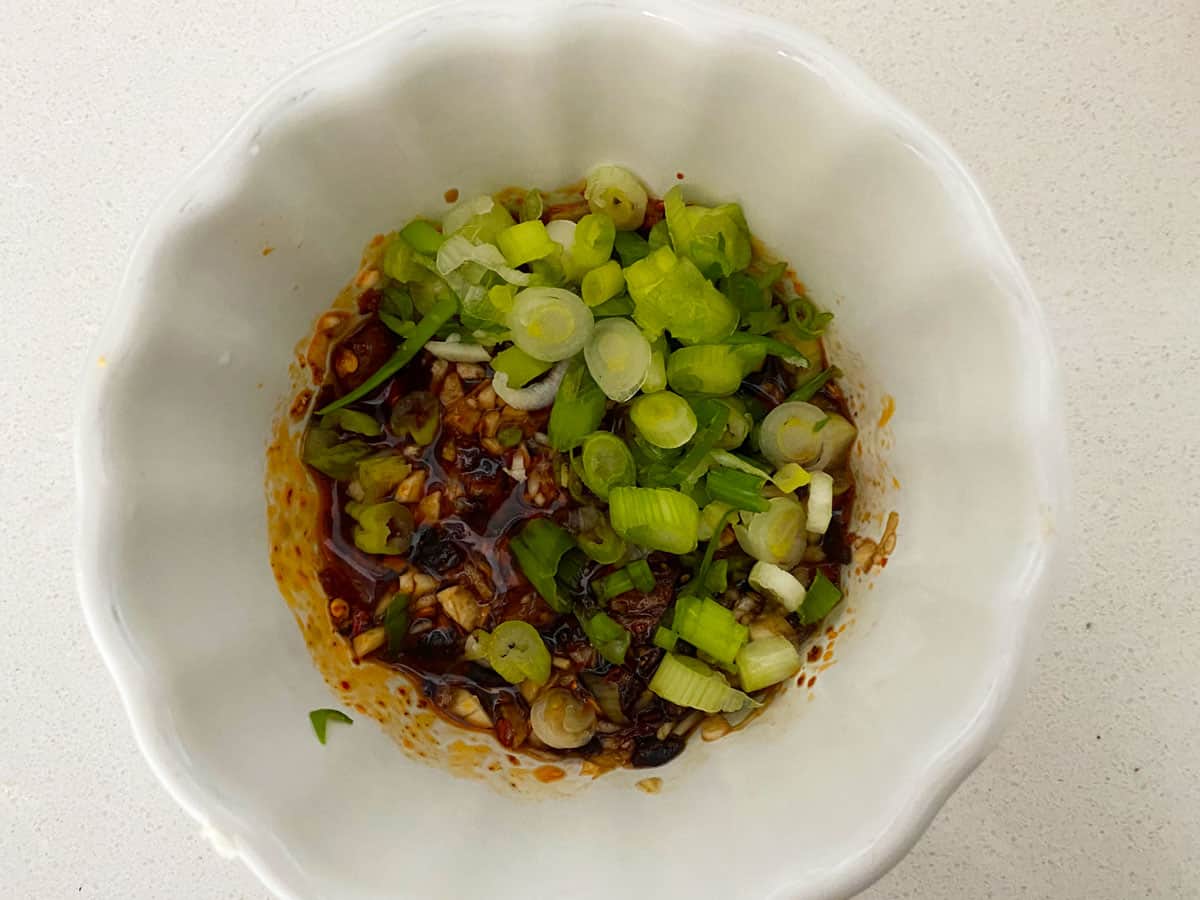 3. Boil 2 bundles of thin wheat noodles per package instructions. Rinse under cold water and drain. Rinsing the noodles under cold water keeps the noodles springy.
4. Pour spicy soy sauce mixture on noodles and mix. Top with extra chopped green scallions and toasted white sesame seeds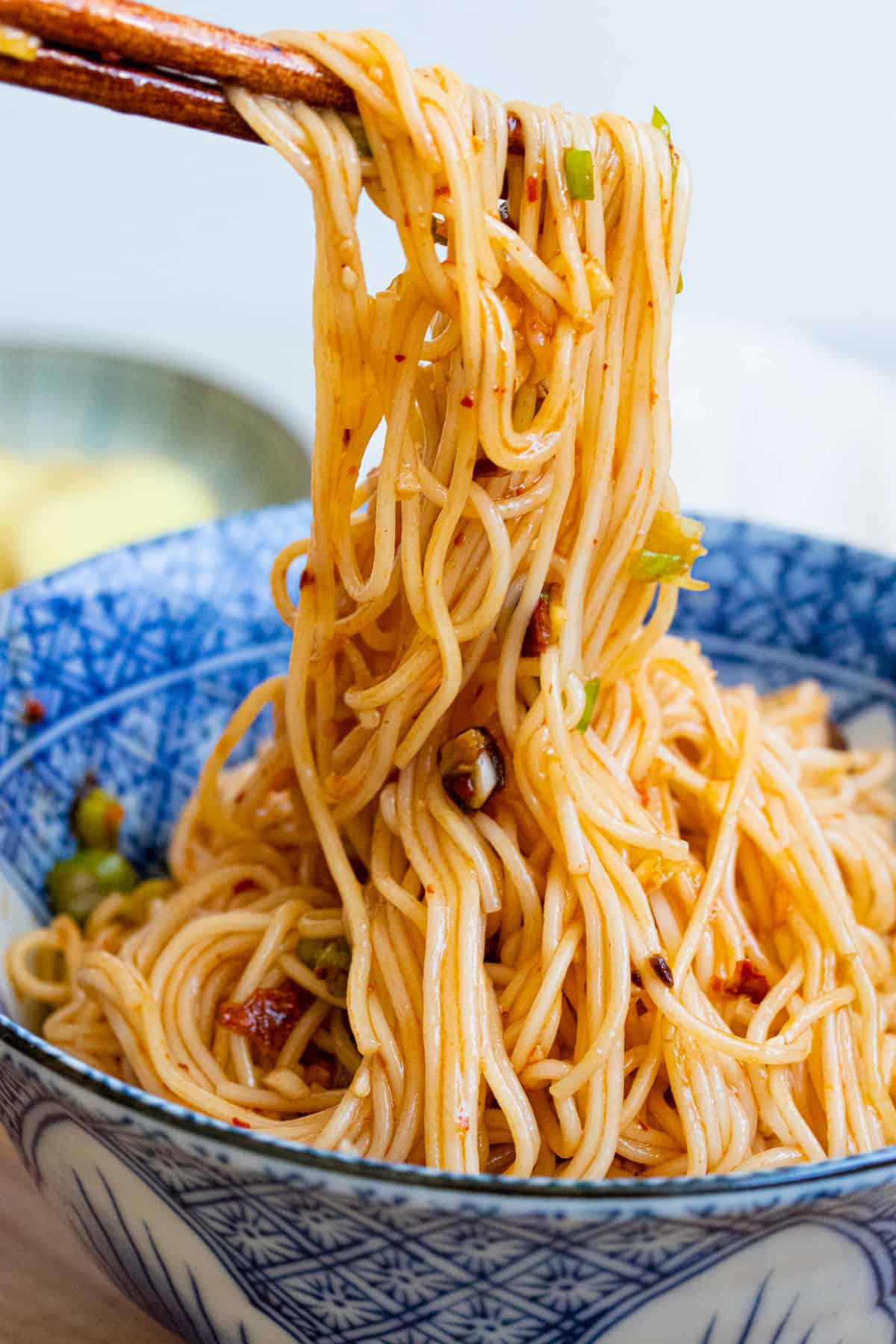 📖 Recipe
Spicy Soy Sauce Noodles
These refreshingly spicy noodles require only a few simple ingredients and less than 10 minutes of your time.
Instructions
Mince garlic. Add to a bowl with Lao Gan Ma, soy sauce, sesame oil, and black vinegar.

Add in chopped scallions and mix ingredients well.

Boil 2 bundles of thin wheat noodles per package instructions. Rinse under cold water and drain.

Pour spicy soy sauce mixture on noodles and mix. Top with extra chopped green scallions and toasted white sesame seeds