Korean coleslaw is the fresh, crunchy, and spicy counterpart to the typical coleslaw you find at a summer BBQ. Instead of mayo, we'll flavor with soy sauce, sesame oil, rice vinegar, sugar, and Korean chili powder. The coleslaw is reminiscent of Korean kimchi and only takes a couple minutes to assemble. However, it tastes best when you let the flavors marinade in the fridge for a couple hours.
Jump to: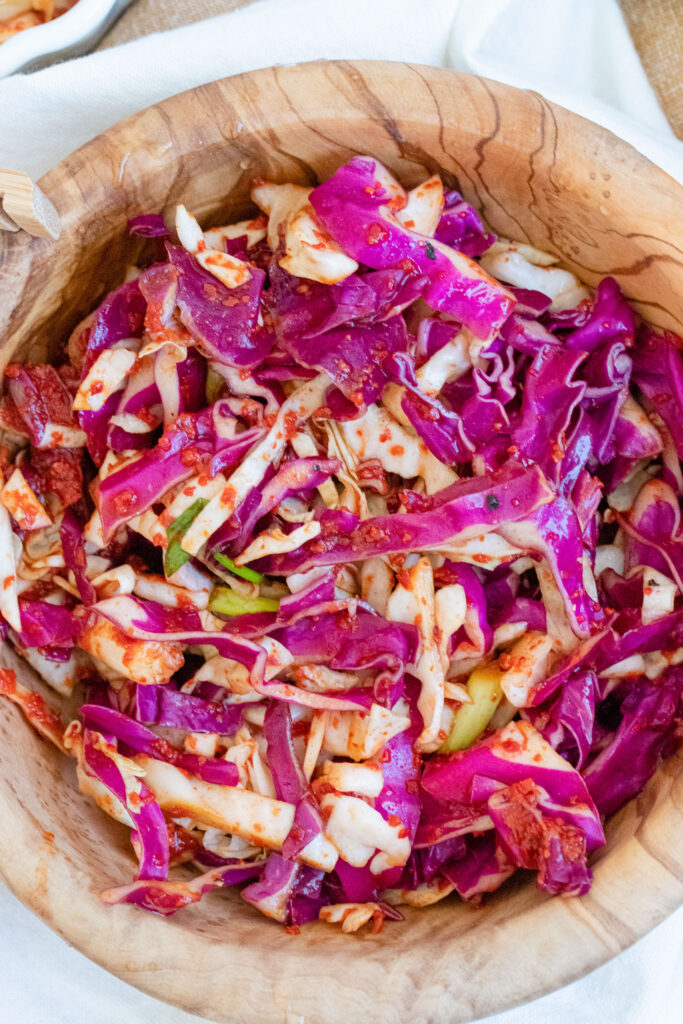 Ingredients
Green and purple cabbage: If you only have one color on hand, it's totally fine to just go with green cabbage. However, the purple cabbage adds a beautiful color. Make sure you slice the cabbage thinly. If you want to make this even easier, you can purchase a bag of coleslaw mix which usually includes carrots, too!
Carrots: Optional and julienned
Soy sauce: Soy sauce will help to add the necessary salt. Feel free to sub with tamari for a gluten-free option.
Rice vinegar: Rice vinegar helps to add acidity.
Sugar
Sesame oil: This rich and flavorful oil will bring the coleslaw up a notch.
Korean red pepper powder (gochugaru): Use an amount that you feel comfortable with. If you're not used to the heat, I'd recommend cutting my suggested serving by half. This is a key ingredient when making homemade kimchi!
Garlic and scallions: Mince the garlic. For the scallions, you can chop them or keep them as longer strips (the same length as the cabbage).
Salt and pepper: To taste.
Step-by-step instructions
Thinly slice purple and green cabbage. Mince garlic and slice scallions. Place all vegetables in a bowl.
Add in soy sauce, rice vinegar, sugar, sesame oil, gochugaru, salt, and pepper. Toss so everything is mixed evenly.
Taste and adjust! You can serve immediately, but this will taste best if you let it sit in the fridge, covered, for two hours. Don't let it sit too long as the vegetables will get soggy!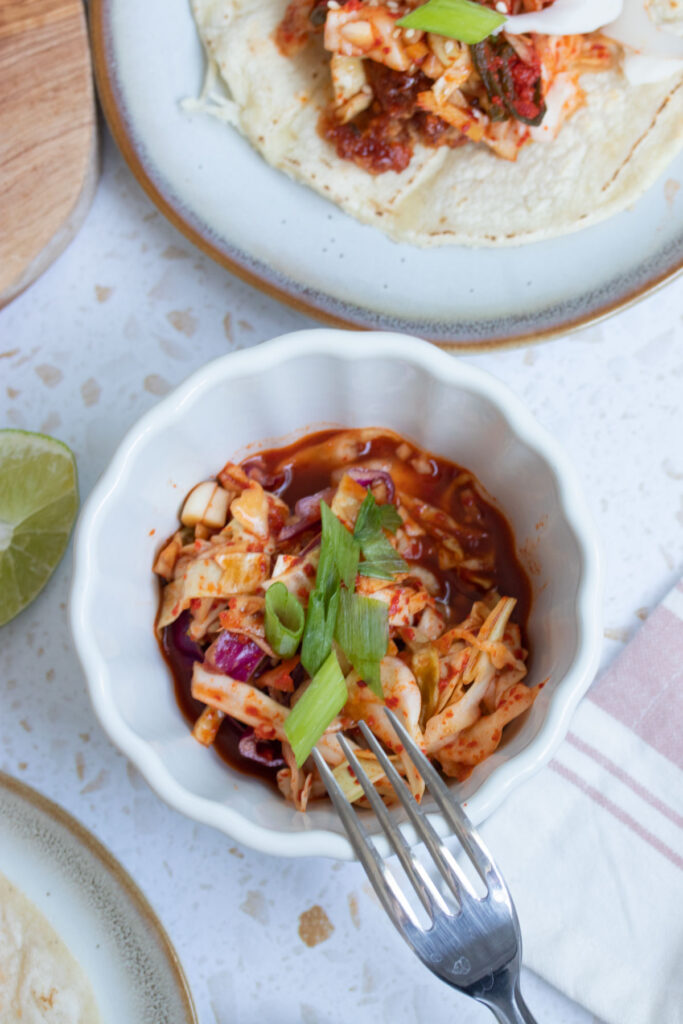 What can I serve Korean coleslaw with?
Korean cuisine is known for serving banchan at meals. These are the small dishes that come up before your main course is served and include items such as kimchi, spicy radish, potatoes, fish cakes and more. To be honest, sometimes these mini appetizers are my favorite parts of my meal. I've been told that you can judge how good a Korean restaurant is by how well-made their kimchi is.
This Korean coleslaw can be served as a side dish with any protein to provide extra flavor and crunch. Think of it as a delicious and extremely colorful salad.
I also love using this coleslaw as a topping for my Korean fried chicken tacos. The freshness of the slaw with the double-fried crispy sticky chicken makes for an amazing combination.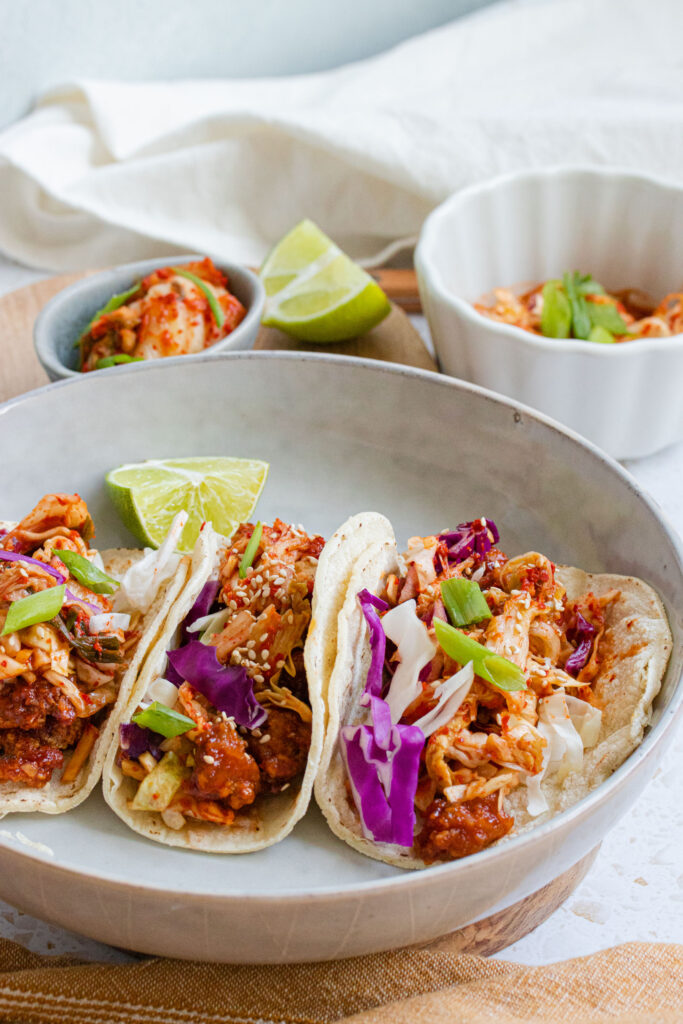 📖 Recipe
Korean Coleslaw
A refreshing, light, and spicy Korean coleslaw is reminiscent of Korean kimchi and is a great side dish with any protein or on top of a delicious taco.
Ingredients
½

large

green cabbage

sliced

½

large

purple cabbage

sliced

½

carrot

optional

3

stalks

scallion

3

cloves

garlic

minced

2

tablespoon

soy sauce

2

tablespoon

rice vinegar

1

tablespoon

granulated sugar

2

tablespoon

Korean red pepper powder

½

tablespoon

sesame oil

Salt

to taste

Pepper

to taste
Instructions
Prep vegetables by chopping cabbage and julienning carrots (if using). Mince garlic and chop scallions. Place in bowl.

Add soy sauce, rice vinegar, sugar, sesame oil, Korean red pepper powder, and toss.

Finally, add salt and pepper to taste.

Taste and adjust according to your preferences.