Creamy kimchi pasta is a delicious fusion dish that pays its dues to Alfredo pasta. The sharpness of the kimchi cuts the heavy cream and parmesan that make up the base of this Italian-inspired dish. If you want to get fancy and try upping the flavor profile, add some pancetta and make it more similar to a carbonara pasta.
We're going to include white mushrooms for some added texture and include just a hint of umami and freshness to the cream base. A little goes a long way with this sauce, so top it on some linguine and you'll have a very filling and delicious meal.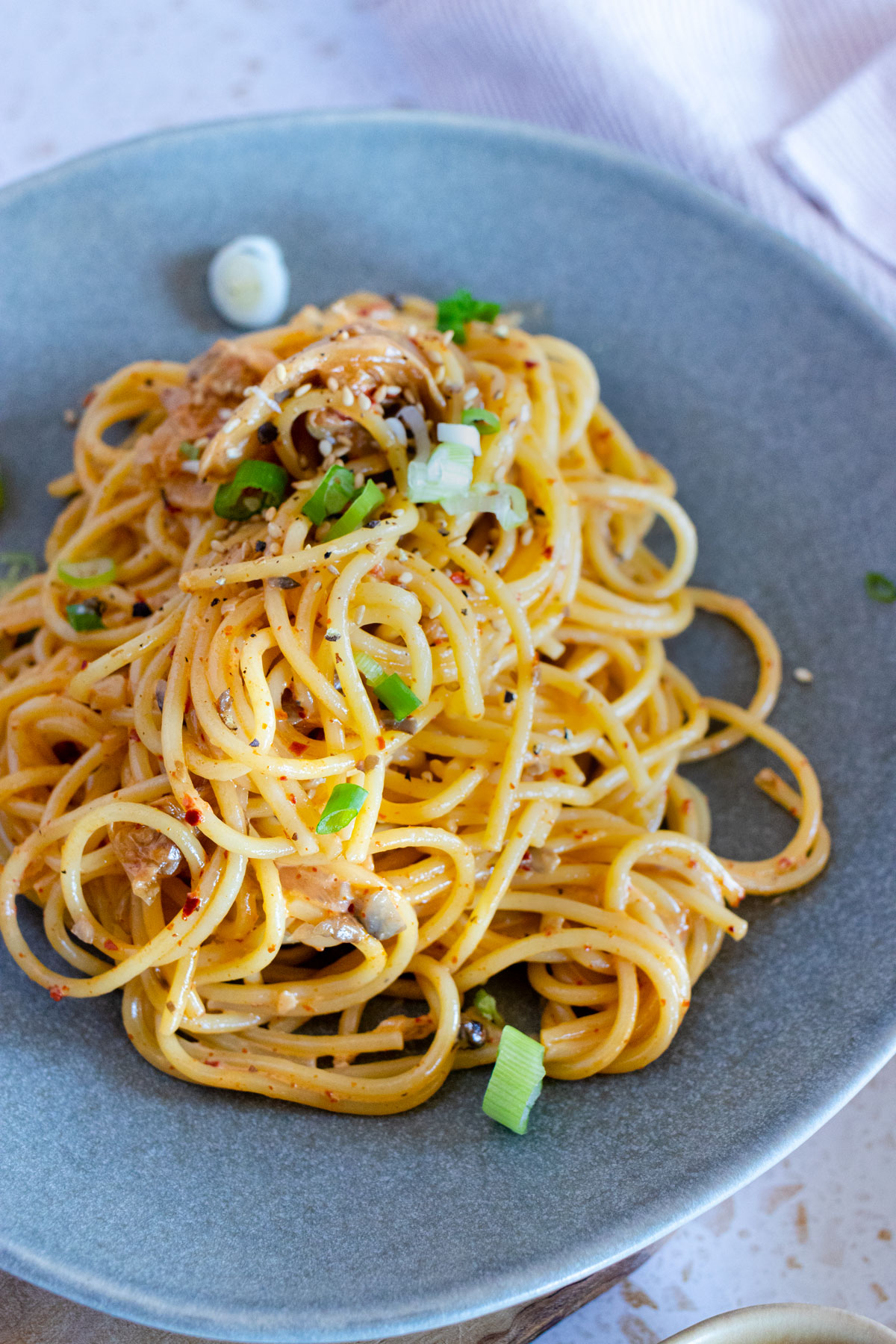 What is kimchi?
Kimchi is a fermented cabbage found in Korean cuisine. You can find kimchi at any Asian grocery store, but it's become so popular that kimchi is now easily found at your closest market. For those who aren't familiar with kimchi, the initial smell and taste might seem quite sour. It is a fermented dish after all! The older the kimchi, the more sour the kimchi will be, which makes it perfect for adding into soup and stews for flavor. The kimchi you typically buy in stores will be fresher, so the taste will still be quite crisp.
In addition to being a great addition to any meal, kimchi has great health benefits, too. Just as many people drink kombucha for gut health, kimchi offers the same benefits, which is why it's so great to add to your daily diet!
How do I make kimchi at home?
Kimchi is very easy to make at home. The most difficult part is waiting for the kimchi to ferment! The best thing about making kimchi at home is being able to adjust the ingredients to your liking.
Kimchi is not typically vegan as most traditional commercial brands add fish sauce, however, there are now many vegan kimchi brands, such as Mother-in-Law's Vegan Kimchi. If you make kimchi at home, it's easy to adjust ingredients based on your flavor preferences and dietary needs.
There are different ways to make kimchi depending on how much time you want to commit. Traditional kimchi requires a couple more steps, but for those who are impatient like me can try my quick and easy kimchi recipe which can be easily done in 1 hour!
Kimchi pasta ingredients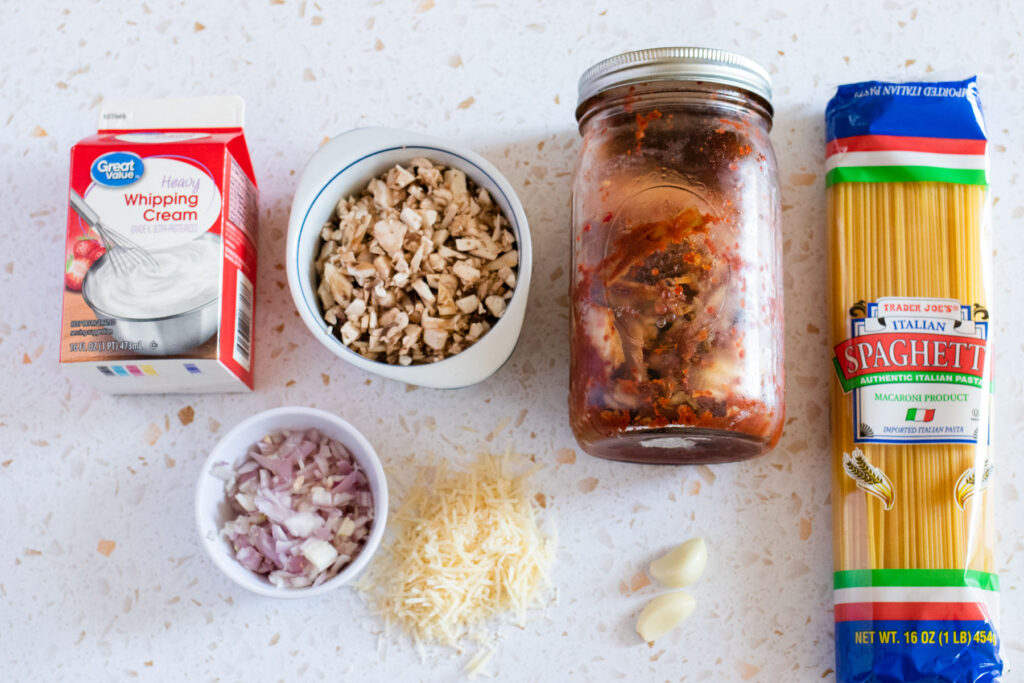 Spaghetti: I prefer using spaghetti or linguine for this recipe as the thin noodles are a great base for this cream sauce to adhere to.
Shallots and garlic: These two ingredients are necessary as fragrants. Shallots are somewhat similar to onions, so if you can't find shallots, you can replace the shallots with white onions.
Mushroom: Since I don't add meat into this recipe, I use mushrooms to help bulk up the dish. Plus mushrooms cooked down always add a nice bit of umami. I prefer the mushrooms minced so you'll get some in every bite, however, you can slice them into larger pieces if you'd like. You can also use brown mushrooms.
Kimchi: This fermented cabbage is a necessity, and make sure you include some of the kimchi juice to give the cream sauce a beautiful rose color. Some kimchi brands have larger pieces of cabbage, so you'll have to chop or cut the pieces so they are bite-sized, about 1 inch pieces.
Heavy cream and parmesan: Necessary for any Alfredo pasta recipe!
Black pepper: We don't add the black pepper until the end since we use it as a topping. The freshly ground black pepper gives a delicious smokiness.
Scallions and sesame seeds: These are optional, but I would highly recommend adding these as toppings. Scallions always add freshness and the nuttiness of the sesame seeds blends perfectly with the kimchi cream sauce.
Creamy kimchi pasta recipe
Before you start, boil a pot of water, salt water and cook spaghetti. Keep your eye on the noodles, and cook until al dente depending on the instructions on the pasta package.
Heat up olive oil in a pan on medium-high heat and sauté shallots and garlic until fragrant. This should only take up to a minute.
Next add the minced mushrooms and cook them until soft, about 2-3 minutes.
Add chopped kimchi and about a tablespoon of the kimchi juice. Some kimchi might come in larger chunks so either use a knife or scissors to cut the kimchi into bite-sized pieces. This is important because you don't want huge pieces of kimchi in your pasta! We want to keep everything bite-sized for a seamless eating experience.
Finally, add ¾ cup of heavy cream and lower heat to low-medium and let it simmer for 4-5 minutes.
The spaghetti should be done cooking at this point. Reserve about 1 tablespoon of the pasta water and drain the rest. Add to the cream and evenly coat the strands of noodles. Add in a bit of the pasta water to help the cream sauce adhere to the pasta.
Finally, add in parmesan and stir until cheese has melted and is evenly incorporated.
Plate and top with chopped scallions, sesame seeds and a crack of black pepper.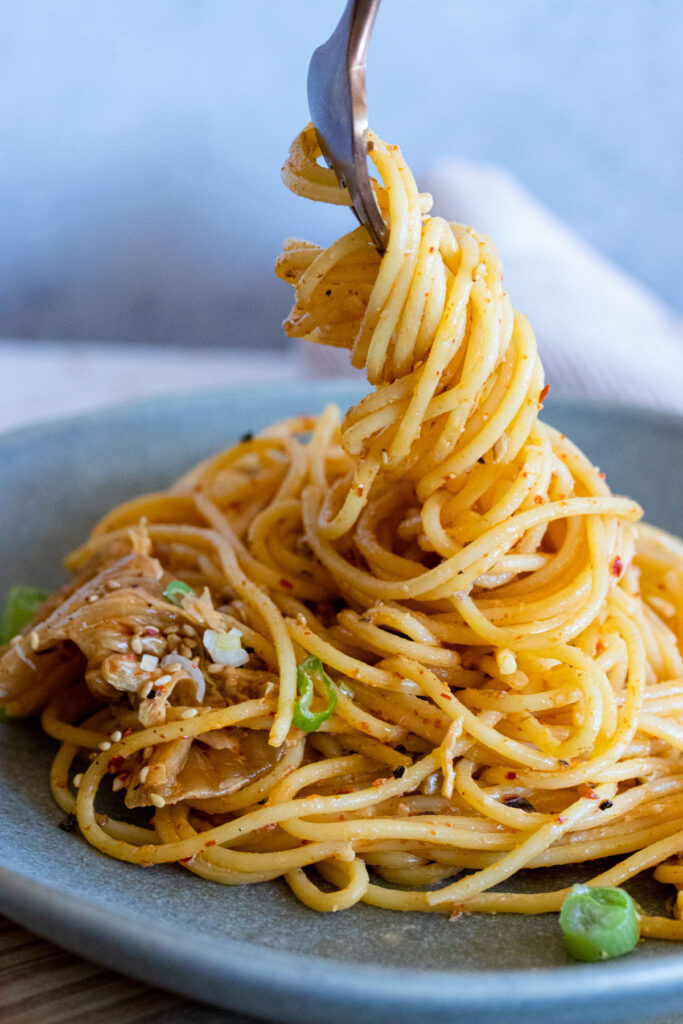 📖 Recipe
Creamy Kimchi Pasta with Mushrooms
This creamy kimchi pasta recipe is the perfect Italian-Korean fusion dish, the crisp kimchi pairs wonderfully with the Alfredo inspired sauce.
Ingredients
½

lb

spaghetti

1

tablespoon

extra virgin olive oil

1

medium

shallot

2

clove

garlic

(minced)

¾

cup

mushrooms

(minced)

1

cup

kimchi

(chopped)

1

tablespoon

kimchi liquid

¾

cup

heavy cream

½

cup

grated parmesan cheese

1

scallion

Sesame seeds

Black pepper
Instructions
Boil pot of water, salt, and cook pasta until al dente depending on package instructions.

Heat pan and add oil over medium-high heat. Sauté garlic and shallot until fragrant, about 1 minute.

Add minced mushroom and cook until soft, about 2-3 minutes.

Add chopped kimchi with kimchi juice, stir-fry for another 1-2 minutes.

Add heavy cream and lower heat to low-medium. Let simmer for 3-4 minutes.

Drain pasta and reserve 1 tablespoon of pasta water. Add noodles and pasta water to cream sauce. Coat evenly.

Add in parmesan and stir until melted and evenly incorporated.

Top with chopped scallions, white sesame seeds, and a crack of black pepper.