A spicy soy sauce mixture poured over cold silken tofu is the perfect 2-minute side dish. Topped with fresh, crunchy scallions and nutty toasted sesame seeds, this dish is delicious and flavorful enough to eat on its own.
Jump to: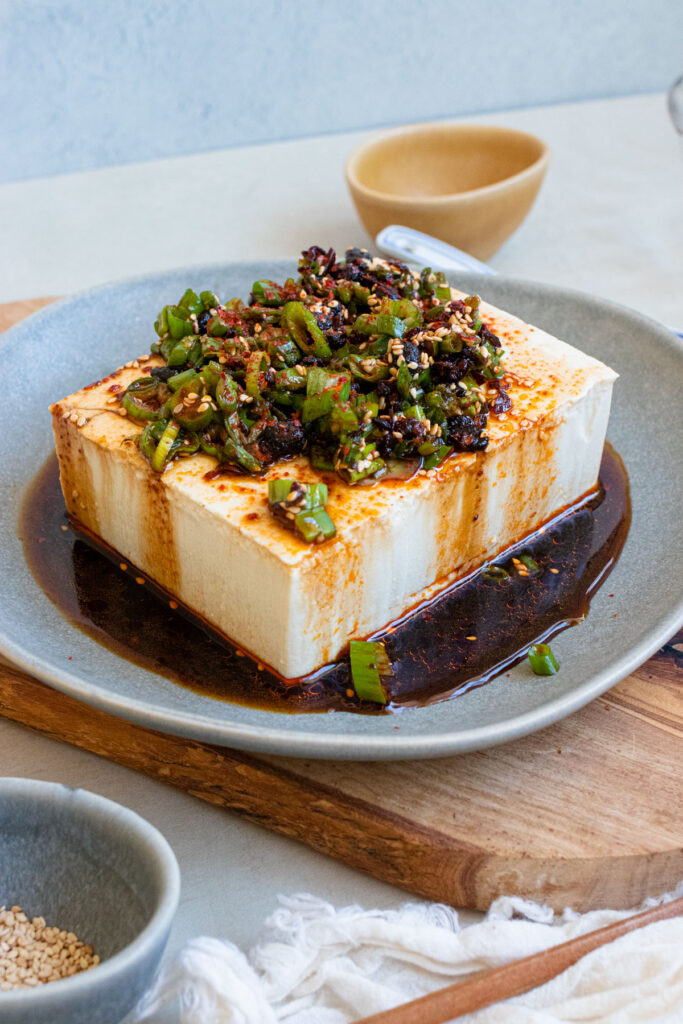 Why you'll love this dish
Quick and easy: If you can grab the ingredients quick enough, this can take less than 3 minutes. Simply mix the sauce ingredients into a bowl with your chopsticks, and pour over the silken tofu. You're set!
Full of protein & healthy: With the sauce, this silken tofu dish is delicious enough to eat entirely on its own. If you can finish this dish in one sitting, you'll definitely be hitting your protein goals for the day.
Vegetarian-friendly: The ingredients are simple and vegetarian/vegan friendly. It's a great dish for everyone to enjoy as the tofu soaks in all the flavors.
Refreshing: By using the silken tofu right out of the fridge, this dish is so refreshing on a hot day. Silken tofu is extremely versatile and is often used in vegan sauce, smoothies, and even to make non-dairy "ice cream", no wonder it tastes so great with a savory sauce!
If those reasons aren't enough to convince you, you'll just have to make this dish in the next couple of minutes to prove my point!
What tofu should I use?
While this recipe calls for silken tofu, you might not always be able to find it at your neighborhood grocery store, so you can opt for soft tofu. Both tofus are creamy and have much higher water content the other types of tofus. Sometimes grocery stores will sell firm silken tofu, don't mistake this for firm tofu!
Unfortunately, you cannot use medium or firm tofu for this dish! While it's the same ingredient, you just won't be getting the same mouthful as you would if you were to use silken tofu or soft tofu.
Ingredients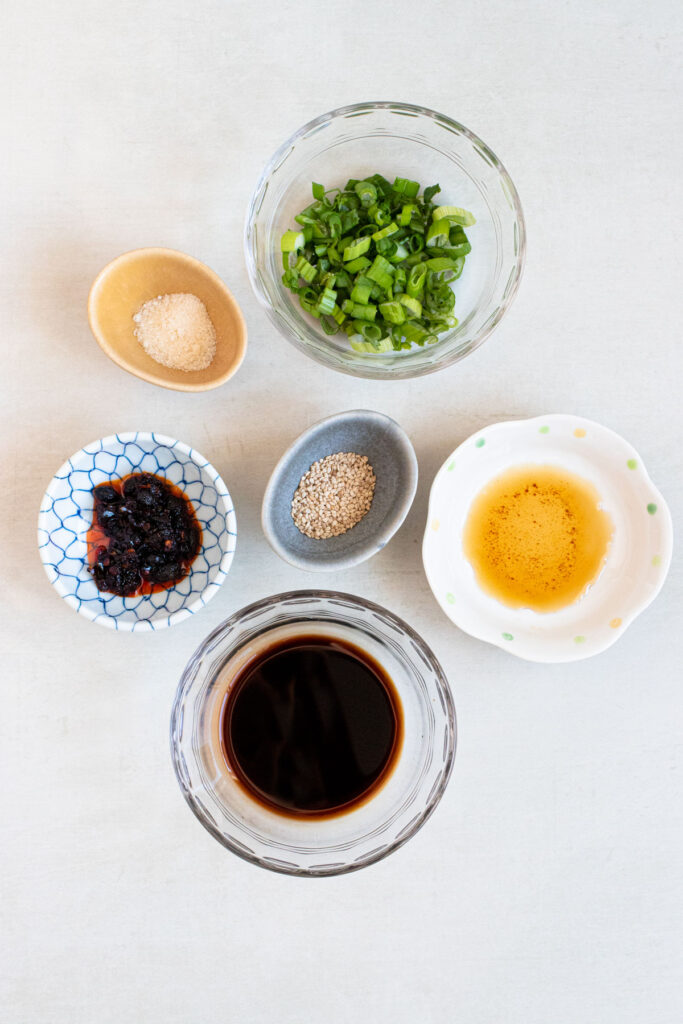 The key to the recipe is obviously the sauce!
There's really no right or wrong for this recipe, all of these ingredients can be played up or down according to your personal preferences (especially when it comes to spice levels). Silken tofu is a sponge for flavor.
Step-by-step instructions
Cut open packaging of tofu by slitting two connecting sides. Hold the package over the top. Keeping your hand over the top film, flip the package over so it drains completely from the slit you've cut.
Remove tofu from package and set onto a plate. Choose a plate that has a bit of an edge so the sauce doesn't completely slide off.
Mix the soy sauce, sugar, sesame oil, and chili oil to make the sauce. Then gently stir in the scallions.
Pour the sauce generously over the tofu. Top with toasted sesame seeds.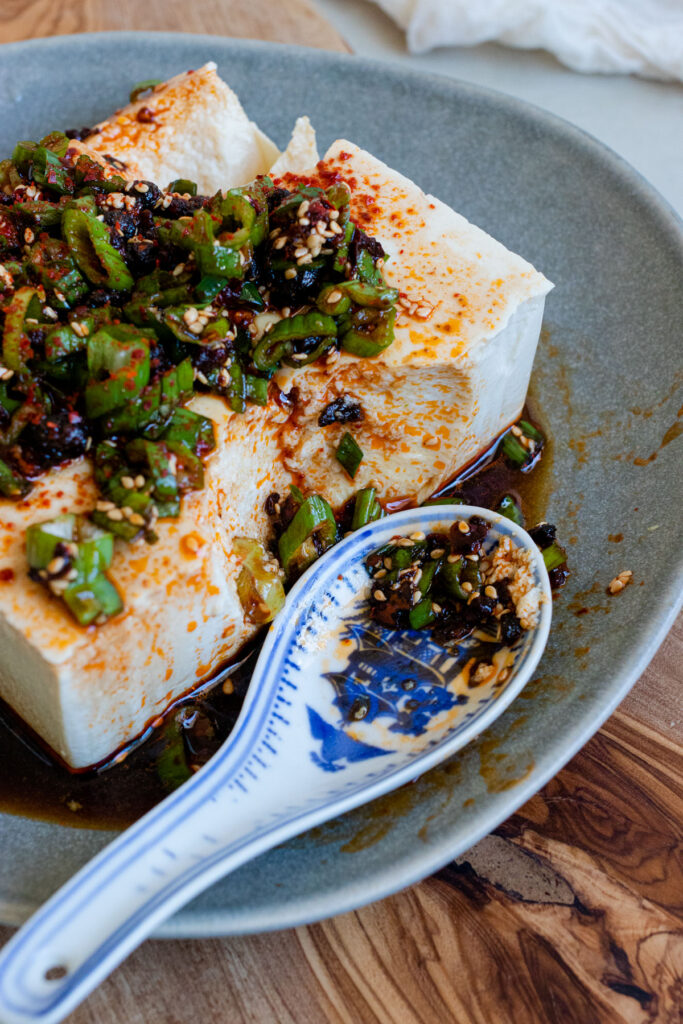 Want to try other tofu recipes?
📖 Recipe
Silken Tofu with Spicy Soy Sauce
This quick and easy cold silken tofu with a chili soy sauce is the perfect 2-minute side dish for the busy weekdays.
Instructions
Remove silken tofu from package, drain, and place in a shallow bowl.

Mix together soy sauce, sesame oil, black bean chili sauce, sugar, and rice vinegar in a separate bowl. Add in the scallions last.

Pour over tofu. Sprinkle over toasted sesame seeds.