What makes this the creamiest, richest mac n cheese?
We don't usually have full-fat dairy milk or any type of dairy milk in this household. We're a cashew milk drinking household. While the roux (flour/butter mixture) and the ounces of shredded cheese are key components to a creamy mac n cheese, we added another ingredient. Cream cheese. A previous attempt was deemed "not cheesy" enough, and so I was determined to make this dish as creamy as possible even being completely over-indulgent.
Butter, cream cheese, non-shredded cheese and this Trader Joe's Truffle Dip are going to be your best friends for our cheese sauce. The butter and cream cheese are going to impart a smooth texture and the Trader Joe's Truffle Dip will elevate this dish to the next level.
To take this up a notch, we're going to be cooking this in a cast iron (I swear everyone and their mother has this 10 inch pre-seasoned Lodge one from Amazon.) This will give the mac n cheese a crispier bottom and a nice golden crust with the Panko bread crumb topping.
Do I need the Trader Joe's Truffle dip for this?
Definitely not. Cooking is all about making what tastes good to you and whichever lucky person you're feeding. The truffle flavor is just an added touch to help your mac n cheese stand out from the crowd. But there's nothing wrong with a good ol' traditional cheesy, gooey mac n cheese. Simply sub the 1 tablespoon of truffle dip for another 1 oz of cream cheese.
How can I achieve a crispy outer layer and a gooey inner layer?
After you mix all your sauce ingredients into the cast iron, mix in your boiled, drained elbow macaroni (save a tablespoon or so of the pasta water), top with a little extra shredded cheese (if you so choose) and Panko (bread crumbs) then into the oven it goes.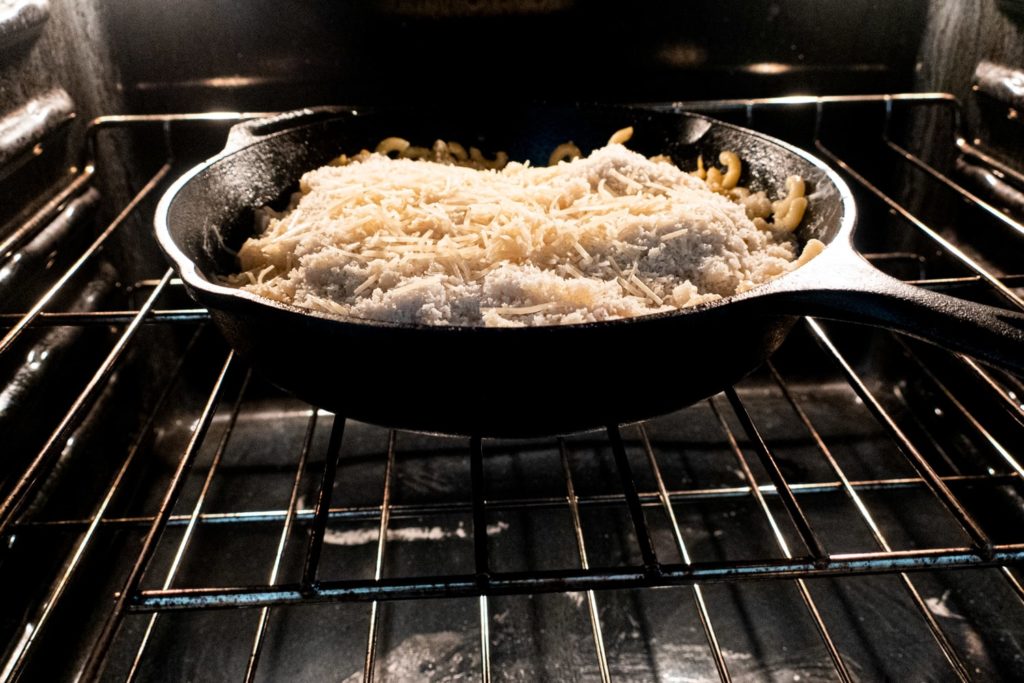 Bake for 30 minutes. I like to put it on broil for the last 2-3 minutes to give the upper crust a deep golden color. If I'm feeling like more cheese, I add another half cup of a cheese of my choice over the Panko before I put it into the oven. The cast iron will give it a nice crispy bottom. Setting the oven to broil for the last couple minutes will give you a beautiful golden brown crust.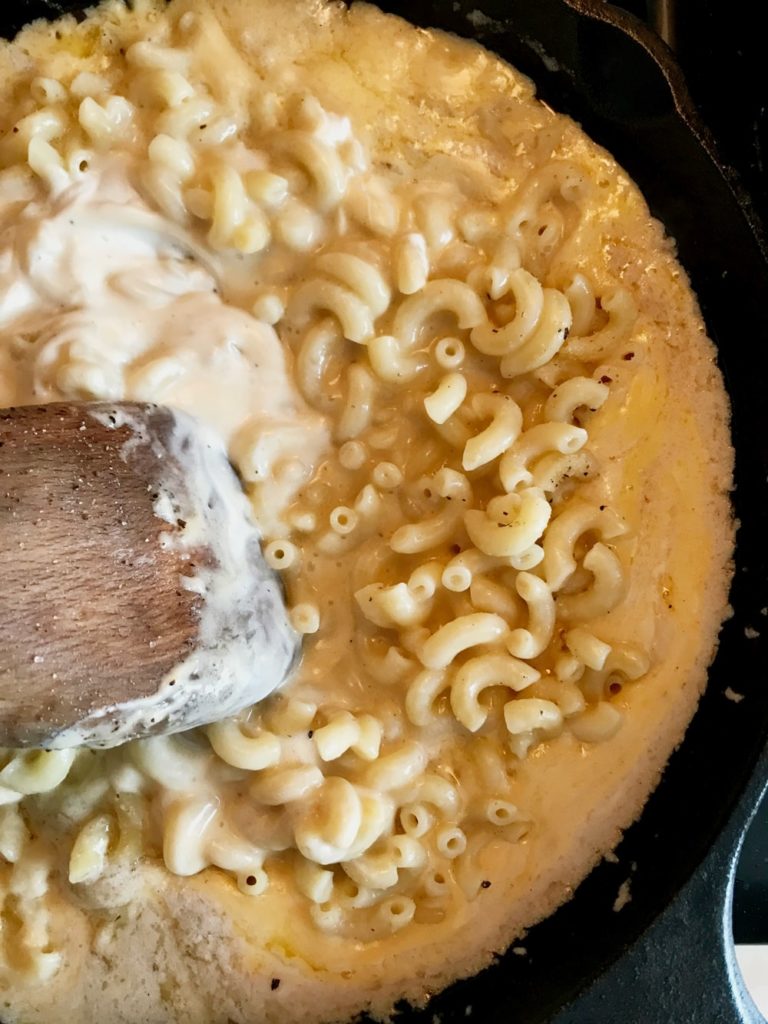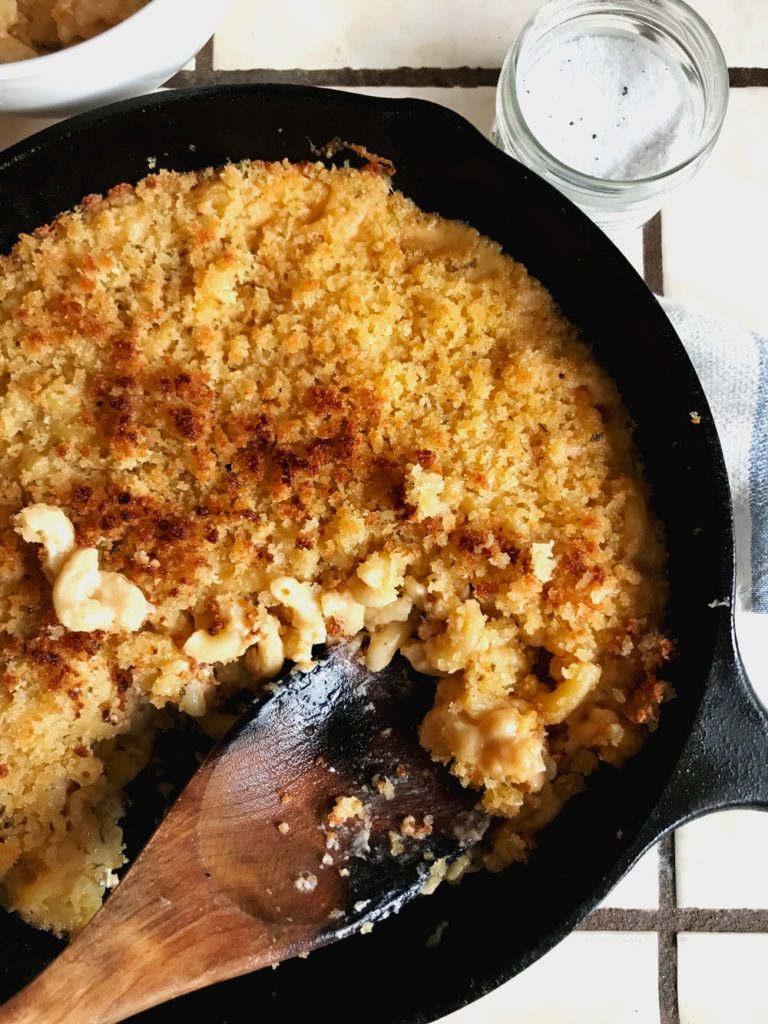 What type of cheese can I use?
I've learned the hard way that you should always hand grate your blocks of cheese. Pre-shredded cheeses are usually coated with a preservative that makes them very hard to melt (I would say almost impossible. They just crisp right up).
When it comes to your choice of cheese, it's really up to your taste profile. I personally find that sharp cheddar cheese is key to making mac n cheese taste, well, like traditional mac n cheese. We usually have parmesan on hand so I always include that, too. However, other cheeses that are great for mac n cheese are Monterey Jack, gouda, mozzarella, and goat cheese. There's almost no wrong answer and if you're feeling a little heavy-handed, then be a little heavy-handed.
Make sure to taste your cheese sauce as you're making it. Cheese preferences vary and you might want to add an extra crack of salt and black pepper to taste.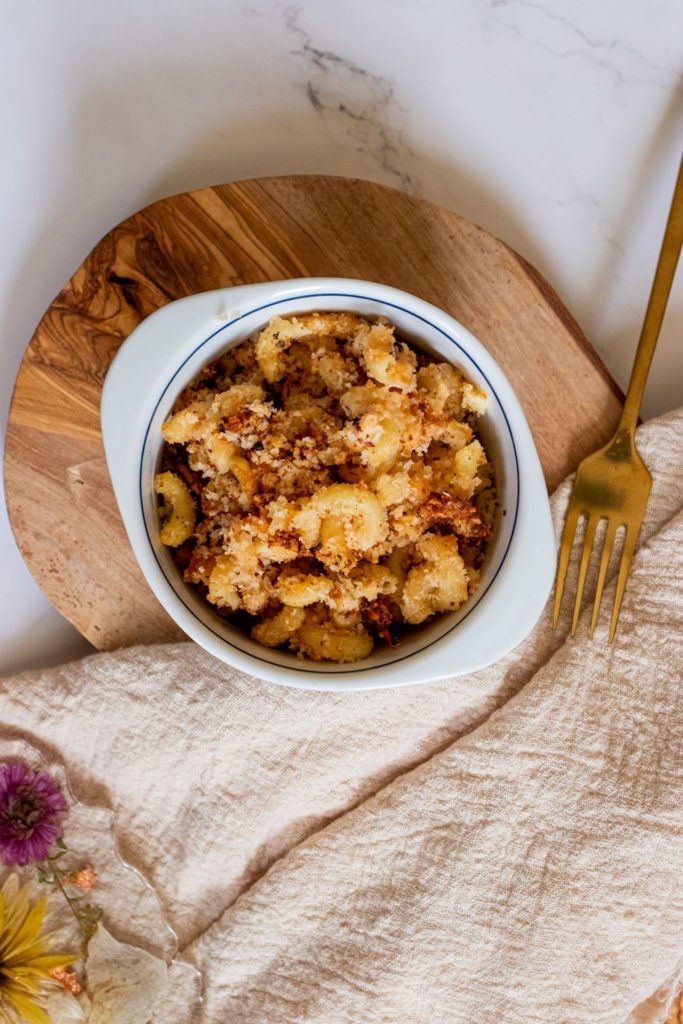 Creamiest Baked Truffle Mac N Cheese
A creamy cast iron skillet mac n cheese for an elevated dinner dish
Ingredients
10

oz

dry elbow macaroni

3

cups

water

boiled

4

tablespoons

unsalted butter

60 grams

2

tablespoons

all-purpose flour

1.5

cups

cashew milk

1

oz

cream cheese

1

oz

Trader Joe's Truffle Dip

sub with cream cheese

4

oz

freshly grated parmesan*

1 cup

3

oz

freshly grated sharp cheddar cheese

1 cup

½

teaspoon

salt

or Trader Joe's Truffle Salt

½

teaspoon

cracked black pepper

1

teaspoon

garlic powder
Instructions
Preheat oven to 350°F/160°C.

Boil 3 cups of generously salted water and cook your elbow macaroni for about 1-2 minutes less than the box directs. Since you will be baking the pasta, you don't want to fully cook them through. Drain and save a couple spoonfuls of the pasta water.

Melt your butter in a hot cast iron skillet and whisk in the flour. Pour in the cashew milk and whisk to mix thoroughly. Mix in both cheeses and stir until melted.

Add cream cheese and Trader Joe's Truffle Dip and continue to whisk until mixture is smooth.

Add the cooked pasta with the reserve pasta water and stir until pasta is coated with cheese sauce. Season with salt, black pepper, and garlic powder.

Melt butter in a bowl (use microwave) and mix in Panko bread crumbs with Italian Seasoning. Sprinkle generously over the pasta

Carefully place the cast iron into the oven and bake for 20 minutes.

Broil on high for 2 minutes or until the top is golden brown. Watch this step carefully as the top can burn easily!
Notes
*You're free to try a number of other cheeses to replace the parmesan, but a sharp cheddar cheese will impart the most flavor and meltability. Many other recipes also like to incorporate Gryuere, but you can also sub for mozzarella, Monterey Jack, goat cheese, or gouda.
Nutrition